There are many accessories for padel rackets — including grips. The handles on padel rackets already come with a grip; "the undergrip".
However, you can add an overgrip or undergrip to make them more comfortable, which can help improve your padel play!
Overgrips go over the existing padel grip and help the racket fit more comfortably into your hand. Overgrips are more common to change, so it's important that you understand what a padel overgrip is and when you should change it, and how it can help your skill.
Meanwhile, undergrips go under the existing padel grip and absorb vibrations.
Alongside these, it's vital to know how to change your padel grip as well.
But in this article, we'll talk about what the best grip for your padel racket is!
---
Undergrip
An undergrip is made of a viscoelastic material that reduces vibrations when hitting the padel ball.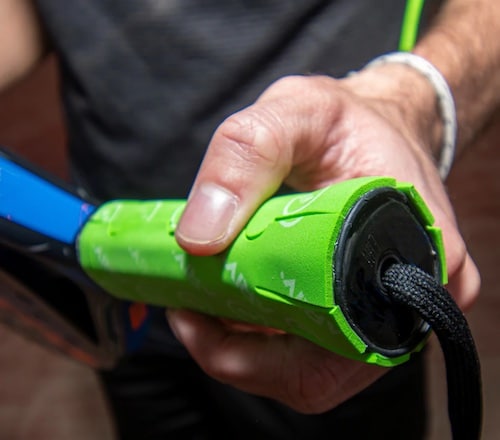 The repetitive actions, coupled with the impact of the ball on the short and stiff padel racket, can cause stress on the joints — and undergrips can relieve that.
Some good brands for undergrips are:
Beginners may want to consider investing in good padel undergrips right from the start to prevent elbow pain.
However, these are even more essential for experienced and professional players who are already experiencing pain in their arm joints. Undergrips can help relieve the pain and prevent further injury.
How do I pick the best undergrip for my padel racket?
As undergrips go under the actual padel grip, your main concern is how absorbent you want your undergrip to be.
For instance, ARIV offers an undergrip that absorbs up to 70% of vibrations. It's great for small hands since it also has options for small grips.
Meanwhile, the Noene Undergrip provides 92% less vibration, making it perfect for those who easily experience fatigue or pain during a padel match.
Some players that are beyond the recreational level also use Hesacore and X-Grip, two new innovations in the world of padel.
---
Overgrip
An overgrip is made of a thinner material that can help prevent the original grip on the racket from degrading. Alongside that, it lets you somehow customize the handle so it fits more comfortably in your hand.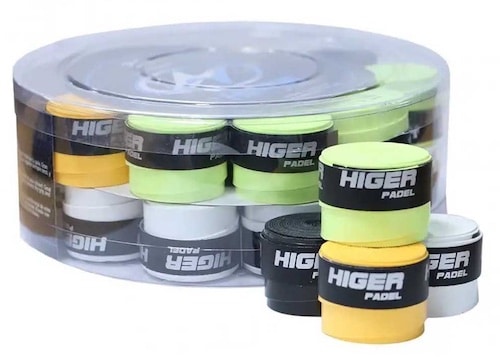 Usually, some players put one to two layers of overgrip on their racket. But some professional players on the World Padel Tour, like Paquito Navarro, choose not to play with overgrips.
Then, there are players who need to wrap around four layers before the shape and feel of the racket/grip in their hand feels perfect.
Brands that offer tennis overgrips can also appeal to padel players.
These brands include:
Overgrips are very helpful for beginner players who aren't used to holding a padel racket yet. That's because overgrips can help keep the racket stable while also absorbing sweat.
Meanwhile, advanced players will benefit from overgrips since they will also allow them to hold the padel racket however they want. Changing an overgrip is also easier and cheaper than changing the original base grip.
How to pick the best overgrip for my padel racket?
There are many things to consider when choosing the right overgrip for your padel racket.
Comfort
Durability
Thickness
Tackiness
Sweat absorption
For instance, an overgrip with high tackiness can offer greater grip since you're sure your fingers won't slip during a padel match.
---
Why is good grip important when playing padel?
There are different ways to hold padel rackets. Unfortunately, not even using the continental grip is enough to ensure you have a good grip on your padel racket.
Having a good padel grip will ensure a few things:
The racket won't slip from your fingers. You'll likely be able to make good shots on the padel court, whether a spin, forehand stroke, or backhand stroke!
You're preventing muscle, tendon, and joint injuries from the force of the ball hitting the padel racket
If you feel like you're changing your grip too often, or never getting a really good grip, you can also try a grip spray, like 4on totalgrip spray.
---
Differences between different types of grips
A padel racket already comes with a base grip. However, many players will add an undergrip and overgrip to improve their racket grip.
Below are several categories that players will typically consider when choosing a good padel racket grip:
Tacky/High tackiness
The tackiness of a padel grip refers to its "stickiness."
A tacky overgrip is very comfortable and durable, ensuring that padel rackets don't slip in your hand as you play.
However, you should find the right amount of tack since too much tackiness might make it difficult to easily switch positions on the padel racket.
Comfort/Feel
If your priority is comfort, you should look for a cushioned grip that is sturdy, no matter how hard you squeeze.
This will add an extra layer of padding that can help reduce arm, hand, and wrist strain as you hit a volley, backhand, forehand, or other shots.
Sweat absorption
If you have naturally-sweaty hands, using an absorbent overgrip is the easiest way to stop your hand from slipping from padel rackets when you start sweating.
Anti-vibration (absorbent) padel grips
These undergrips are relatively THICKER than overgrips, so they can properly absorb the vibrations that happen when you hit the padel ball.
They'll let you score a point without causing stress on your arm joints, index finger, and wrist.
---
🔥 Our Top Overgrip Picks
If you're looking for the best padel overgrip for your padel racket, take a look at our top picks below: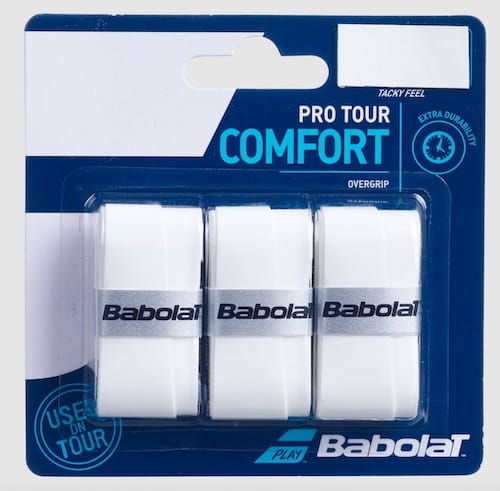 The Babolat Pro Tour Overgrip offers a durable padel overgrip that has excellent absorption, making it great for those whose hands are naturally sweaty. It has a good smooth but tacky texture too.
Pros
Doesn't slip even in humid weather
Easy to install
Longer playing life than other overgrips
---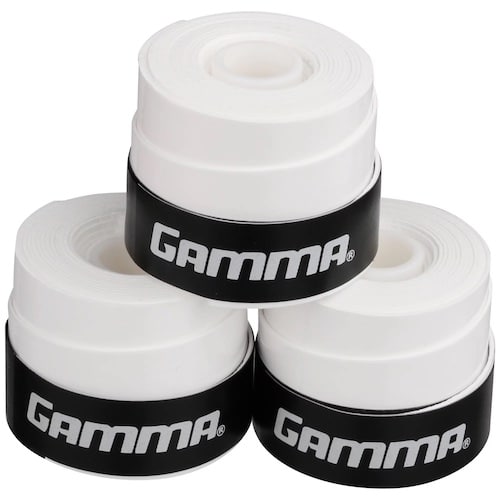 The Gamma Sports Supreme is a soft overgrip durable enough to withstand hours of continuous playing. It also has high absorbency, so you have better control over the padel racket.
Pros
Compatible with different kinds of rackets (such as tennis and squash)
Soft and comfortable to use
Highly absorbent
Cons
Might stiffen over time
Not sticky enough for some players
---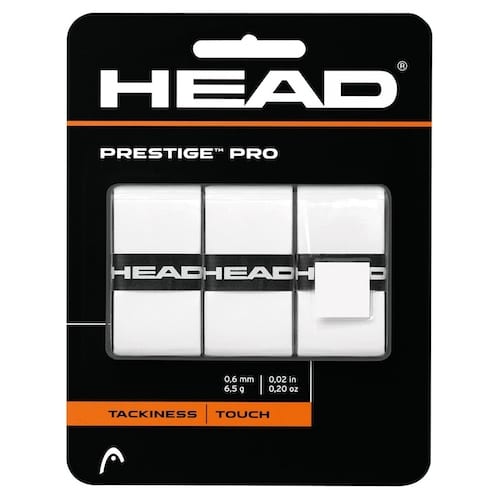 Head is quite known in the athletic world — and their overgrip is no different. The Head Prestige Pro offers a bit of padding, but it's still comfortable. You also get impressive tackiness that lasts a long time, giving you great value.
Pros
Tackiness lasts a long time
Affordable
Easy to install
Cons
Not the best option if your hands are sweaty
---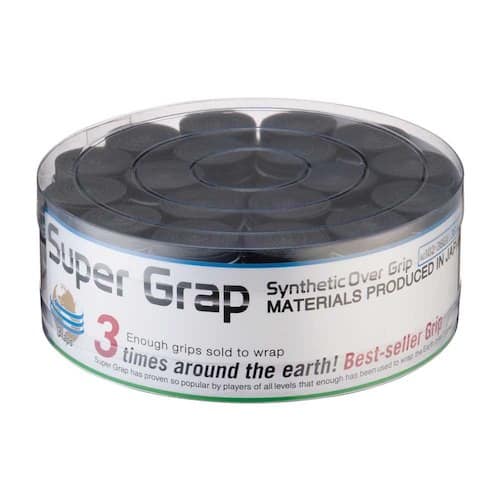 The YONEX super grap overgrip absorbs sweat well enough for the average player. It has good shock absorption and is quite durable — you can play four to five hours a week and only need to change it once!
Pros
Shock-absorbent
Solid grip
Lasts long, even in winter
Cons
Could be more sweat-absorbent
Not as cushioned as other overgrips
---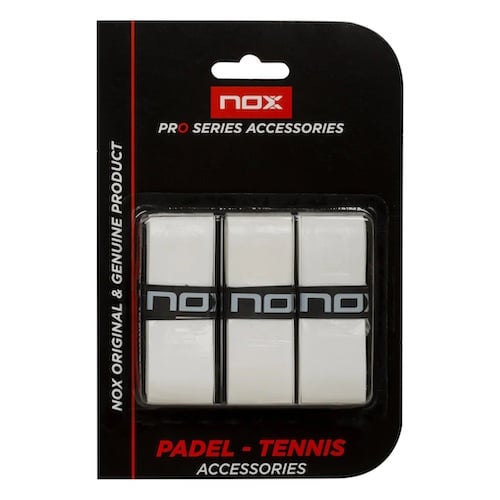 The Nox Pro Overgrip gives you the option of getting perforated overgrips, improving your grip. It also has good shock absorption qualities, reducing tension and pain in the elbow. The brand also offers different colors.
Pros
Shock absorbent
Allows more grip
Different color options
Cons
Not as common in the market as other overgrips
---
Conclusion
It's essential to invest in a good padel grip for your racket since it can greatly improve your play — and maybe even give you an edge.
It will also lower the chances of injury to your index finger, wrists, or arm joints.
Here's a quick summary of the two grip types for padel tennis:
Undergrips are thicker since they absorb vibrations when you connect a shot. This helps prevent injury.
Meanwhile, an overgrip is thinner and prevents your hand from sliding over your padel racket. This can make it easier to control your shots more precisely.
---
Frequently Asked Questions – Best grip for padel racket
What is the best grip for padel racket?
If your main concern is slippage, best to grab an overgrip that has high tackiness. But if you're feeling some tension in your elbows every time you hit a volley, look for a good undergrip.
How thick should your padel grip be?
The thickness of a padel grip can make a difference if you also factor in what it's been designed to do. For instance, undergrips are around 1mm to 2.2mm thick. However, the 2.2mm-thick grip by ARIV absorbs just 72% of a shock, while the 1mm-thick product by Noene absorbs up to 90% of a shock.
Is an anti-vibration grip good in padel?
Yes, an anti-vibration grip is VERY helpful in padel. It prevents that tight feeling in your arm joints whenever you do a shot. It even makes a difference if the pain you're experiencing in your elbow, wrist, or shoulder turns into an injury or not.
What padel grip should I have if I have sweaty hands?
If your hands are naturally sweaty, you should get an overgrip with excellent absorbent qualities. This will ensure that the padel racket won't slip when you do any stroke on the court.
Is there a rule of thumb how many overgrips I should have?
It's a matter of how thick you'd like your grip to be in all honesty. There's no rule, but most players on average would probably play with 1 or 2 overgrips.
---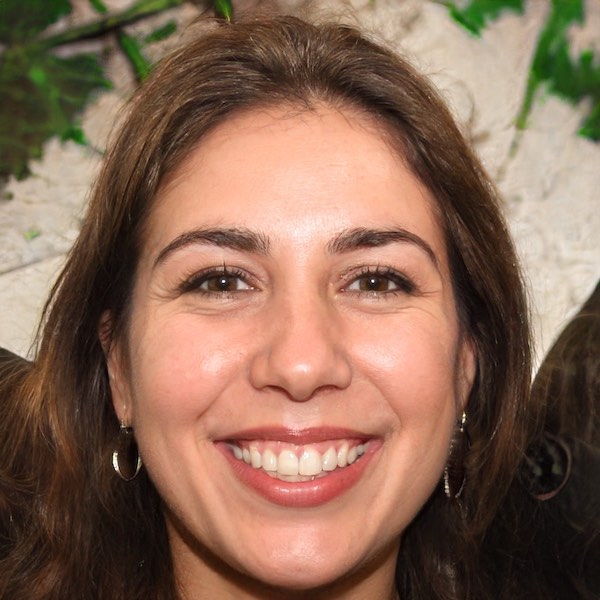 Isabella Torres is originally from Madrid, Spain, and has been playing Padel as a semi-professional for the past five years. After completing her education as a journalist, she discovered her true passion in life was writing about Padel.
She loves staying up late watching intense rallies on YouTube, and is excited to share her knowledge about the sport with SimplePadel's readers.