As an advanced padel player, you know that the right equipment can make all the difference.
Let's break it down:
Balance: This can significantly impact your gameplay. Aggressive players might want a diamond-shaped racket with weight distribution towards the top.

Defensive players, on the other hand, might prefer a round-shaped, evenly balanced racket.
Weight: The racket's weight directly influences control and power. Lighter rackets are easier to handle, whereas heavier ones offer more power.
Material and Grip Comfort: Always opt for a racket that's durable and comfortable in your hand. After all, you'll be spending a lot of time together.
Customization: Some rackets offer customization options, like adding or removing weight, which can be an added bonus for players who like to fine-tune their equipment.
Keeping these factors in mind, we've zeroed in on our top picks. The Nox AT10 Genius 18K Agustin Tapia 2023 shines as an all-rounder.
Adidas Adipower Multiweight Control Alex Ruiz 2023 is perfect for those seeking power.
Read on to discover your ideal padel racket, tailored to your advanced playing style.
---
The 5 Best Padel Rackets for Advanced Players
Let's dive into the top five elite padel rackets on the market today, meticulously handpicked for advanced players like you.
---
Every advanced player will want to play with Agustin Tapia's racket of choice! The Nox's AT10 Genius 18K is the best padel racket for advanced players with its exquisite balance.
Because of its drop shape, you can confidently play defensively and offensively. It offers speed, control, and precision without sacrificing the maneuverability of a defense.
Additionally, it is made with carbon fiber and 18k fabric together with the classic HR3 EVA rubber core giving the ball more spin. This racket elevates your game and is set to be your partner at play for many great games on the court!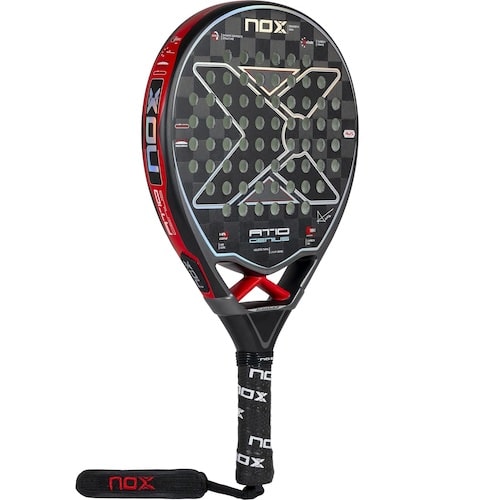 Pros
Extremely durable
No arm discomfort
Well-balanced
Great for smashes
Cons
Not recommended for beginners
---
Although the Adipower Multiweight CTRL racket is designed with a round format, many advanced-level players, including Alex Ruiz, a WPT player, opt to play with these rackets for their good control.
Its reinforced Dual Exoskeleton system and Power Embossed technology give it stability and power. And thanks to its high-memory EVA rubber, you will have an exceptional grip.
This racket also comes with a new custom weight technology that allows you to add or remove weight to modify its balance. That's a big plus for those who like variety and customization!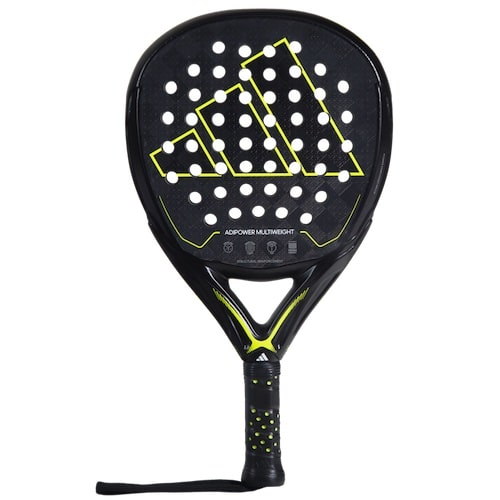 Pros
Strong carbon frame
Maximum power and stability
Excellent touch and grip
Cons
Expensive
Limited availability
---
3. Best Budget Padel Racket for Advanced Players – Head Speed Elite 2023
If you want versatility and affordability, the Head Speed Elite 2023 padel racket for advanced players is the one for you! This racket features a drop-shaped design that offers a nice blend of control and speed.
It also has a Power Foam core that makes it perfect for offensive players who like to strike the ball hard.
And to reduce vibration and risk of injury, its latest technology, Smart Bridge, is put to work! It also features a tailored frame for a more optimized sweet spot.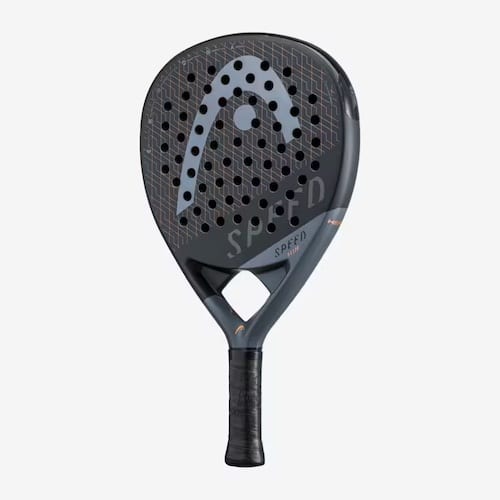 Economical, without compromising performance
Accelerates your game
Advanced vibration reduction
Pros
Affordable
Attractive design
Good control and speed
Cons
Not as powerful as other rackets
---
Professional players worldwide highly recommend the Nox ML10 Shotgun Luxury padel racket. It is a premium quality padel racket designed to provide maximum comfort during practice and in competition.
This luxury padel racket is also made from only the highest-grade materials, such as carbon fiber and aluminum, making it one of the most durable rackets on the market. This racket will give you great power but also control over your chiquitas.
Plus, it is available in three sizes for padel players to match their racket to their balance and playing style.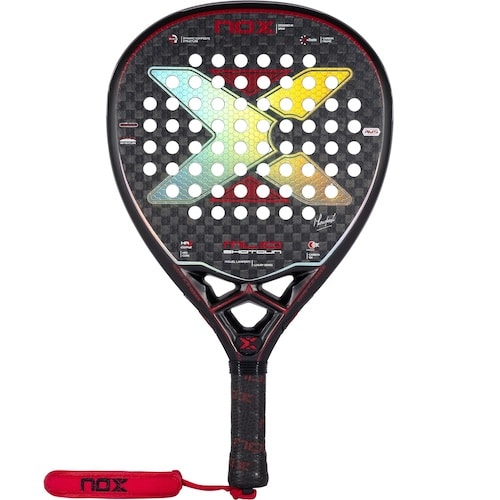 Pros
Maximum power and control
Comfortable to play with
Made of high-quality materials
Cons
Not recommended for beginners
---
This diamond-shaped racket is one of the latest rackets for advanced players who like to focus on power over control.
This Varlion racket is made with a carbon fiber fabric, fiberglass, and a high-hardness Hypersoft foam core, reducing vibrations on off-centered shots. It is also kept in Varlion's exclusive VAR-FLEX epoxy resin for maximum elasticity and strength.
Thanks to its Aerodynamic Drilling technology, turbulence is reduced, and greater stability is felt in every hit.
And lastly, its Wings Diffuser technology gives the racket more maneuverability and precision. What's not to love?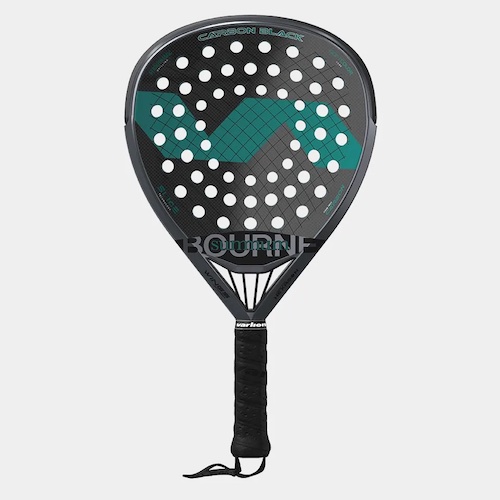 Pros
Excellent control and power
Very durable
Great stability and precision
Cons
Only for experienced players
---
What to consider when buying a padel racket as an advanced player
With many options in the market today, looking for the best padel rackets can get overwhelming. To help you out, consider the following factors before you buy.
Racket shape
Different racket shapes can affect the performance of your game:
Round racket 
It looks a lot like tennis rackets. They are arguably the best choice for beginner players. This is especially true if you're transitioning from tennis or pickleball to padel. They have great stability and are easy to use but lack power.
Teardrop-shaped rackets
They are suitable for intermediate players. They have even weight distribution, offering a good mix of control and power. It is a versatile racket that you can work with in varying match conditions.
Diamond-shaped rackets 
They are the best option for more experienced and advanced players. Most of their weight is at the top of the padel racket, making them more difficult to maneuver than others.
However, this is specifically designed for more power and is good for attacking players that like to keep the net position at all times.
Frame materials
A great racket should be made of durable materials to withstand shock, weather, and long use. Beginner-level rackets or cheaper rackets are typically made of fiberglass.
Higher-pricing racket frames of diamond-shaped rackets are made of carbon with better materials like kevlar for strength.
Sandpaper paint is also used to create the rough surface of a padel racket to ensure more effect on the ball.
The insides of a racket have compressed EVA foam for shock-absorption features too. These materials are great even with heat and rain. This means your racket should stay with you for many more games in your lifetime!
Plus, it is quite expensive to have a racket repaired. Therefore, it is wiser to pay more for a good quality racket.
Racket balance
Padel players play more efficiently with a padel racket with a well-aligned balance system. This means the center of gravity must fall within the sweet spot of the padel racket, resulting in more powerful hits.

A diamond-shaped racket has greater weight distribution on its head, delivering high balance.
A teardrop-shaped racket has medium balance, with its weight distributed evenly throughout its body.
A rounded-head racket has the lowest balance with its larger surface area on the racket head.
Padel grip
The best rackets for advanced players allow better control over the racket's grip when using it.
The shape of the handle should be smooth and comfortable to hold too. Any discomfort and lack of control when playing can discourage any player.
Grips deteriorate and must be replaced regularly. Easily losing one's grip can cause your racket to move in your hand when you are about to strike the ball.
Playing style
Are you more of an attacking player, or do you play more defensively? Knowing your playing style allows you to help decide on the type, shape, and material you are suited to as an advanced player.
A versatile padel racket would be best. But if you are an offensive player, go for a racket with more power to hit a ball. If you are a defensive player, opt for rackets with more control than power.
---
Frequently Asked Questions about Padel Rackets for Advanced/Expert Players
What's the best padel racket for power as an advanced player?
The Adidas Adipower Multiweight Control Alex Ruiz 2023 excels at delivering powerful shots, thanks to its reinforced Dual Exoskeleton system and Power Embossed technology.
Are expensive rackets better for advanced players?
Not necessarily. While higher-priced rackets often offer advanced features and durability, the best racket for you ultimately depends on your individual playing style, comfort, and preferences.
How does the racket shape affect gameplay?
The racket shape significantly impacts your control, power, and maneuverability. Round rackets offer great control, teardrop-shaped rackets balance control and power, while diamond-shaped rackets maximize power.
---
Conclusion
Navigating the world of padel rackets as an advanced player can be complex. Standout options include the Nox AT10 Genius 18K Agustin Tapia 2023, known for precision play, and the Adidas Adipower Multiweight Control Alex Ruiz 2023, favored for powerful shots.
However, your individual playing style and comfort are paramount. A racket's shape can significantly influence your control, power, and maneuverability. Therefore, it's crucial to consider factors like weight, balance, and your preferred style of play.
Expensive rackets often provide advanced features and durability, but they may not always be the best fit for you.
As an important reminder, the best racket should align with your unique preferences. Your chosen racket should not only complement your game but also assist you in mastering the court.
---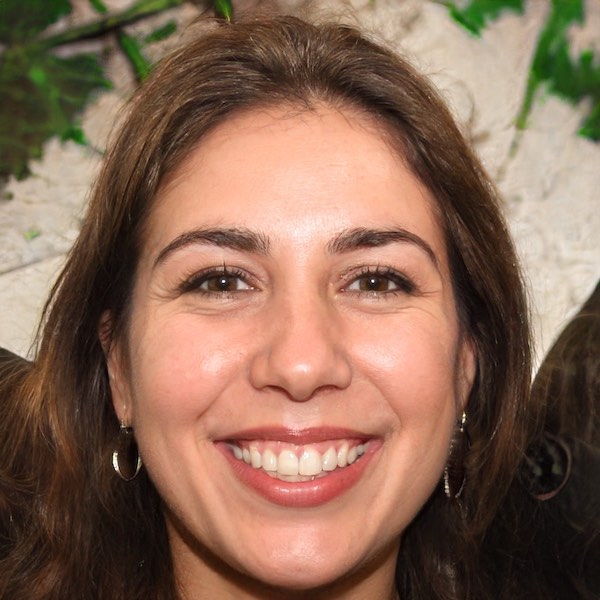 Isabella Torres is originally from Madrid, Spain, and has been playing Padel as a semi-professional for the past five years. After completing her education as a journalist, she discovered her true passion in life was writing about Padel.
She loves staying up late watching intense rallies on YouTube, and is excited to share her knowledge about the sport with SimplePadel's readers.