When it comes to sporting equipment, Adidas is one of the leading brands on the market. The company has a long history and they have been around since 1949. Their products are known for their quality and durability.
They also offer a wide range of different types of sports equipment such as tennis rackets, golf clubs, hockey sticks, and even clothing.
If you are a padel fan, you should consider investing in an Adidas racket. Their rackets are of amazing quality.
Plus, many iconic players, such as Martita Ortega Gallego, have routinely used this brand.
However, choosing the right one for you can be tough. After all, a company that has existed for so long has plenty of products available.
To help you make a decision, we have chosen the best Adidas padel rackets for consideration.
---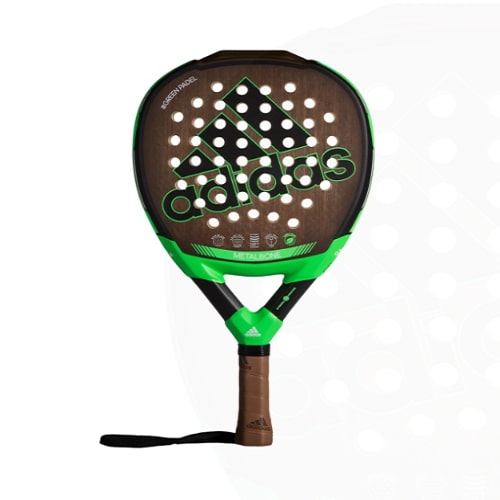 The Adidas Metalbone (read our full review and test of the Metalbone 3.1) features an innovative design that makes it easier to maneuver when playing.
It has been constructed to give the player using it a very powerful swing.
This racket also offers great value for money considering its fabulous features.
Perhaps what makes this product unique is its sustainable production. We really like the fact that this is Adidas' first fully sustainable padel.
Pros
Slick design: The padel racket not only handles brilliantly, but we also love its aesthetic. If you are a fan of the color green, you will love the accents on this racket. This adds to the sense of sustainability since the colors green and brown often represent the earth.
Fantastic flax fiber: The main surface of the racket has been produced from flax fiber, increasing its power. This is an environmentally-friendly material, meaning that it is suitable for people who are interested in being sustainable.
Great grip: The handle is well-designed and gives you a good grip. It is easy to hold onto and use. This will be especially useful if you play padel a lot, as it means that your hands won't get ruined by an uncomfortable grip.
Carbon frame: To make this padel more durable, it has been reinforced with a frame made from carbon. Therefore, you will not need to worry about it breaking straight away.
Incredible control: If you want control over your shots, this padel will provide it.
Cons
A little expensive: This padel racket has lots of brilliant features. Because of this, it is a little more expensive than some other non-branded products on the market.
Therefore, we consider only buying this advanced model if you are intending to use your padel a lot.
Also available at Padel Market.
---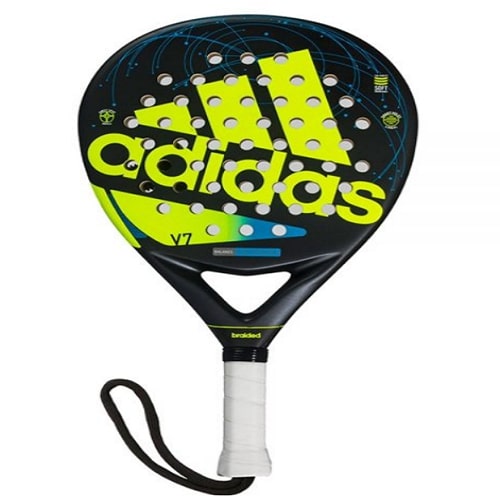 Up next, the Adidas V7 padel racket is another brilliant padel racket. It has a very sleek design and it is lightweight.
It also has a comfortable grip, which makes it perfect for beginners.
Though it is aimed at those with intermediate experience, it suits different skill levels.
This padel racket is ideal for those who want to improve their game quickly.
Pros
Eye-catching design: If you want to be noticed while playing padel, this racket will help you. It has been colored with bright shades of yellow, green, and blue on a field of black.
Fiberglass and foam: To give the ball the perfect bounce, it has been made from a combination of fiberglass and EVA foam.
Teardrop shape: From our experience, this shape could enhance the player's performance, above all it's more forgiving than most rackets.
Suitable for most payers: Regardless of your level of experience, you should be able to use this racket.
Cons
Aimed at an intermediate player: As mentioned earlier, this is targeted at players with moderate skill. Though we have found that it is suitable for both those with more or less experience, you may still find that it doesn't work for you.
---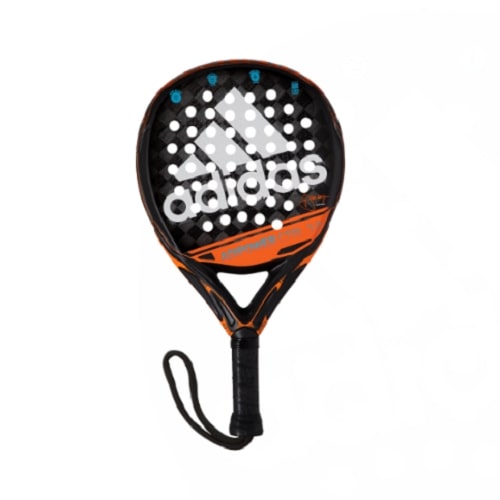 The Adidas Adipower CTRL 3.0 is one of the most famous and widely used rackets in the market today. Interestingly, this model was used by Seba Nerone in 2021. Now Seba has made an own signature racket by Adidas, the Adidas Adipower 3.1 by Seba Nerone.
Moreover, Alex Ruiz has sported this model. He now plays with the Adipower Multiweight Control. If this was the preferred racket of such great and famous players, you can trust that it is outstanding.
It has a lot of useful features that will allow you to achieve maximum performance. These include:
Pros
Control technologies: As the name suggests, Adidas offers outstanding control. The CTRL technology allows you to adjust your shots more easily than with other rackets.
This will ensure that you hit the ball exactly where you want to. Despite this, you will retain lots of power if you don't hit it in the "sweet spot".
Brilliant balance: The CTRL technology helps you to maintain superb balance, allowing you to make perfect shots, especially useful for a great bandeja or vibora shot.
Lightweight: This padel racket is designed to be lightweight. As a result, you don't need to fear it limiting your movements.
Plus, this makes it easier to transport. A minor thing perhaps, but if you carry a lot of padel rackets in your bag – everything helps.
Cons
Not budget-friendly: Though this racket has many great features, it does come at a price.
However, we think that it is worth paying for because of all the benefits it provides.

If you are shopping on a limited budget, you may want to consider one of the other products on this list.
Even some other costly models are cheaper than this.
Also available at Padel Market.
---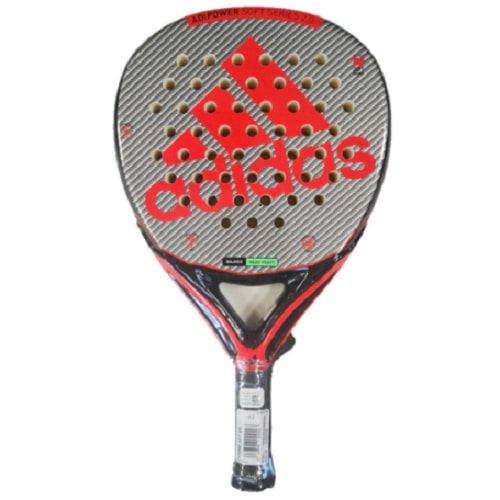 This racket is a good choice for intermediate and advanced level players. It has a diamond shape, making it easy to maneuver.
It is also lightweight, ensuring that you won't feel any discomfort during play.
As you may have guessed from its name, this padel racket is also built to be soft. Therefore you will find it perfectly comfortable to use.
If you have ever experienced difficulty with rough padels before, this product will be revolutionary.
Even though it is comfortable, the Adidas Adipower still gives you strong movements. This is what we liked and thought could be improved:
Pros
EVA softcore: To encourage comfort, this racket has been manufactured with a softcore.
We know that this type of material is popular among professional players. It is easy to mold yet remains durable.
Great feel: Thanks to the softcore, this racket feels good when you use it, it provides great sounds when you make the perfect shot.
Carbon fiber frame: The carbon fiber frame adds strength.
This means that you can use it without worrying about breaking it. Despite its durability, this frame manages to be lightweight.
Spin blade: The spin blade is another feature that makes this racket stand out.
It ensures that you get the maximum spin while hitting the ball. This innovative surface encourages spin, improving your game immensely.
Cons
The design won't appeal to everyone: Though some people may like the bold red logo and design of this racket, we find it a little busy.
If you like a simple design or a good-looking padel racket, you may want to look elsewhere.

On the other hand, you may love this look. If you don't, we suggest getting another Adidas racket.
---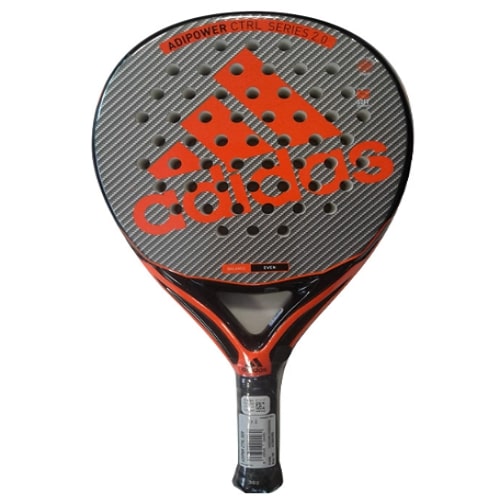 Finally, the Adidas ctrl 2.0 is less advanced than the 3.0 model. Despite this, it remains an amazing Adidas padel racket.
In fact, we would recommend it to beginners who want to improve their game. This is ideal for those who want to learn how to swing and hit proper base shots, like the bandeja.
It's not only stylish but also very effective. Here are the team's opinions on this padel racket:
Pros
Stylish appearance: This racket looks really cool. You will definitely attract attention as soon as you start using it. The orange logo makes it even more appealing.
Memory foam: The memory foam offers excellent rebounds. If you are a fan of attack shots and like to play volley, this feature will be fantastic for you.
Easy to grip: The rubberized grips ensure that you can easily hold the padel racket. They are also easy to clean.
Cons
Somewhat outdated: Though this model is efficient, it is not the most recent of models. If you're looking for something new, this may not be for you.
Also available at Padel Market.
---
Frequently Asked Questions
How Often Should I Replace My Padel Racket?
You should replace your padel racket whenever it begins to feel worn. If the grip has become uncomfortable, this is a sign that it needs replacing. You can obviously also replace the grip, but also see the next paragraph.

Furthermore, if the grip is no longer holding the padel racket firmly, then it is time to change it. An additional indication is that the colors of the racket have started to fade. If this is the case, then the material may have become damaged.

Since this can affect your performance, it is crucial to replace your racket. 
What Is A Good Price For A New Padal Racket? 
A good price for a new padel racket depends on several factors. Firstly, you need to consider the brand and quality of the racket. Secondly, you should take into account the features of the racket.
Additionally, padel rackets aimed at more advanced players are usually more expensive than those targeted at beginners. 
---
Final Thoughts
We hope that this article helped you decide what type of padel racket you would like to buy. We know that choosing one can be difficult.
You may want to take into account your needs and budget before you make a decision, as these will affect whether a racket is suitable for you.
However, because there are so many options available, we feel confident that you'll be happy with one of them.
After all, Adidas has become a global brand because it produced high-quality sporting products. Therefore, you can trust this brand and the padel rackets they produce. It's also endorsed by several pro players on the World Padel Tour.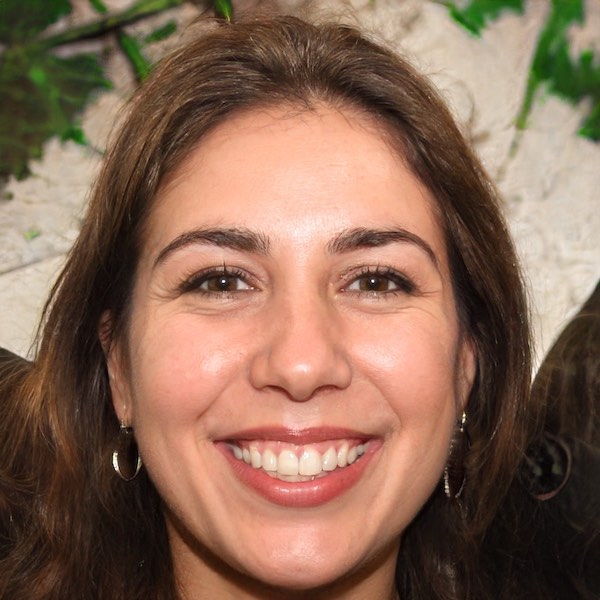 Isabella Torres is originally from Madrid, Spain, and has been playing Padel as a semi-professional for the past five years. After completing her education as a journalist, she discovered her true passion in life was writing about Padel.
She loves staying up late watching intense rallies on YouTube, and is excited to share her knowledge about the sport with SimplePadel's readers.