Playing with the better players or even pros has motivated us even more to be the best we can be, which means finding the best racket for intermediate players, which is the level I think most players would consider themselves.
Choosing the right Padel racket is a critical step on your journey to becoming a formidable player. It can significantly influence your performance, giving you the edge you need to outperform your opponents.
As an intermediate player, you require a racket that will not only offer the perfect blend of power and control but also help you refine your skills and ascend to the next level.
One standout option in the market is the Adidas Metalbone Carbon 2023. This racket has become a go-to for many professional players, thanks to its remarkable blend of power and balance.
Its 6K carbon and EVA rubber core provide a comfortable grip, making it easier to control, even for beginners. Despite being quite an advanced padel racket, it's forgiving to newcomers with its large diamond-shaped surface, which aids in mastering balance and control.
If you're budget conscious but unwilling to compromise on quality, the BatZoom Padel Racket is a fantastic choice.
Despite its affordable price tag, it boasts high-quality materials and features commonly found in higher-priced models. Its carbon fiber frame is highly durable, capable of withstanding intense play. Coupled with its large sweet spot and even balance system, this racket generates power that can easily rival more expensive models.
Let's dive deeper into our list and explore more exceptional Padel rackets suited for intermediate players!
---
The 5 Best Padel Rackets for Intermediate Players
Finding the best padel racket for intermediate players was a challenging task. Although there's a wide selection, not all offer the best power and performance.
We've searched high and low to ensure you find the best choice in the market for a price you're willing to pay.
Let's get started!
---
The Vertex 03 control is one of the best round rackets we've played with. This racket features many improvements from its predecessors, and we're thoroughly impressed with its offers.
This low-balance round racket lets you control the game and hit balls with more power.
We've learned from my fellow players I can add weights to the grip for more control, which I was fully satisfied with.
Even an average player can have a blast mastering their technique with this racket. You can master different types of playing styles to get you closer to a win!
However, you must remember that this has a heavier weight range than those ideal for beginners, which is around 340 to 360 grams.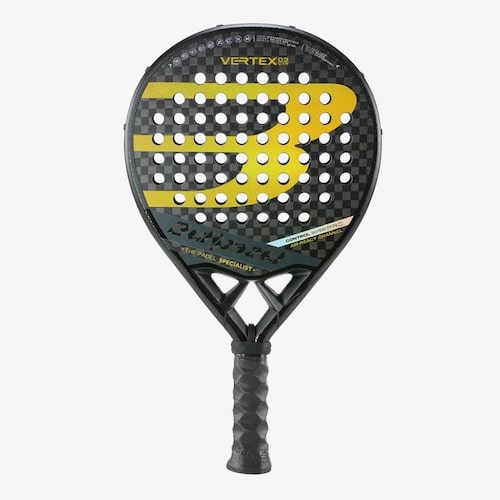 Lightweight
Carbon fiber build
Round for easier usage while in defence
Pros
High ball power
Lightweight but powerful racket
Durable carbon fiber build
Big round shaped racket for bigger surface area
Cons
Not recommended for players who want a heavier racket
---
Thanks to its impressive design and features, the NOX MJ10 has become a crowd favorite among intermediate players.
It's one of the best diamond-shaped rackets you can get today, and here's why.
Its large sweet spot is perfect for creating more power and balance, even during an intense game. It's suitable for offensive players, who never want to miss a ball during a match.
We also noticed how this racket lessens vibrations, unlike similarly priced rackets for intermediate players.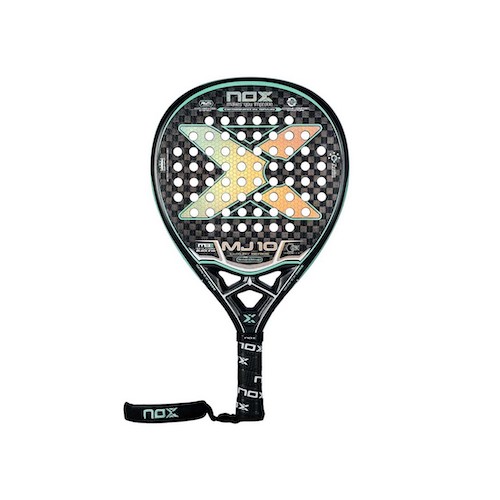 Great durability
Recommended for offensive players looking to own the net position
Great overall
Pros
Diamond shaped surface
Impressive racket durability
Made of high-quality materials
Recommended for offensive players
Cons
Takes some time to control
---
It's no secret that rackets are expensive; it's practically an investment!
Imagine our delight when we chanced upon the BatZoom padel, which comes at an affordable price tag without compromising quality and features.
From its feel alone, we can already tell this racket is made of high-quality materials. Its carbon fiber frame is highly durable, and it can withstand any beating when put to the test.
Couple it with its large sweet spot and even balance system; your racket can generate power that can easily match expensive models.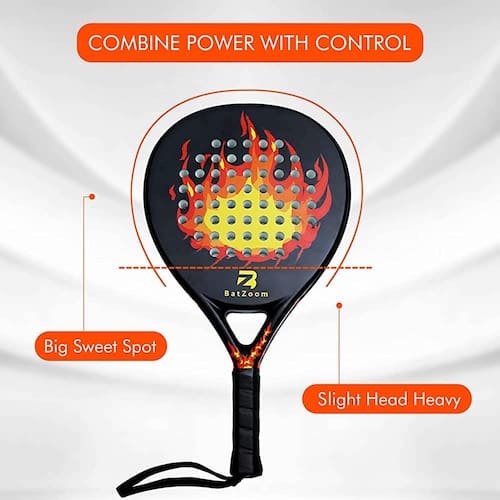 Medium balance
Great budget option
Big sweet spot
Pros
Medium balance system
Combination of power and control
Great playability and large surface
EVA foam core and carbon fiber frame
---
From a mile away, you can spot this striking round racket. Its bright neon color certainly pops, making it an eye candy to play with.
But this round-shaped racket isn't all about looks because it can certainly perform. Both advanced and professional players will have a blast experiencing more power from this racket.
The handle grips are very comfortable, letting you control the racket with relative ease. It features spin blade technology, ensuring your ball strikes fast and hard across the court.
However, you must remember that this has a heavier weight range than those ideal for beginners, which is around 340 to 360 grams.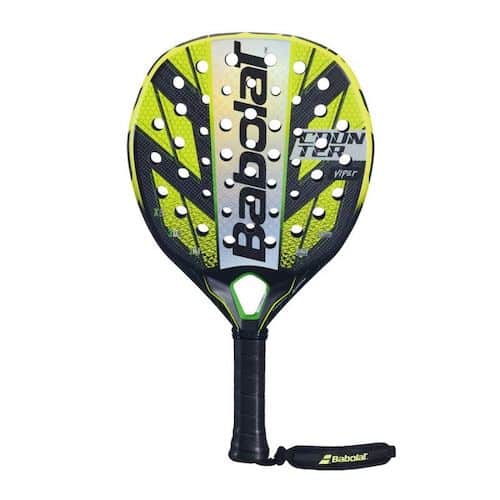 Spin blade tech built in
Great for fast balls and aggressive plays
Babolat known for quality
Pros
Sports a spin blade technology
Durable carbon fiber racket frame
Large round shape head
3K carbon outer and inner core
Cons
Tricky for beginners to get used too
---
The Adidas Metalbone padel racket has become one of the go-to's of professional players, and nearly all rackets within its line are a combination of power and balance. Always endorsed by WPT players such as Ale Galan and Alex Ruiz, Adidas has really gotten to become a brand to be recognized with in this space.
All that's left for you to do is master a technique you'll be comfortable playing with.
Its 6K carbon and EVA rubber core gives the racket a comfortable grip, making it easier to control.
This racket is pretty forgiving to a beginner, despite being an advanced padel racket. Its large diamond shape surface is pretty large to help beginners master their balance and control.
Remember that this has a heavier weight range than those ideal for beginners (and possibly intermediate players), which is around 340 to 360 grams.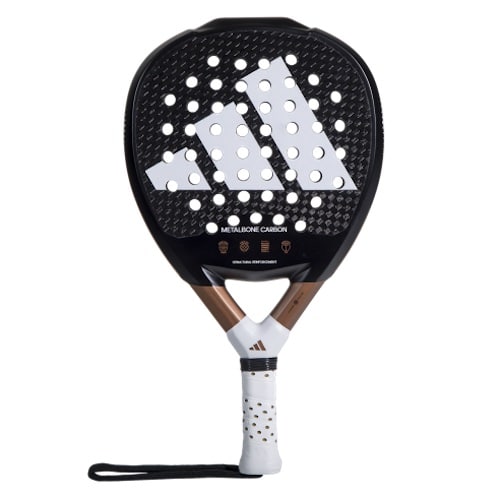 Incredible grip
Diamond shape
6k carbon and EVA rubber core
Pros
Highly durable frame
Comes from one of the best lines of rackets in the world
Adequate diamond shape head
Comfortable grip
---
Factors to consider when choosing the best padel rackets for intermediate players
In our quest to find the best padel racket for intermediate players, there are a few factors we kept in mind.
It helped us score the best intermediate rackets, perfect for the upcoming player to play with.
1. Balance

Balance deals with the weight distribution of your padel racket, starting from the tip of the padel and down to the grip.
In general, there are three balance categories to take note of: low, medium, and high balance.
Low balance
A low-balanced padel racket is ideal for beginners because it provides a more comfortable grip, making it easy to maneuver around.
It offers a good combination between control and power without straining yourself too much.
Medium balanced
A medium balance provides an even weight distribution, which makes it an ideal padel racket for intermediate players.
You can expect a good game performance, especially for those who prefer to make the attacks than take the offensive.
High balance
A higher balance racket is perfect for advanced players because they're harder to swing and grip than other rackets.
They tend to be heavier than most rackets, which makes it difficult to hit balls across the net.
You'll need to dedicate a few sessions before getting used to this racket before you play on the court.
2. Weight
Before buying a racket, ensure its weight is something you're comfortable holding. It can affect how you control and hit your racket.
Some prefer a lighter racket to a heavier one. This is one of the secrets advanced players always have in their back pockets.
3. Thickness
Thickness deals with the grip of your racket. You might think a thinner grip would be better, but not always.
In general, we would recommend choosing a handle you're comfortable holding even after you play for hours.
---
Frequently asked questions about intermediate padel rackets
How much does a good intermediate-level racket cost?
A good padel racket comes in different price points ranging from $150 to $250. So regardless of how much you're willing to spend, we're sure you'll find the perfect padel racket. 
What shape of the racket should intermediate-level players get?
There's no hard and fast rule regarding the shape of the padel racket for intermediate players. At the end of the day, it boils down to comfort and your preferences. Round rackets are ideal for those who want padel racket control. Diamond shape is perfect for giving more power and offense.
---
A Recap of our Top Picks
Who says you can't have the best padel racket even if you're working with a budget?
This racket sports awesome features and packs a ton of power which an intermediate player will enjoy during their game.
This diamond-shaped racket is perfect for beginners who want to master their playing technique.
You can make your money shots each time you hit the ball. You can score some serious points when you play.
Topping our list of the best padel racket for intermediate players is this Bullpadel Vertex 03 control.
Its materials come with outstanding durability that's hard to beat. What better way to master the sport than having a round racket that knows no limits?
---
Conclusion
Whether you're new to Padel or looking to elevate your game, there's never been a better time to embrace this captivating sport.
It's not only an excellent stress-buster, but it also provides a platform to continually improve and eventually match skills with more advanced players.
We hope this guide has been informative and helpful. Your feedback is always appreciated – we'd love to hear about the type of Padel racket that suits your style.
Are you seeking a racket that delivers powerful strikes, or is your game more about balance and control? Remember, the right racket can significantly enhance your performance on the court. Happy Padel playing!
---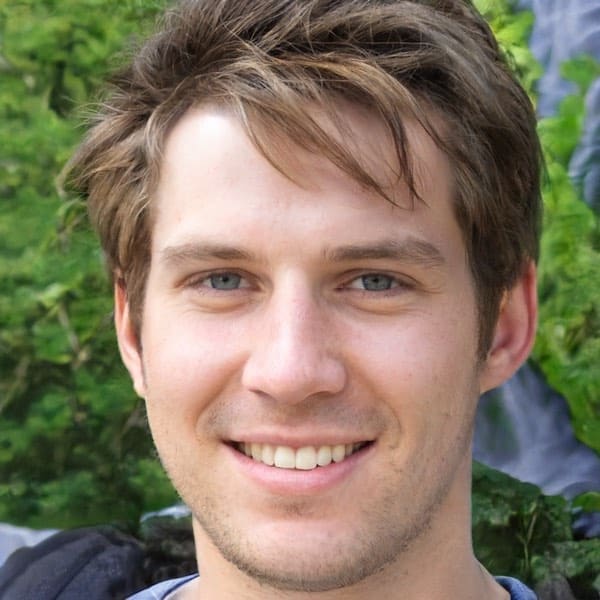 Kevin Anderson is a Content Writer for SimplePadel. He joined the company during summer 2022. For SimplePadel, he spealizes in testing rackets and writes a lot of our padel racket reviews.
Kevin loves to own the net position and considers himself an attacking-minded player. He often claims that he has the reach of a monkey – thanks to his 6'5″ stature. In his spare time, he enjoys cooking and following the USPA closely.