The Grandcow Flash Power Lite padel racket is a top-quality choice for players looking to improve their game and take their padel journey to the next level.
Made with the latest techniques from Grandcow Tennis, this racket features a full-size carbon fiber frame that provides a lightweight and strong construction, allowing for easy maneuverability and power on the court.
In addition, the non-slip, sweat-resistant grip ensures a comfortable and secure hold, making it an excellent choice for players of all skill levels, especially beginners who may be looking for a reliable and easy-to-use racket.
Whether you're just starting out in padel or looking to upgrade your existing racket, the Grandcow Flash Carbon Fiber Power Lite Pop Tennis paddle racket is an excellent choice for players looking to elevate their game. Read on for Kevin's full review!
---
Main features of Grandcow Flash Padel Racket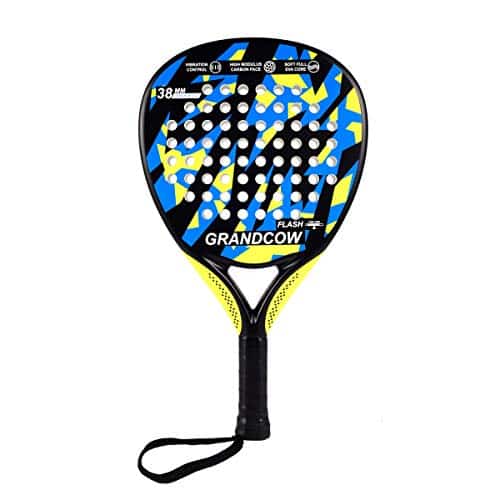 Lightweight with strong carbon frame
Non-slip, sweat-resistant grip makes it super comfy
Great for beginner players
Diamond shape improves weight distribution for better and more powerful shots
EVA Memory Foam Core with new hole distribution allows better control and comfortable grip
A basic balance combination adds control and increases power shots
Carbon frame and triangle angle hand support provide vibration control for a stable, better control performance
Non-slip and sweat-resistant grip handle for better hold on the padel racket
Adjustable, safe wrist tether helps avoid wristy swing and padel slip during gameplay
New hole distribution provides better hand balance to improve the overall game
Diamond structure for maximum strength and balance
Carbon fiber and graphite frame provide ultimate durability
---
Specification of the Grandcow Flash Paddle
Here are the specifications that make up the Grandcow Flash high-performance tennis padél racket:
Main specs:
Brand: GRANDCOW Tennis
Player level: Beginner
Shape: Diamond
Weight: 350g
Balance: Basic
Frame: Carbon
Balance: Basic
Beam: 38mm
Head Size: 18 inch L x 10.2 inch W
Composition specs:
Core Composition: EVA Memory Foam Core
Frame Composition: Carbon Fiber, Graphite
Surface Composition: Carbon Fiber Fabric
---
Our review of Grandcow Flash Padel Racket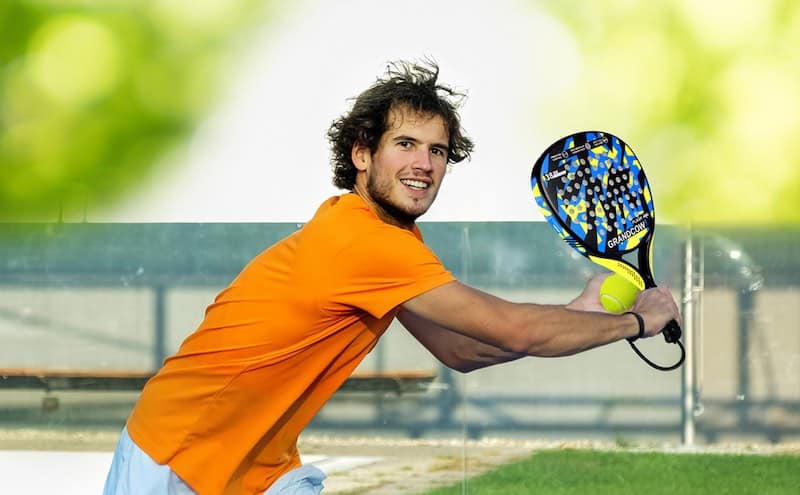 The Grandcow Flash tennis padel racket is excellent for all types of players, especially beginners.
Its carbon fiber and graphite composite surface provide better control during a high-speed impact hit. It makes the Grandcow Flash great for volleying drills.
Its extended length and grip size gives the player an advantage on the serve-greater impact, and longer reach for a better speed range hit.
The handle's soft feel and non-slip grip also allow longer practice times to help perfect your technique. It also ensures comfort when training.
The carbon fiber frame provides excellent durability. This tennis padel is sure to last throughout your learning days and beyond.
A bonus is that it also includes a bag and backup overgrip in the total price.
Here's a summary of what we love about Grandcow tennis Flash padel racket and a few things they could improve on.
Pros:
Beginner-friendly
Affordable
Includes carry bag and backup overgrip
Cons:
Sliding strap
Feels a bit plastic
---
What level of player is the Grandcow Flash best for?
The Grandcow Flash is excellent for beginner padel players learning this fast and reaction-based game.
Its weight and structure will help pick up the essentials for attacking and help anyone feel the power of each hit.
The soft memory core of this tennis padel also allows for longer plays and rallies, letting you perfect those power shots in comfort.
Grandcow's carbon fiber tennis padel will provide high durability, performance, and power to even the newest players.
Intermediate and advanced players can also use this paddle for more power shots and easy games, albeit there are much better alternative padel rackets for the advanced players.
Is Grandcow Flash best for attacking or defensive players?
The Grandcow Flash tennis padel racket is perfect for attacking players who want a lot of power with each strike, thanks to its weight and diamond shape.
It's more weighted than other shapes, giving the ball an extra boost with each hit.
It makes the Grandcow padel tennis racket best for training to get those strong hits, could potentially also be used as a warm up racket (because of it weight) for more advanced players.
Using the hitting area on top allows the player to easily volley it back to their opponent with an extra push.
Get more aggressive smashes with ease and practice those attacks using the Grandcow Flash tennis padel racket.
---
In this review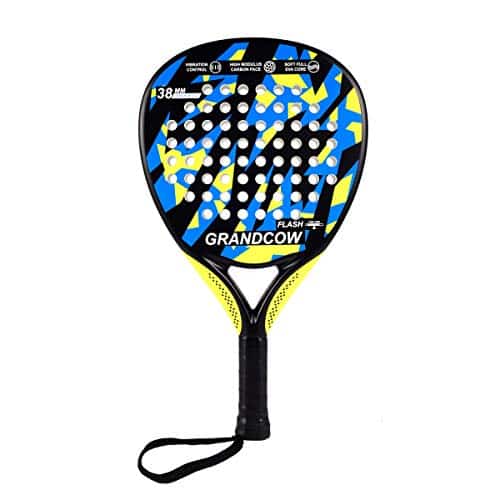 Lightweight with strong carbon frame
Non-slip, sweat-resistant grip makes it super comfy
Great for beginner players
---
Conclusion
In conclusion, the Grandcow Flash Power Lite Padel Racket is a top-quality choice.
With its full-size carbon fiber frame and non-slip, sweat-resistant grip, this racket provides the perfect combination of power, control, and comfort.
Its lightweight construction and quick response flex allow for greater leverage and the highest impact hit, making it an excellent choice for players looking to control games by being aggressive in the net position.
A very reliable paddle. Try it out if you get the chance.
---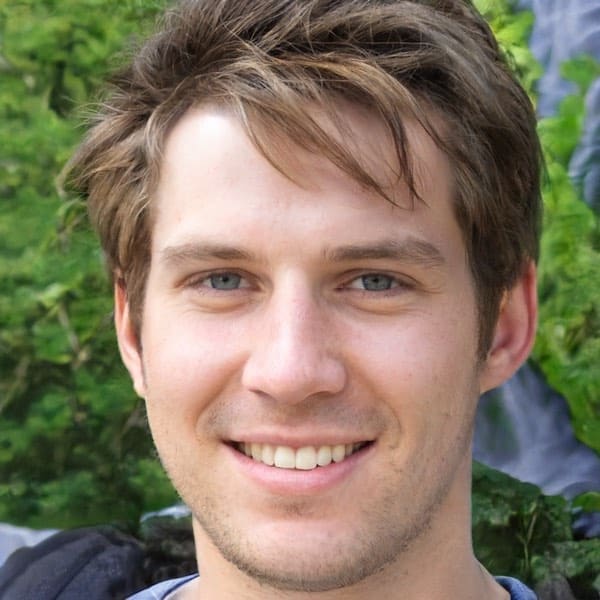 Kevin Anderson is a Content Writer for SimplePadel. He joined the company during summer 2022. For SimplePadel, he spealizes in testing rackets and writes a lot of our padel racket reviews.
Kevin loves to own the net position and considers himself an attacking-minded player. He often claims that he has the reach of a monkey – thanks to his 6'5″ stature. In his spare time, he enjoys cooking and following the USPA closely.