Diving into the exciting world of padel? Choosing the right racket is crucial for beginners to ensure a comfortable, enjoyable, and injury-free experience on the court.
As a novice, it's essential to understand the key features that make a padel racket suitable for beginners, such as control, balance, and maneuverability.
In this article, we'll guide you through what to look for in a beginner's racket and reveal our top picks for 2023, with the Adidas Adipower Ctrl 2023 standing out as the best overall choice for newcomers to the sport.
---
The 4 Best Padel Rackets for Beginners on the Market Today
This is our carefully curated list of the top four beginner-friendly padel rackets!
Designed to provide an excellent foundation for newcomers, these rackets ensure a comfortable and enjoyable experience as you learn the ropes of this thrilling racket sport.
Boasting features such as control, balance, and maneuverability, our selection caters specifically to beginners, setting you up for success right from the start.
Read on to explore our top picks and find the perfect racket to kick off your padel adventure!
The first padel racket on the list is the Adidas Adipower CTRL 3.2 2023.
This padel racket has a customizable weight system that lets you personalize and adjust the padel racket to find the weight that produces a comfortable hit and swing.
This 360 to 375-gram perfect Padel racket is made with a rounded shape and a 15K aluminized carbon frame paired with the EVA foam.
This makes it ideal for beginners who like to have better direction and ball control by ensuring the proper stiffness and rigidity of your Padel racket.
Not just that; it has Dual Exoskeleton technology that will enable a beginner padel racket user to generate maximum power to achieve the winning bandeja, vibora or kick smash.
However, you must remember that this has a heavier weight range than those ideal for beginners, which is around 340 to 360 grams.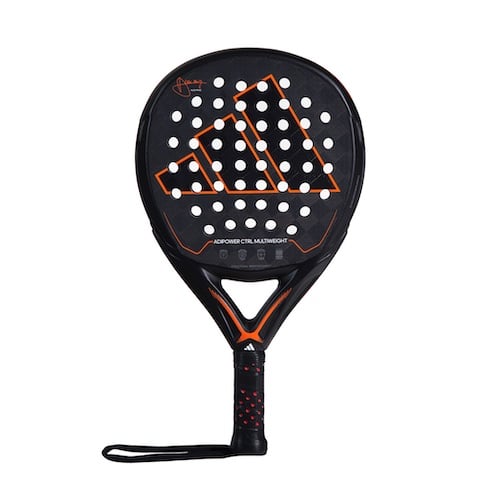 Pros
Customizable weight system for better handling and tennis elbow prevention
Round shape for a medium balance
EVA high memory foam for rigidity and control
Cons
Heavier racket than usual for beginners
---
If your playing style is defensive, you're in for a treat when you use the Bullpadel Ionic Control 2023.
The Bullpadel Ionic Control racket is among the best padel rackets for beginners because it showcases a glaphite hitting surface, complementing the fiberglass' flexibility and carbon fiber's rigidity.
Having this combination in this beginner racket allows it to increase its durability, maintain improved control, and offer more power to consistently hit challenging shots to your opponents.
This diamond-shaped racket has a low balance, making it easier for beginner, experienced, and even advanced players to maximize power and create more ball output.
However, the shape and balance also produce a smaller sweet spot. A beginner player will need to exert extra effort to control where the ball lands within the hitting surface.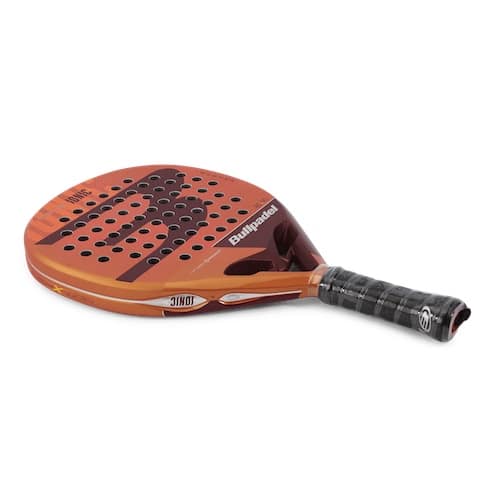 Made of Glaphite, a hybrid of glass and carbon
Multieva rubber and a CarbonTube frame
XForce system
Pros
Diamond shape for more power
Glaphite surface for both softness and stiffness
Multi-EVA foam core for balanced stiffness
---
If you want a more forgiving racket that allows you to efficiently hit the ball in the middle sweet spot, then the Nox X-One Evo 2023 is your best bet.
The Nox X-One Evo 2023 padel racket has a round shape that enables good control and better ball output thanks to its big sweet spot and low balance. It's also incredibly affordable (it's actually cheap!).
This racket has a weight range of 360 to 375 grams, ensuring a solid but soft feel for incredible power hits. It's made of a fiber-glass 3k racket face to ensure flexibility, grip, and a reasonably lightweight racket.
Moreover, this padel racket is made of HR3 core technology, making it robust and stable with high density.
This padel racket provides greater ball output as the core increases the ball's recovery time to generate more speed.
However, with its price range and heavier fiberglass, it can't be considered a racket suitable for a more advanced player.
Nevertheless, it's still a good buy for beginners exploring techniques and playing styles.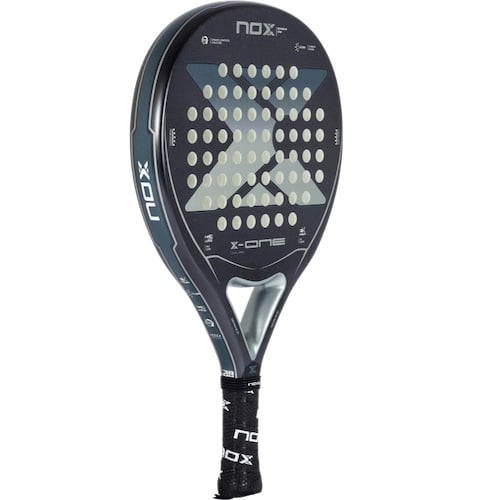 HR3 rubber, the carbon frame
Perfect for beginners
Cheap!
Pros
Round format design for control
HR3 core to return the ball easily
Dynamic Composite Structure for minimized fiber cutting
---
Last but not least on this list is the Nox VK10 Aranzazu Osoro 2023, an ideal Padel racket for beginners.
This padel racket has Nox's lateral anti-vibration system for a more controlled, vibration-free hit.
It even has SmartStrap technology with replaceable and hygienic straps, ensuring more control of the racket as you start playing padel tennis.
Nox designed it to be the perfect racket for women, as it was named after women's legend Aranzazu Osoro, emulating her warrior spirit in every spin and smash of the ball.
It's an excellent first racket to have as a beginner since it's made in a round format with a 100% carbon frame and HR3 core EVA, creating a large sweet spot for superior control and excellent Padel racket handling.
It also has oversized grip technology for a longer and easy-to-handle grip size. However, its rough surface can produce less bounce for your ball. Nevertheless, it still creates more spin.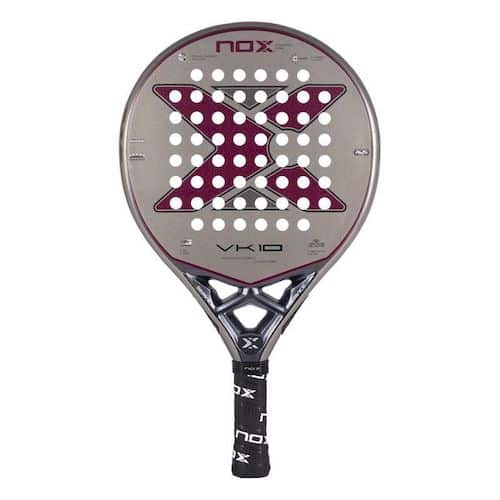 Low balance, stands out for its great power and punch
Performance padel racket for advanced woman players
Rough silica sand finish on the face to make spin shots easy
Pros
100% carbon fiber for a lighter racket
AVS technology for a vibration-free hit
Rough silica finish for extra spin
Cons
Lesser ball bounce due to spin
---
Factors to consider when choosing the best beginner Padel rackets
Before buying your next padel racket, there are some factors you need to consider. We'll go through them below to help you make your next purchase an easy one!
Skill level
First, you must identify your skill level (e.g., beginner, intermediate, advanced, expert).
It will determine the right racket with the appropriate shape, balance, textured surface, weight, and technology to give you the control, power, grip, and spin you need and can handle.
Control + Grip size
Second, check the grip size and assess if it's comfortable enough to hit that padel smash or more advanced shots. To get it right, here are some tips:
Choose padel rackets that are AT MOST 38 millimeters thick
A thinner grip means more effort to squeeze and secure the racket, make sure to play with the correct grip size as it's crucial
The more comfortable your grip is, the more control you get from high-balance, medium-balance, or low-balance padel rackets
Speed
Aside from the grip, always be wary of the speed the padel rackets can provide after a soft hit or hard hit. Here is the general rule of thumb to remember:
Hard-surfaced padel rackets provide a firm place for the ball to bounce at a higher speed during fast and strong ball exchanges, making it preferable for advanced and expert players
Soft-surfaced Padel rackets provide slower speeds with hard-hitting power shots, which makes them suitable for beginners
Balance + Sweet spot
The fourth factor to consider is finding the perfect balance and sweet spots, which dictate how much control and ball output you can have. To clarify: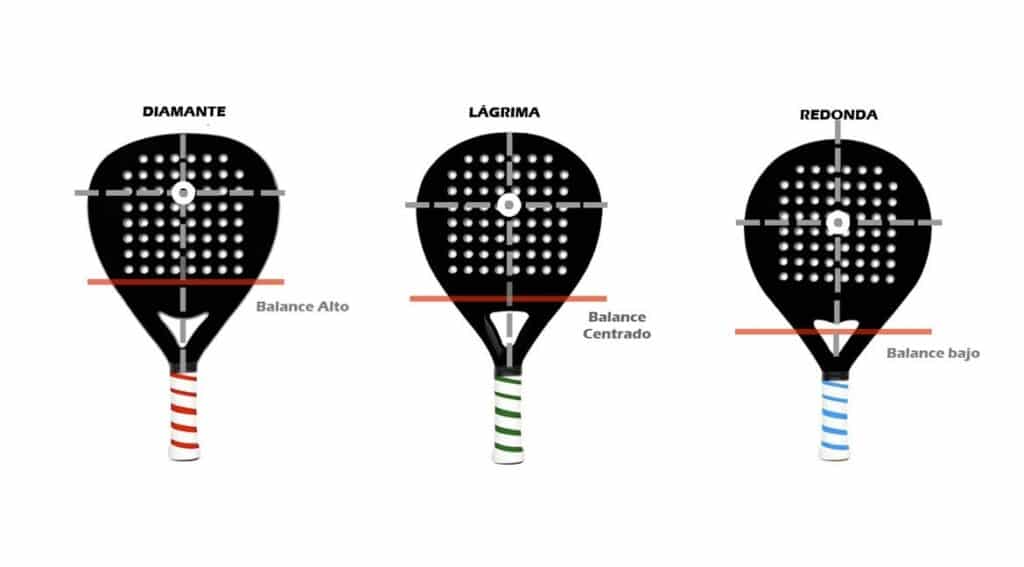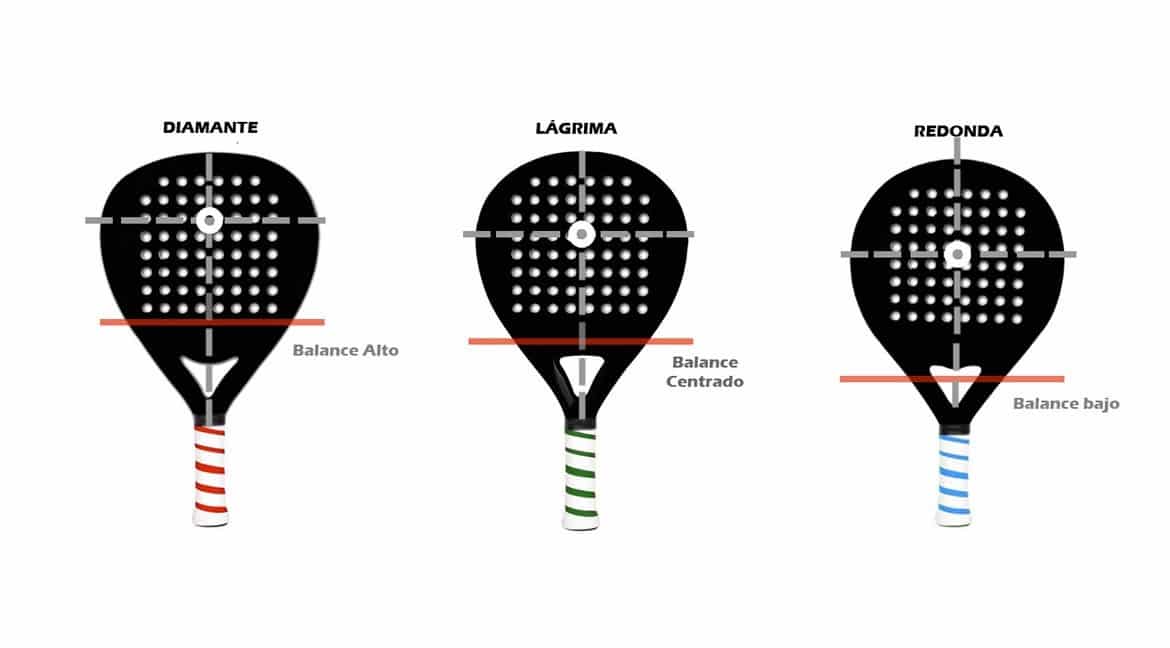 Padel rackets with high balance have small sweet spots, which makes them difficult to control for beginners (e.g., diamond balance)
Padel rackets with medium balance have medium sweet spots, which makes them manageable for most (e.g., head flash or teardrop balance)
Padel rackets with low balance have bigger sweet spots, which makes them easier to control for beginners (e.g., round balance)
Weight
Make sure to look at the weight aspect as well. On the one hand, heavier weight produces extra strength in every swing but makes it challenging to carry.
On the other hand, a light-weight padel racket is be best for beginners because it's easy to swing and control.
Materials Used
You must also analyze the materials used, which can say so much about the quality and durability of your Padel racket. Here are some details:
An EVA soft rubber core Padel racket can give high memory, density, and power to advanced rackets
A fiberglass surface makes up a flexible and soft racket
A carbon fiber surface makes up a stiff, controllable, and light racket
Price
Of course, to determine the best price for the padel rackets, consider if their technology (e.g., spin blade technology), balance, power, and composition justify the expensive racket price.
---
Conclusion
In conclusion, our top four beginner-friendly padel rackets have been carefully selected to provide newcomers with the best possible start in this exhilarating sport.
Each racket offers unique features tailored to help beginners develop their skills and enjoy a comfortable, rewarding experience on the court.
With options like the Adidas Adipower CTRL 2023 as the best overall pick, the Bullpadel Ionic Control 2023 for the best value, and the budget-friendly Nox X-One Evo 2023, there's a perfect racket for every aspiring padel player.
So go ahead, take into account these essential factors, select the ideal racket from our list, and get on with your padel journey!
---
Frequently Asked Questions – Best Padel Rackets for Beginners
How much does a padel racket for beginners cost?
A Padel racket for beginners can cost $50 to $225, depending on the shape (e.g., round format, teardrop shape), materials (e.g., fiberglass, carbon), and brand.
What is the difference between padel 3k and 18k in padel rackets?
The difference lies in the thread count, which defines the softness or hardness of the padel racket. On the one hand, 3000 (3k) threads are softer than 18k. On the other hand, 18,000 (18k) threads have a hard surface that produces more power.
What features should I look for in a beginner's padel racket?
As a beginner, it's essential to look for a racket that offers control, balance, and maneuverability. Opt for a racket with a round shape, low balance, and a large sweet spot to make it easier to handle and control. Additionally, consider the weight and materials used.
How important is the weight of a padel racket for beginners?
The weight of a padel racket plays a crucial role in determining how comfortable and easy it is to handle, especially for beginners. Lighter rackets are generally more accessible to control and swing, making them ideal for those new to the sport. However, it's essential to find a balance between weight and power, as heavier rackets can provide extra strength in your swings.
What materials should I consider for my beginner's padel racket?
Analyzing the materials used in a padel racket can give you an idea of its quality and durability. For beginners, EVA soft rubber cores can offer high memory, density, and power. A fiberglass surface creates a flexible and soft racket, while carbon fiber surfaces provide stiffness, control, and lightweight characteristics. Consider these materials when choosing your first padel racket to ensure a suitable balance of control, power, and durability.
---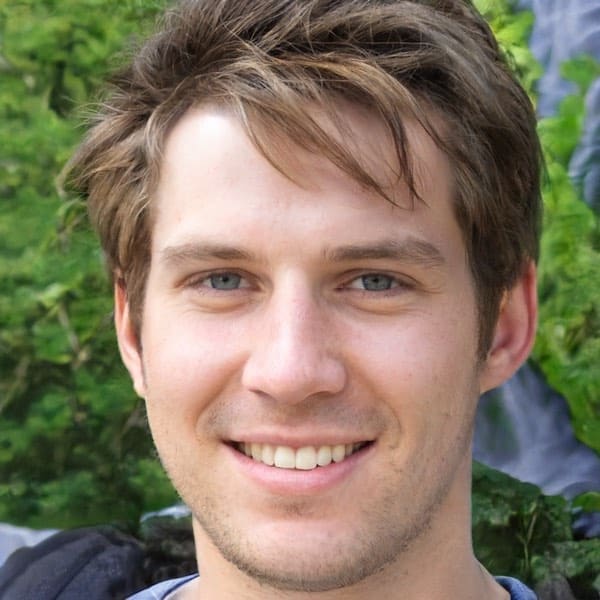 Kevin Anderson is a Content Writer for SimplePadel. He joined the company during summer 2022. For SimplePadel, he spealizes in testing rackets and writes a lot of our padel racket reviews.
Kevin loves to own the net position and considers himself an attacking-minded player. He often claims that he has the reach of a monkey – thanks to his 6'5″ stature. In his spare time, he enjoys cooking and following the USPA closely.