Are you in search of a padel bag that suits you?
For a sport as fun as padel, you would need a bag that guarantees protection to your racket and gives you enough space to store your essentials.
This article has got all you need to know about its racket bag, from the different types of padel bags to the benefits to the brands that offer the top ones.
In the end, we hope that you become enlightened in finding the best padel bag for the best experience and convenience. Good luck!
---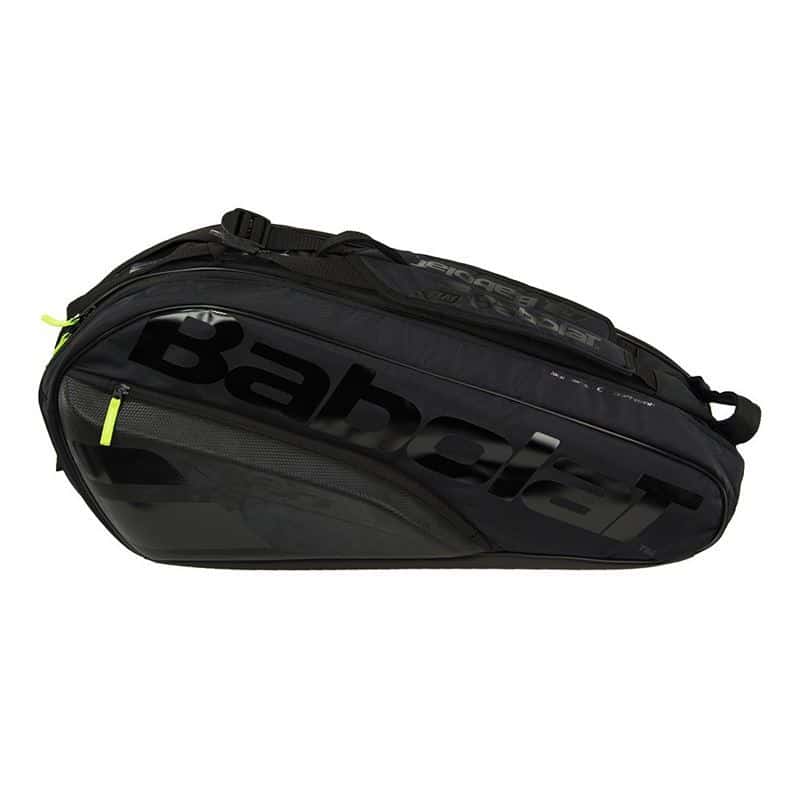 The Babolat Pure Racquet Holder X 6 Tennis Bag Black has two main zippered compartments for racquets and gear including one that is insulated.
There are also two side zippered compartments with interior pockets for accessories, and padded shoulder straps. This is our top pick!
---
Different Types of Padel Bags
Padel racket bags come in three categories: the regular racket bag, the duffel racket bag, and the racket backpack.
Regular Padel Bag
The standard racket bag is created specifically to store padel rackets and related gear and usually comes with handles and shoulder straps for easy carrying.
Its distinct oval shape found in nearly all regular bags is molded conveniently to fit one racket into place!
There are also professional bags with additional features such as pockets, a compartment for footwear, and other articles of equipment.
The regular racket bag design is most commonly found in sports stores, and among the popular brands that offer it include Head, Dunlop, Wilson, and Adidas.
Pros and Cons of a Regular Padel Bag
Pros:
Practical for padel sessions
The oval shape protects the racket
With one or multiple compartment sets
Cons:
Low-end bags may not have extra space
Premium brands may not allow machine wash
---
Duffel Padel Bag
The duffel bag is characteristically larger and wider compared to the regular racket bag, with enough compartments and space to fit in other things aside from the usual racket.
A benefit of this type is that there are limitless possibilities!
It can be used for different activities and functions, such as in the gym, at a basketball or soccer game, or simply as baggage to stock some clothes and shoes for a vacation.
The duffel paddle bags are enhanced with stronger and more durable materials than any regular duffel bag could offer.
Duffel bags come in various sizes and designs, and among the popular brands that offer this type include Babolat, Wilson, Head, and Bullpadel.
Pros and Cons of a Duffel Padel Bag
Pros:
Bigger storage for several rackets and baggage
Versatile in various activities
May come with shoulder and/or backpack straps
Cons:
Hard to carry with due to bigger storage space
Difficulty to organize
---
Padel Backpacks
Like the previous duffel-type bag, the padel racket backpack is reinforced with high-quality athletic-grade elements, making it durable in the process.
Padel backpacks also come in style with a wide range of designs!
Most of these designs work seamlessly in whatever situation you may be in, whether you're working out, going on an adventure, or simply at your workplace.
Racket backpacks automatically come with standard backpack straps that are easier to carry around for longer periods.
Nox, Bullpadel, Varlion, and Adidas all know a thing or two when it comes to creating backpacks that can store padel rackets and other stuff.
Pros and Cons of a Padel Backpack
Pros:
Reinforced with robust materials for durability
Convenient and practical
With various designs and colours
Cons:
Bigger backpacks may be heavier on the back
Premium brands may not allow machine wash
---
Why Use a Padel Racket Bag in the First Place?

The padel racket bag can protect your racket and accessories against external environments.
Not only that, but they also help in organizing the equipment you need to play padel!
| Organization and packing of Padel gear | Protection of Equipment |
| --- | --- |
| Has two or more storage compartments with one designed to store rackets and the other for personal belongings. | Made of athletic-grade and durable materials suitable for longer periods of use. |
| May also include a separate pocket for shoes, a section for water bottles, and a sleeve to store a laptop. | Lined with insulated fabric for protection against extreme temperatures and damage. |
Organization and Packing of Your Padel Gear
The racket bag usually has two or more storage compartments, with one designed to store rackets and the other designed for clothes, accessories, and other articles.
There are plenty of bags that also offer a pocket to stock shoes, a section for water bottles, and a padded sleeve to store the laptop.
Protection of Your Padel Equipment
Each bag is made of synthetic athletic-grade materials suitable for longer periods of use.
The racket sections are lined with insulated fabric and filters meant to protect them from extreme temperatures and damage in some bags.
Difference Between a Tennis Bag and a Padel Bag
A tennis racket has a string net head and long handle, while a padel racket has a foam-filled shelled head and is shorter. A tennis bag can fit even a padel racket effortlessly.
However, in comparison, the padel bag is built specifically around its racket shape, making it impossible to stock even any racket with a wide, large head such as a tennis racket.
Despite these, both padel and tennis bags guarantee comfortably convenient attributes to your gear and yourself.
They also provide enough space to stock up on all the necessary essentials, articles of clothing, and so on.
---
Main Differences Between Different Brands and Types of Padel Racket Bags
Racket bags give superb storage capacities to your padel gear and accessories, but not all of them can have everything at once.
Let's find out what makes each bag distinguishable from the other!
What is the Material on the Inside and Outside?
Most bags are made of full polyester.
But for others, composition with other fibers may differ, with the outside having only around a half percentage and the inside significantly more at around 75%.
There are a couple of bags out there that don't use polyester at all – notable alternatives include nylon, canvas, leather, and neoprene.
Special Compartment That Allows "Shoes to Breathe"
Any bag on the low price filter may have the option to either include a separate pouch for footwear or don't.
If it does get included, it may be made with decent-quality elements.
In comparison, higher-quality paddle bags have a shoe pouch designed with properties such as a specialty lining that filters air for better ventilation, plus insulation elements to maintain the shoes' life.
Either way, the benefit of having a shoe pouch is not having to worry about any unpleasant smell and dirt penetrating your clothes and other belongings.
General Size of the Bag
The padel racket bag, compared to a tennis bag, is smaller, lighter to carry around, and can be slotted into tiny spaces.
Like the latter, though, much smaller sizes can easily be carried, particularly by women, kids, and other players who might find transporting heavy objects difficult.
Number of Compartments for Easier Storage
Lower-price bags usually have a single separate racket compartment and the other for clothes and valuables with smaller pouches along the inner lining.
Meanwhile, premium bags may have more compartments for extra space, each designed for different needs, including a pouch for extra grips, one for ball canisters and/or water bottles, and a laptop sleeve.
Multiple Compartments for Different Padel Rackets
Other bags are available with additional storage to stock up not just one but several rackets.
They also come with detachable dividers that guarantee protection between each racket from any grinding that may affect its performance.
---
---
Top Brands of Padel Bag Makers
These brands we'll be tackling next have had a hand in providing high-caliber gear, including padel rackets, bags, and other state-of-the-art gear!
This section will include their prices with the most valuable currently sold in store promotions, plus some additional info on our top 3 models!
Without further ado, here is our comprehensive list of the hottest racket bags.
All for Padel is known for its top-notch gear and uniquely designed bags!
For example, this backpack that's among their latest models featured in their recent Multigame 2.0 collection, with a touch of Adidas branding.
---
Originally made for tennis gear, this Babolat duffel bag can fit other racket sporting equipment, including padel, making it the most spacious and flexible duffel bag on our list yet!
---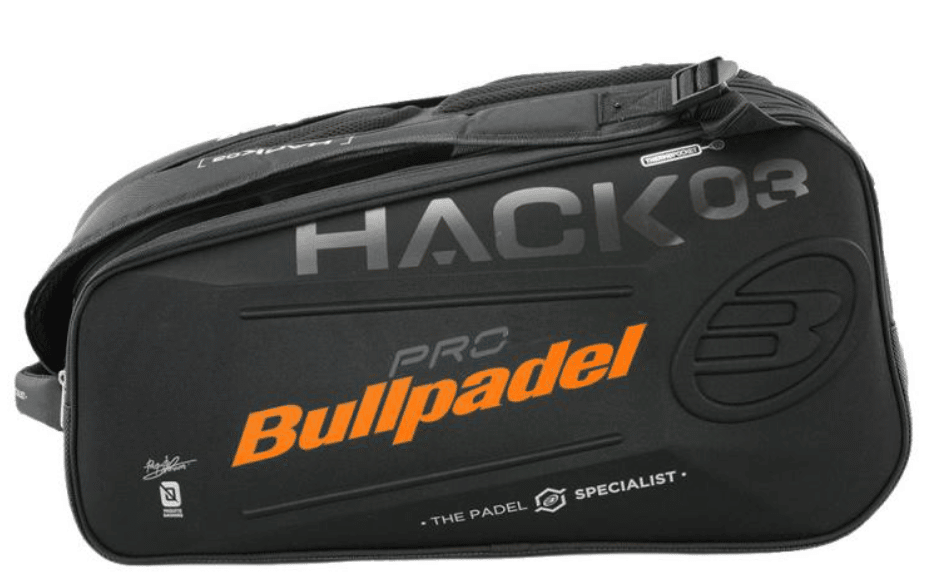 Bullpadel's Hack 03 racket bag is perfectly complementary to World Padel Tour star Paquito Navarro's trademark racket of the same design.
It has plenty of reliable elements, such as an excellent airflow design, enough storage for four rackets, and a rigid shell for better protection.
These are just some good reasons why we're recommending it as one of our three feature bags!
---
British brand Drop Shot's Ambition range of gear offers versatility at reasonable deals!
It includes this ergonomic and sporty backpack that we cannot recommend enough for those with tight budgets – this bag on our list is our cheapest yet!
It is ideal for traveling, light, durable, and available in different colors to suit your style!
---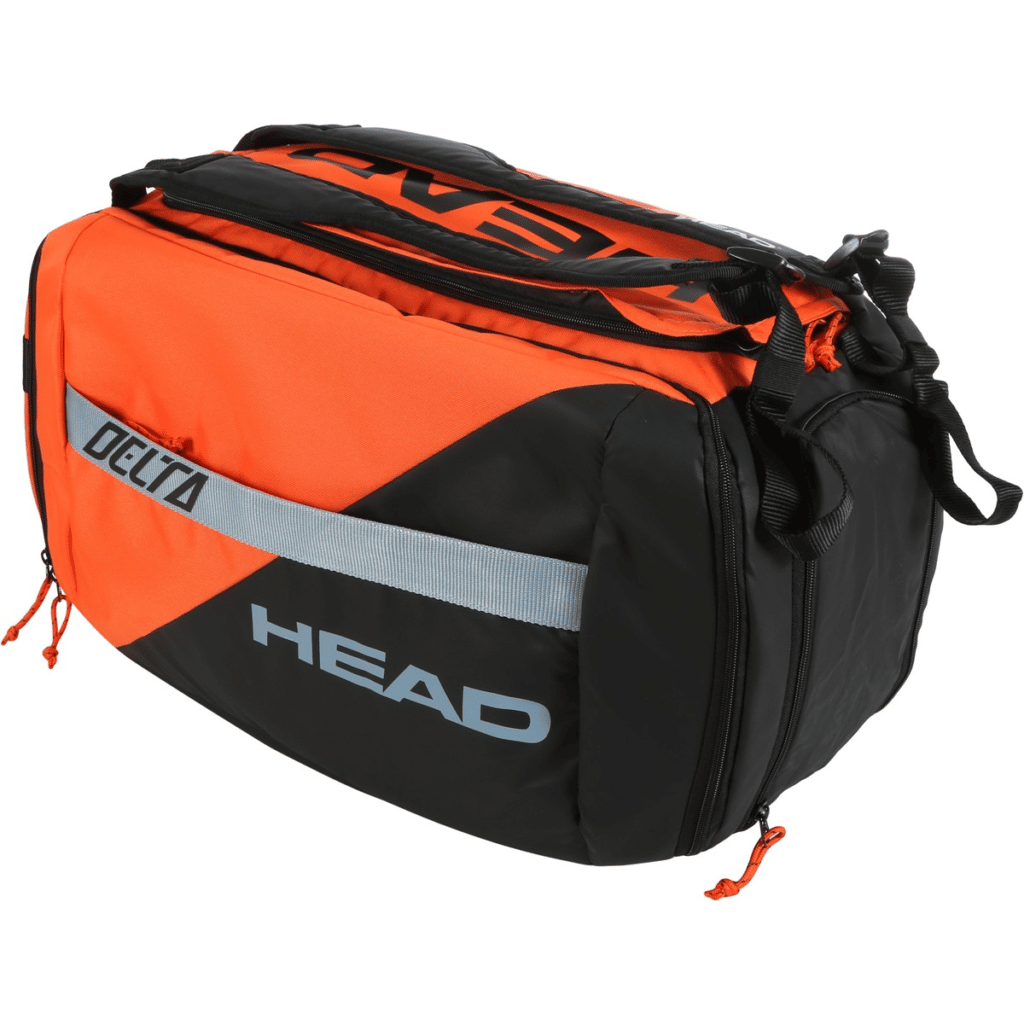 From the famous brand Head, this sport bag from their Delta collection is highlighted with orange and gray accents, a distinctive design, and essential storage elements for your racket and accessories.
---
Spanish brand Nox is an official racket and accessories provider for the World Padel Tour.
Their Master Series collaboration includes items reinforced for professional use, like this backpack!
---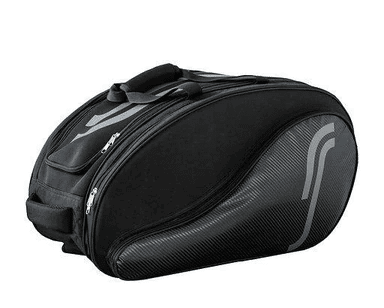 RS Sports offers a variety of gear for racket sporting activities, each of which has a Scandinavian mark,
This small version of their Classic Padel Racket Bag is recommended for women and younger players and reflects their work ethic at a reasonable price.
---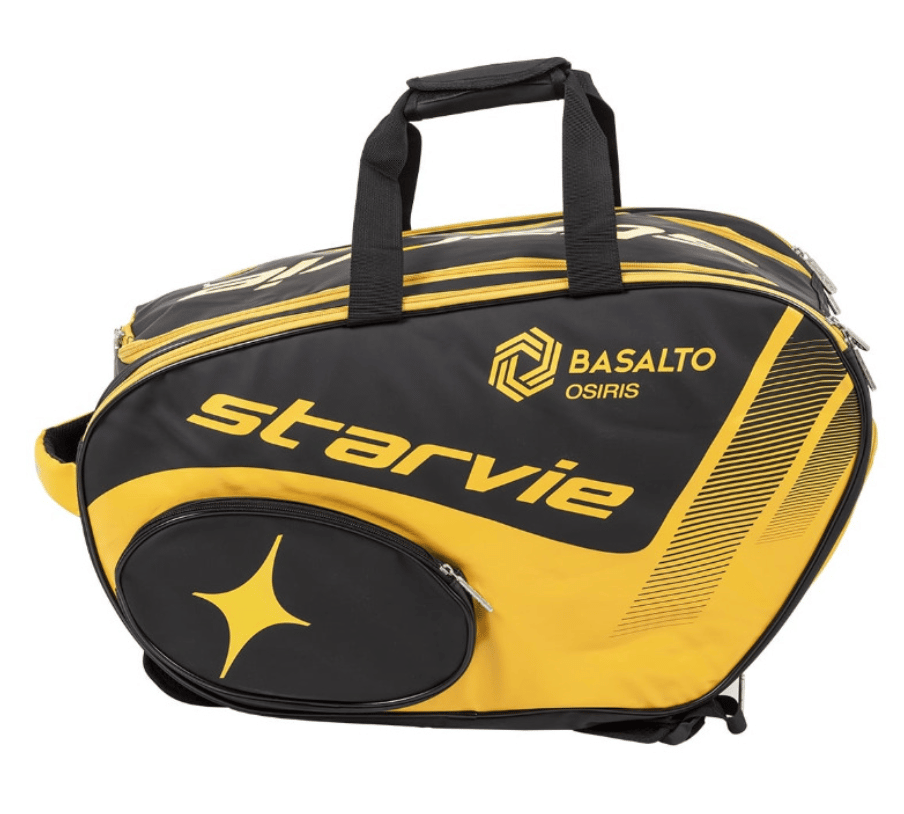 StarVie's 2021 Basalto Osiris racket comes with its corresponding bag to pair, with an insulated two-compartment set for your racket and other items and a breathable shoe pocket.
Additionally, it comes donned in a beautiful black and yellow color scheme! Style points!
---
Stiga One Padel Team Racket Bag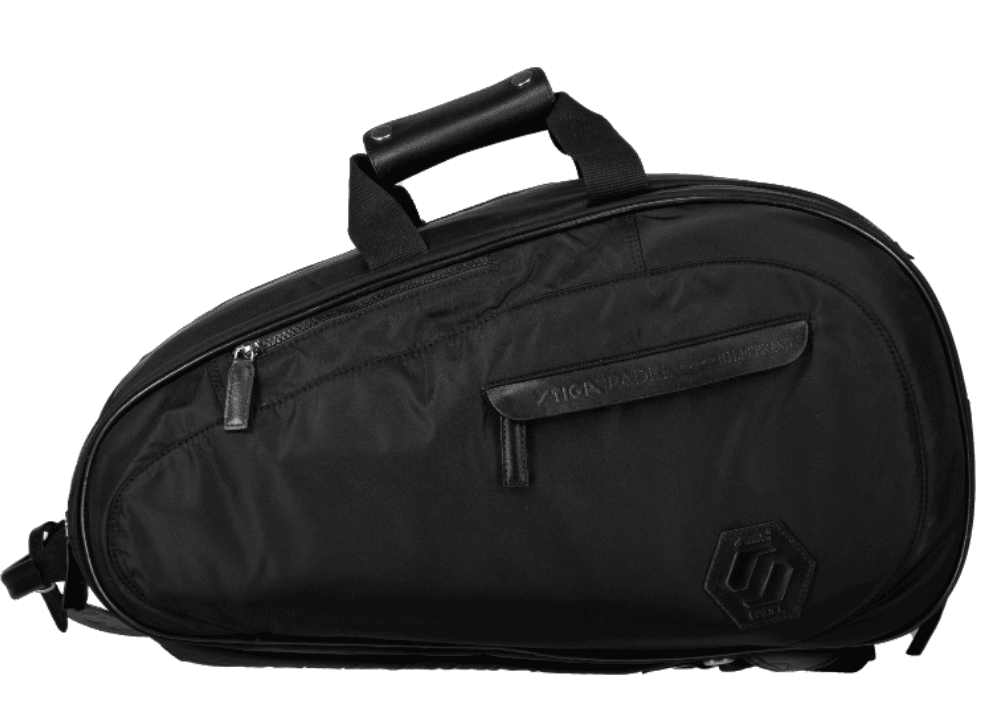 Sweden's Stiga brand is more than just a table tennis brand! In fact, they have a wide range of products for different racket sport types, including padel!
Part of the lineup includes this chic, all-black premium racket bag made in collaboration with Hildebrand!
---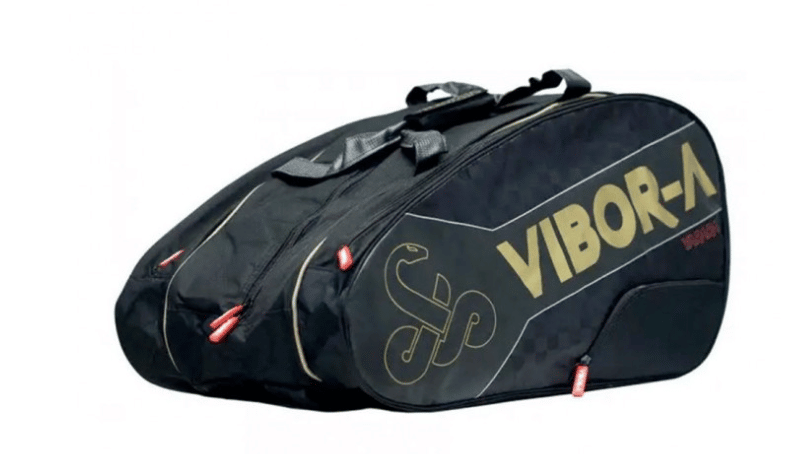 This jam-packed Yarara racket bag from Spain's Vibora brand showcases a dynamic design in black with gold accents and some interesting attributes, including large spaces and multiple pouches for extra storage!
---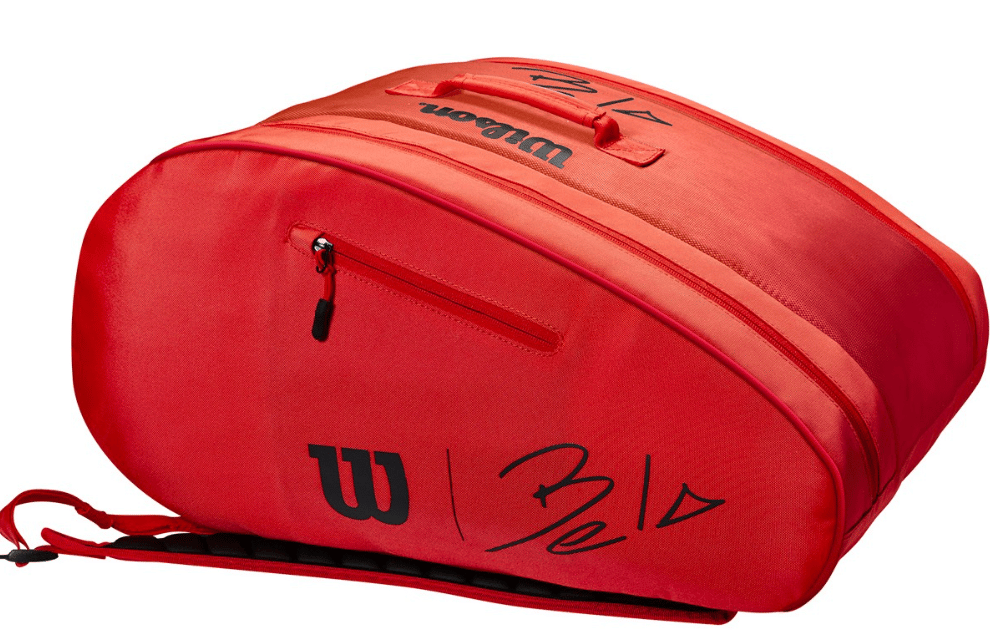 It's no news that Wilson is a top name in the sport! It's why padel legend Fernando Belasteguin keeps coming back!
Their collaboration line of high-performance gear includes this racket bag with a sleek style and fortified attributes that are part of our top three!
This bag has six-racket storage, a removable divider to customize storage space, and an enhanced PU coating for durability!
---
How Does a Cheap Padel Bag Differ From an Expensive One?
The difference between a cheap-price racket bag and a high-end, expensive-price one depends on a few things.
Usually, it depends on the number of compartments included as well as the quality of materials used, which in turn affects the ability to protect the padel rackets.
Premium, high-price brands such as Wilson, RS Sport, and Stiga use high-tech fibers and state-of-the-art insulation technologies to provide all-around protection to the rackets against excessive damage.
In comparison, decently made cheap-price brands like Drop Shot, Side Spin, and StarVie may have bags with one or few high-quality components from expensive-price bags,
Or, in other cases, none of that fancy stuff at all!
In Summary
Carrying padel rackets and accessories with the wrong bag may become a hassle in the long run, so unsubscribe those old thoughts in your head and get your own specialized padel bag!
We believe that owning one could earn you:
The convenience of easily accessing your equipment
Assurance of knowing they're secured from further damage, and
Confidence to improve your skills in the future
We hope you take this as a sign to go out and shop for the perfect padel bag!
Remember, having a padel racket bag is much better than owning nothing at all!
---
Frequently Asked Questions About Padel Bags
Before you go out and buy your own padel bag, there may be a few things you are curious about.
You can refer to the next section to answer some lingering questions about padel bags!
How Much Do Padel Bags Usually Cost?
A racket cover bag has the least expensive price of all at EUR12 or around US$12, while a standard bag has a price from €30 to 200€ ($31~210).

Duffel bags cost between €50 and €200 ($53~210), and the average price of a racket backpack starts from €40 to €130 ($42~134).
What Should I Consider When Buying a Bag for Padel?
The 4 key factors you would need to consider whenever you shop for a padel bag are size, material, compartment quantity, and design.
Which brands make bags for padel tennis?
Here is a list of brands that offer padel rackets, padel balls, bags, and other gear such as padel shoes:
– Head
– Dunlop
– Adidas
– Bullpadel
– Nox
– StarVie
– Black Crown
– Vibor-a
– Wilson
– Drop Shot
– Babolat
– Varlion

There are already established sporting brands like Head and Dunlop that include padel rackets, bags, and other related accessories in their repertoire.

However, there are a few that specialize exclusively in padel equipment. Bullpadel, Nox, StarVie, and Black Crown are just among the brands widely used by professional players.

Additionally, apart from offering amazing service and a wide range of padel gear, their bags can carry all the essentials needed to play padel.
Can I Wash my Padel Bag? Are Padel Bags Washable?
By hands, YES! By washing machine, we would not recommend it.
Dirt and stains may affect the look and smell of a racket bag, so the solution to this would either be through hand washing or cleaning with a damp towel.

Take into account that not every racket bag is designed to withstand tough spin cycles from machine washing. Granted, there are some that can handle much force, but for safety, we advise you to follow our recommended washing methods.
Can I Use My Tennis Bag as a Padel Bag?
A padel racket could fit well into a tennis bag even if it was designed to fit a tennis racket.

On the opposite end, as previously mentioned, a longer racket with a wider head, such as tennis, will not fit into a padel racket bag.
Still, smaller paddles like table tennis definitely can.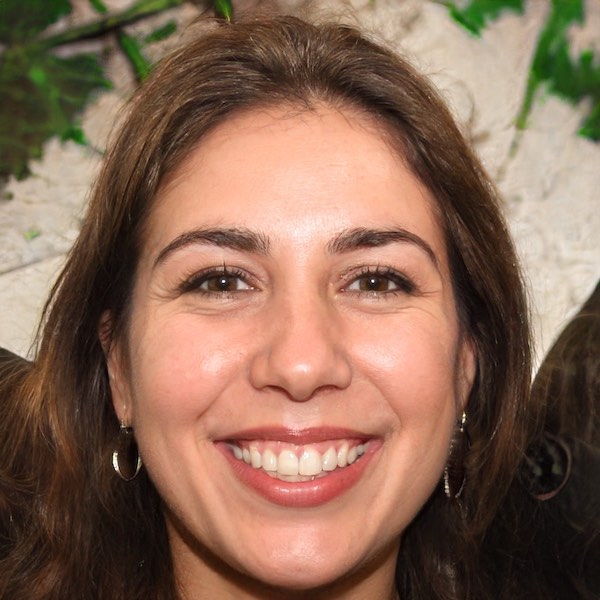 Isabella Torres is originally from Madrid, Spain, and has been playing Padel as a semi-professional for the past five years. After completing her education as a journalist, she discovered her true passion in life was writing about Padel.
She loves staying up late watching intense rallies on YouTube, and is excited to share her knowledge about the sport with SimplePadel's readers.