As Padel grows in popularity, more and more brands produce specific sports shoes for Padel to minimize the risk of injury and provide exceptional comfort to new players.
Like a padel racket and ball, the right shoes will give a padel player an advantage, keep their feet and joints safe, and help them excel and prosper at their chosen sport.
Let's look at some of the highest-quality shoes for male and female padel players.
When choosing padel shoes, consider the kind of sole used, the amount of support offered, how soft yet stable it is, and what brands make the best footwear.
These tips will help you to up your game, whether you're playing at the local padel court or the World Padel Tour.
---
Best Padel Shoes for Men
---
Best Padel Shoes for Women
---
The Best Padel Shoes for Any Padel Court
Above you'll find the top padel shoes. These are the proper shoes for padel, offering maximum grip, exceptional cushioning, and handling your body weight while providing superior lateral movement.
Let's discuss the leading brands that produce the right footwear for padel and why you need to wear the right foot covers.
What Are Padel Shoes?
Padel shoes are footwear designed specifically for the sport of Padel. It is important to use the right shoes rather than running or Tennis because they provide more cushioning and grip, preventing foot injury.
The game has more twists, turns, and pivots than its sister racket activities. It's played on a smaller court with a smaller racket.
This means that your shoes need to be able to handle more sideways movement, should help you bounce the balls off the wall, and should keep your knees secure.
How Are Padel Shoes Built?
Padel footwear is designed with different soles (some having a mixed sole design), different levels of grip for whatever court you're playing on, and bounce technology to help you stay on top.
It would be best to choose a pair with sturdy construction, preferably with sturdier undersides and softer upper sides to keep you light on your feet.
Different Players Prefer Different Types of Shoes
A player at the World Padel Tournament may need a different shoe than the one you would use at your local court. It depends on the types of soles and courts you'll be playing on.
Finding the pair that works for you will take some research and even trial and error, but you won't ever want to switch when you find the right pair.
---
Why Do You Need Padel Shoes?
You will need a padel-specific shoe the same way you need a padel racket. The activity has different rules and plays styles from the closest compatible sports.
This means that not using the right equipment or wearing the right padel shoe can lead to injuries. Your shoe should have the right grip, a proper sole and good bounce.
This makes the game similar to bowling in that switching your footwear for something activity-specific is a prerequisite to playing the game.
That being said, plenty of tennis footwear also works for this game.
Difference Between a Padel Shoe and Tennis Shoes?
Padel and Tennis are fairly similar, and it is possible to use a shoe for the other activity rather than a padel shoe when needed.
However, Padel relies more on lower, spinning movements, which requires good cushioning of the sole and better springing, while the other racket activity requires more forward motion and lunging.
Can I Use Running Shoes When I Play Padel?
Trainers are good beginner shoes to have when starting in any sport, but your foot and sole might not appreciate the stress you're putting them through by not using the proper footwear.
It is best to prioritize buying the proper footwear for the right activity to avoid getting injured or slipping and sliding on the court.
---
Top Brands That Make Padel Shoes
Here are some of the best brands on the market making footwear for padel. You can't go wrong choosing from them as they offer quality feet covers, speedy customer service, and endorsements from the governing bodies of the pastime.
Babolat
With Padel being most popular in Hispanic countries, this Spanish brand is the go-to brand for every padel racket, ball, and shoe. Its name is synonymous with racket games, and it's a one-stop-shop for all your sporting needs.
Bullpadel
Powerhouses like Maxi Sanchez swear by this Spanish brand. It makes padel rackets and equipment for all age ranges and skill levels. Its neck and neck with Bullpadel represents the game in the European sporting goods market.
Head
Head is another popular Padel brand that dominates the padel tournament scene. Head already has its hands full between tennis and padel rackets, but they still find time to make high-quality padel footwear.
They are the official ball brand of the WPT, appearing in every major competition and match of the game.
Munich
Munich Atomik is one of those brands that succeed wherever rackets are involved. From Tennis to padel, their mark can be seen, and their presence can be felt. They're slowly building their name in this activity and are another excellent brand.
Nox
Nox is another padel brand that makes everything you need to succeed when playing padel. Their shoe brand can make winners out of every amateur padel player.
They make all sorts of equipment for the game, and they have gear from head to toe to get you started on the court.
Nike
Nike needs no introduction. However, it's not known for making special padel shoes. Instead, it has grown among padel players because its tennis footwear works excellently on the padel court.
One of the few brands that have succeeded in this activity by making shoes for another game. That's the hold that Nike has on the sporting world.
---
A Buyer's Guide to Padel Shoes: What to Think About to Pick the Perfect Pair
Here are the important things to remember when choosing a good pair of padel trainers. Choose the footwear that protects your feet and increases your sporting intensity.
The Grip (The Sole is an Important Component)
Padel footwear, particularly its sole, is made to stick to the artificial grass turf on the court surface. Your grip should facilitate sliding without causing you to trip and dislocate joints.
A herringbone sole has a very strong grip, with a herringbone pattern being most useful in a sandy environment.
The sole also determines whether you would excel on clay, grass and hard courts (Omni), and some footwear works for all courts.
Make sure to look at the bottom of the shoes to get an idea of the kind of grip you can get.
Stability
If you are used to spraining your ankles or with similar injuries, pick a pair with high and tight-knit and high stability to keep from getting injured.
Health is wealth, and a more robust shoe will save you money on a hospital trip. It is important to wear an activity-specific trainer to handle what you want to accomplish.
Comfort
Spending hours on the court can lead to fatigue and discomfort. Be sure to choose a shoe that provides excellent relief and ergonomics, making it easier to wear and stay in for longer.
You should not get cramps, blisters, or calluses if you choose the footwear that works. It should be soft yet stable, and it should allow you to do what you need to do on the court.
Cushioning
If you weigh a lot, it's super important that you choose one with extra cushioning. Padel's action is a lot lower than Tennis, so you will need more cushioning to deal with the gravity and joint strain.
This softness provided should also help you maintain good balance, posture, and the right center of gravity to do the dynamic movements required.
Durability
Choose a shoe that lasts long and maintains its sole even after heavy use. It should be able to handle the wear and tear without falling apart or bailing on you during your game-winning moments.
If You Run On Your Heels a Lot
This should be avoided when moving faster than a stride. It is best to run on the balls of your foot to travel ergonomically.
If you cannot avoid running on your heels, you will need strong soles and footwear with more support. You may even need a specially-made pair if you have additional orthopedic issues.
When Should I Buy New Padel Shoes? How Long Does a Pair Last?
You will need to look at the outsole of your shoe. If it's worn down and the pattern is gone, you need to buy a new shoe as soon as possible. Please don't wait for discomfort or injury before replacing it.
A good way of maintaining your foot and extending your shoes' lifespan is to buy multiple pairs. This allows you to shuffle between pairs while protecting your walking parts and keeping your footwear fresh.
---
Padel Shoe Reviews and Tests
Here are the top candidates for the greatest padel shoes. They all have innovative technologies and reliable performance, so let's see what makes them special.
🔥 Our Top Pick for Men: BABOLAT JET PREMURA MEN JUAN LEBRON SHOES
If it's good enough for the number 1 padel player globally, this shoe is good enough for you. This Juan Lebron Chincoa-approved pair is specially designed for padel and excels in the World Padel Tournament.
It provides extra agility thanks to its Matryx 2.0 fabric. It offers a balanced level of rigidity, preventing injury while giving you the ability to perform at your peak.
Pros and Cons of Babolat Jet Premura Juan Lebron Shoes
Pros:
Lightweight and agile while remaining stable thanks to its 360 Flex Technology
Proven in Competitions and Tournaments
Cons:
Pricey, Not Suited for Beginners
---
Editors Choice for Men: NOX ML10 HEXA BY MIGUEL LAMPERTI SHOES
Endorsed by another icon, Miguel Lamperti, this pair is made for agile and capable players looking to further increase their skills while preventing injuries.
It has a no-fuss design that focuses on performance rather than vanity. This pair is clinically-approved and lab-tested, taking a scientific, performance-oriented approach to shoe design.
Pros and Cons of NOX ML10 Hexa By Miguel Lamperti Shoes
Pros:
Herringbone pattern with cleats for maximum grip
Lateral Support Technology (greater contact between sole and court)
---
Best Value Padel Shoes for Men: BULLPADEL NEXT HYBRID 22 SHOES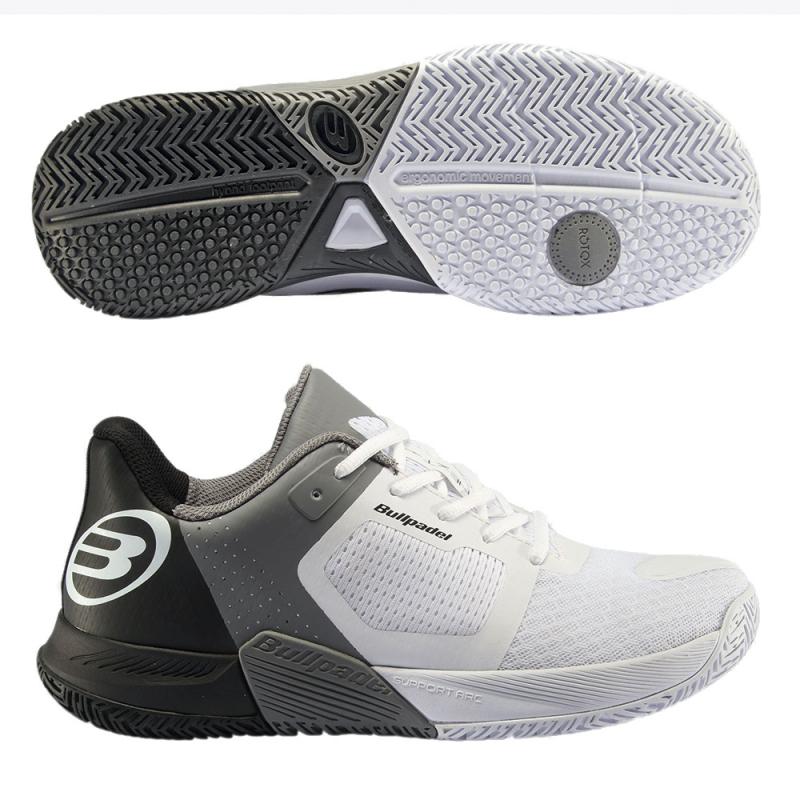 This stylish, immaculately-designed pair is made with the highest construction quality to give you the best performance on a clay court. Thanks to its rotation disk, it helps you move quickly and gives you the best traction.
It has reduced weight but increased orthopedic stability to protect your knees and ankles, keeping you safe and secure as you become more adventurous and daring.
Pros and Cons of Bullpadel Next Hybrid 22 Shoes
Pros:
Central reinforcement for increased stability
Heat-sealed fabric and seams for a glove-like fit
Cons:
Not made for all courts. Specifically designed for hard courts
Gets dirty easily because of its color scheme
---
🔥 Our Top Pick for Women: NOX AT10 LUX TURQUOISE/LIME SHOES
This pair is designed with injury prevention in mind. It offers consistent, reliable performance with the best grip and comfort, helping women reach the pinnacle of the sport.
It has the same technology as the men's ML10 HEXA, allowing it to be light, maneuverable and stable. This makes it an asset on the court, elevating your game and allowing you to level up.
Pros and Cons of NOX AT10 Lux Turquoise / Lime Shoes
Pros:
Offers stability and safety with its advanced technology
Anti-microbial fabric protecting the feet from infection and diseases
---
Editors Choice for Women: BABOLAT SENSA WOMEN SHOES
This shoe and this brand excel at safety, stability and performance. It provides exceptional hold on the ground and keeps your joints safe. It's made to help you focus on your game.
Designed to absorb shock, it maintains flexibility and consistency, allowing you to play more adventurously without worrying about injuries.
Pros and Cons of Babolat Sensa Women Padel Shoe
Pros:
Shock Absorption
Durable and Flexible
---
Best Value Padel Shoes for Women: BULLPADEL BEKER PERF W 21 SHOES
Another reliable shoe from the reliable brand is designed for intermediate to advanced players looking to increase their level and intensity of play.
It's breathable, flexible, and made for would-be athletes who want to get their rackets in the game without breaking the bank.
Pros and Cons of Bullpadel Beker Perf W 21 Shoes
Pros:
Designed to avoid abrasion and scraping
Made with high transpiration mesh
Cheap!
Cons:
There are not higher-quality pairs
---
Frequently Asked Questions About Padel Shoes
Here are the most frequently asked questions article section!
Do I Need Special Shoes for Padel?
Padel shoes are essential for competitive padel players. Padel is a sport with sharp turns and fast movements.

Your footwear should help you avoid injuries while providing a comfortable fit and excellent quality.
Does Nike Make Padel Shoes?
Nike does not have a specific shoe for padel. Instead, its tennis shoes are cross-compatible with racket sports. They provide great cushioning for your feet and prevent injuries with the right shoe.
How Much Does Good Padel Shoes Cost?
Padel shoes from major brands often retail between $70 and $200 depending on different models, though they can be as low as $30.
How Good do I Need to be to require Padel Shoes?
Like bowling, padel requires special shoes that offer a good balance between greater cushioning and the perfect grip while facilitating sliding if needed.
What Are the Best Brands for Padel Shoes?
The sports brands that produce padel rackets also produce shoes for every padel player. These include Bullpadel, Adidas with the Adidas Courtjam Bounce, Nox and Babolat.
Can I Use Running Shoes for Padel?
A running shoe may be good for other sports, but it offers too little grip, too much grip, and less support and cushioning for your foot, especially in the heel area, compared to padel shoes.
Can I Use Tennis Shoes for Padel?
Padel player has used tennis shoes for a long time. It's possible to use them, as other models like those made by Nike excel at protecting the feet.
What Shoes Do You Wear for Padel Tennis?
You should wear shoes specifically designed for Padel. These were designed based on the extensive experience of veterans of the sport.
---
Conclusion – The Best Padel Shoes
The game means so much to you, and your footwear should reflect your resolve and help you succeed, without risking injury.
The brands we've listed in this article, such as Babolat, NOX, and Bullpadel are all world-class brands that make the best padel shoes with fantastic grip and perfect stability.
It's crucial you play with real padel shoes as they're made specifically for padel and often have a softer upper side and rigid soles.
---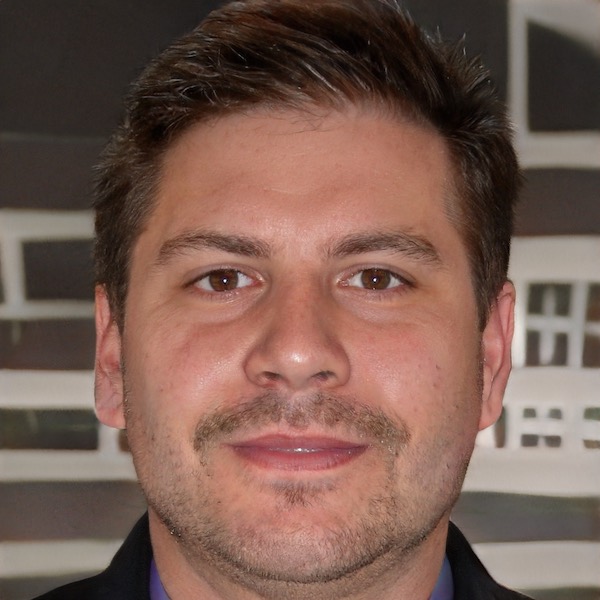 Lucas Sánchez is the founder of SimplePadel. Born and raised in Spain, Lucas has been living in the US and UK for the last 20 years and currently calls Miami his home. While he's never played professionally, the dream is still alive.
Lucas loves nothing more than playing (and talking) about padel, and he considers himself lucky to have a wife and family that share his love for the game.