Stepping into a sports store, or even looking online, customers are met with a huge amount of choices. It can be difficult to know what to look for and often we look for reliable brands and household names but still are met with a large array of products.
Below we look at the 8 best Wilson padel rackets that are currently on the market to help you find the perfect racket for you.
Our team has tried and tested a huge number of padel rackets and the following eight choices are firm favorites within the Wilson selection.
---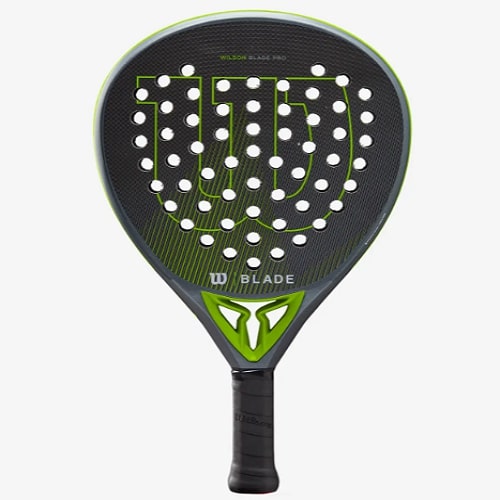 The Blade Pro V2 is the newly updated version of the original Blade Pro padel racket and it features the newest Wilson technology, helping to elevate your game.
This racket is best suited to advanced padel players who are looking for a racket that can support their play.
This premium quality racket is a classic teardrop shape and features an updated throat piece feature that aids the player's maneuverability on the court, making it a perfect choice for those players that thrive on fast play rallies.
This racket weighs 365g and has two available sleek designs and looks. The Carbon Fiber Face and textured surface supports players in getting power and spin into their shots.
This racket's design incorporates Soft EVA Foam to help with shock absorption during play, Sharp Hole Technology to add bite to returning shots as well as a combination of a Spin Effect Grip and Sublime Grip which help to give an excellent feel to your game without the worry of sweaty palms.
Pros
Classic teardrop shape
Designed for fast play
Suitable for advanced padel players
Enhanced and updated design featuring the latest Wilson design technology
Lightweight
---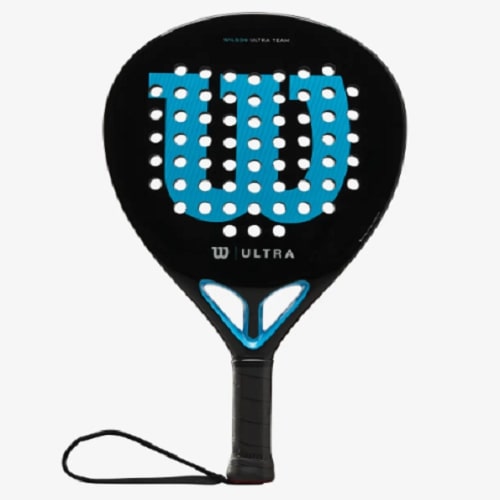 The Ultra Team padel is available in two different styles and is a great choice for intermediate padel players or those who often practice and are aiming to develop their skills.
This padel racket features some top technologies and features that Wilson has developed to make their rackets a reliable choice.
These features include a Power Pillar through the bridge to assist with power and the stability of the racket, an Infinity Edge for more playing surface, and Fiberglass Weave to assist with the racket's responsiveness.
The racket also has a core foam feature which helps to make the racket comfortable to play with and prevents it from feeling overly heavy during play.
The wrist strap on the handle is adjustable, giving the player even more control over the racket and the power behind their shots.
Pros
Available in two styles
Diamond-shaped head.
Infinity Edge increases the sweet spot
The Wrist Strap provides extra control
Cons
Heavier than other rackets
---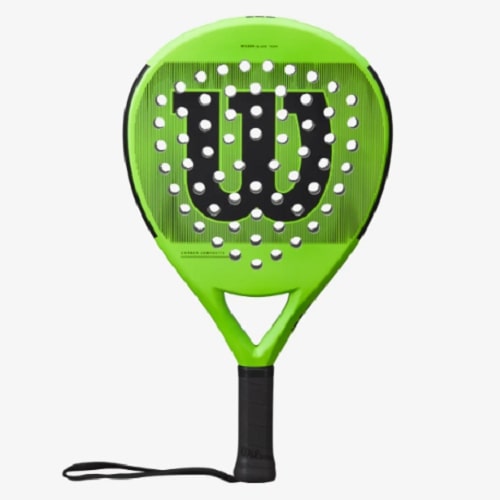 The Blade Team padel racket is a fantastic choice for beginners or improving players.
The only thing to keep in mind is that this racket is slightly heavier than other beginner rackets but ideal for anyone who has previously played ball sports and understands how to control a racket.
This racket features a favored Wilson technology called Sharp Hole Technology.
This technology helps to grab the ball more and enhances the grip between the ball and racket on all hits, making each shot count.
The racket has been crafted with a Fiberglass Weave which adds to the racket's stability and responsiveness.
The wrist strap also adds to the stability of the racket and gives players more control over the racket.
The use of Sublime Grip technology gives more comfort when holding this 370g racket and includes moisture-wicking technology to prevent your grip from loosening or being affected by sweat.
Pros
Designed for comfort
Classic teardrop-shaped head for ease of play
Available in two styles
Features Sharp Hole Technology
Sublime Grip that helps to absorb additional moisture
Cons
Heavy considering it is for beginners and improving players
---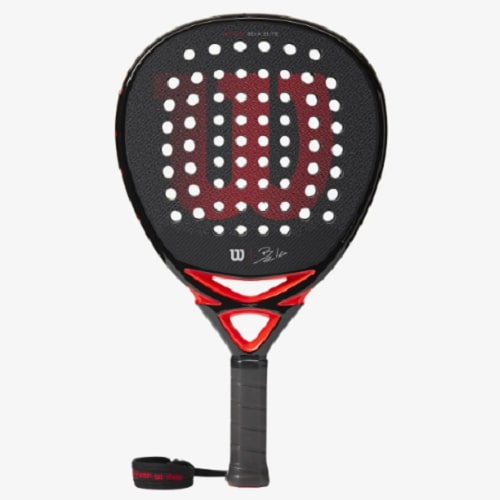 The Bela Elite racket features everything you could want in a padel racket and that is because it was co-designed by the Wilson design team and professional padel layer Fernando "Bela" Belasteguin.
This racket has a bigger price tag as it is a part of history.
The racket features a diamond-shaped head and weighs 365g.
The face of the racket is composed of carbon fiber which aids players with the power behind their shots.
The Soft EVA Foam absorbs shocks helping to prevent injury when returning powerful shots from the opposition.
The racket face also features Sharp Hole Technology, similar to other Wilson padel rackets, which aids in the bite between the racket and ball with each stroke.
The Sublime Grip enables the player to have full control over the racket, as does the wrist strap which features an inspirational message from Belasteguin to inspire fellow padel players.
Pros
Sleek look
Co-designed by padel professional Fernando "Bela" Belasteguin
Arrow Grip for extra spin
Soft EVA Foam is used for shock absorption to prevent injuries
Cons
High price point compared to other rackets of the same standard
---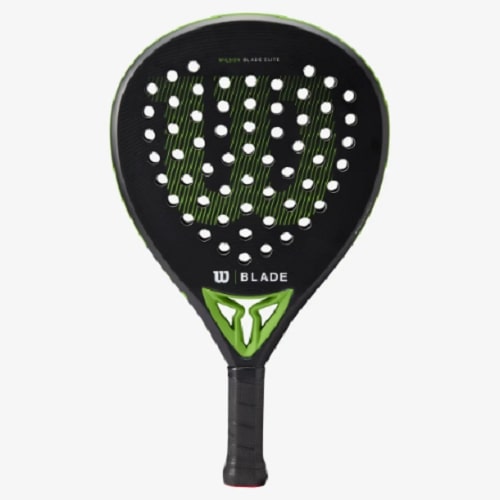 If you want to bring a faster pace and life back into your game then the Blade Elite could be the very racket for you.
Designed with a new Wilson throat piece for increased stability this racket will have you returning shots with a whole new level of confidence.
The design of this racket is different from other models in the Wilson padel racket range.
Featuring a Soft EVA Foam center and Carbon Fiberglass Composite this racket feels lighter than its weight of 365g.
The Blade Elite features a Spin Effect Grip to help add spin to your shots and also offers Sublime Grip with moisture-wicking technology.
The wrist strap can be tightened to give more control over the racket.
Similar to other Wilson padel rackets, this racket features Sharp Hole Technology to help elevate the bite in your shots and has a teardrop-shaped head.
Pros
Unique look
Spin Effect Grip
Teardrop-shaped head
Lightweight thanks to Carbon Fiberglass Composite
---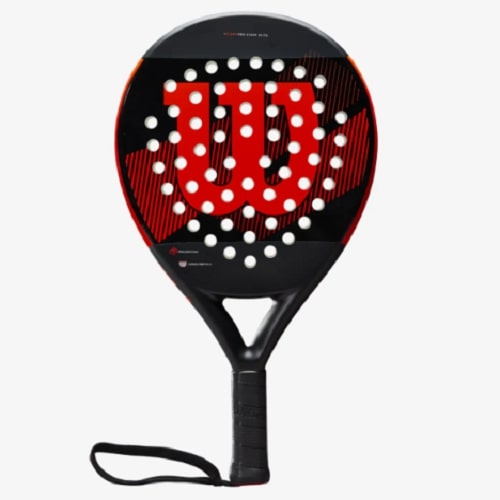 If you are making the move from tennis to padel this round-shaped padel racket is a great racket for your transition as well as being a great racket for intermediate-level players.
This racket is suited to a softer approach to playing and the round-shaped head gives an ideal hitting surface to enable you to play consistently.
The integration of Power Foam within the design allows the racket to easily swing through the air and respond well with the ball resulting in great hits.
This racket weighs 465g and the wrist strap helps players control the racket.
The racket feels lightweight and is comfortable to play with thanks to its Carbon Fiberglass Composite shell and Soft EVA Foam center, which also help to prevent arm fatigue.
The grip is similar to other Wilson padel rackets and offers a Sublime Grip that soaks up excess moisture and adds to the comfort of playing with this impressive racket.
Our team finds this racket a solid to have in your padel bag for days when you are playing a lighter style of padel.
Pros
Good price for a great racket
Lightweight racket, comfortable to play with
Features Sharp Hole Technology and Soft EVA Foam
Carbon Fiberglass Composite exterior adds to racket power
Cons
The larger head differs from typical padel racket styles
---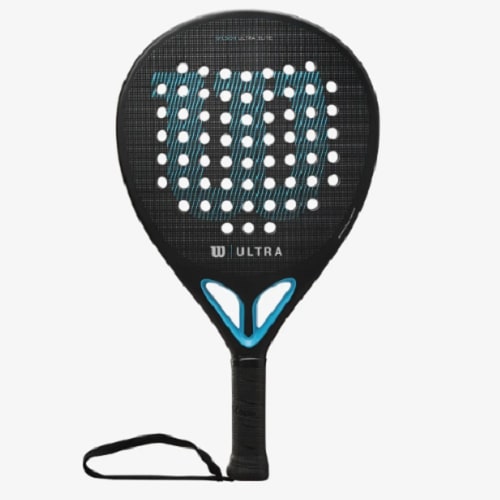 Our team adores this racket, not only does it look slick it also helped elevate their performance allowing them to deliver a more powerful style of play.
It can be difficult to find such a competent and supportive racket for under $200 but Wilson has knocked it out of the park with this padel racket.
The bold blue and black design gives this racket a serious-looking design. The racket features a diamond-shaped head and weighs only 361g.
This updated Ultra Elite racket has been optimized to give players a cushioned feel and also power from a lightweight racket.
It is the perfect racket for competitive play.
This newly designed racket features a Power Pillar, which enhances the stability of this racket throughout your swing, Soft EVA Foam to absorb shock, and the Carbon Fiberglass material used to make the shell keeps this racket lightweight yet strong and durable.
The Infinity Edge feature gives players more playing surface and both the wrist strap and Sublime Grip give the player more control over the racket.
This racket also features Opti-Grip technology on the face of the racket which adds more grip between the racket and the ball allowing you to deliver more aggressive shots.
Pros
Great price
Suitable for competitive play
Designed to support players while also delivering powerful shots
Lightweight
Diamond-shaped head with Infinity Edge for more playing surface
Cons
This racket is designed to add power to your play, not suitable for casual games or rallies
---
Final Thoughts
The standard of Wilson padel rackets live up to expectations, everything Wilson creates is crafted to perfection with the input of expert opinions to ensure that they stay at the top of their game.
There is a huge range between their rackets, offering different features and being suited to different budgets and skill levels but there is something for everyone, juniors, beginners, and advanced players alike.
Wilson is stocked in most major sports shops and if you would like to physically hold one of the mentioned padel rackets before purchasing this is a great way to do so, as well as getting expert advice on what may suit you.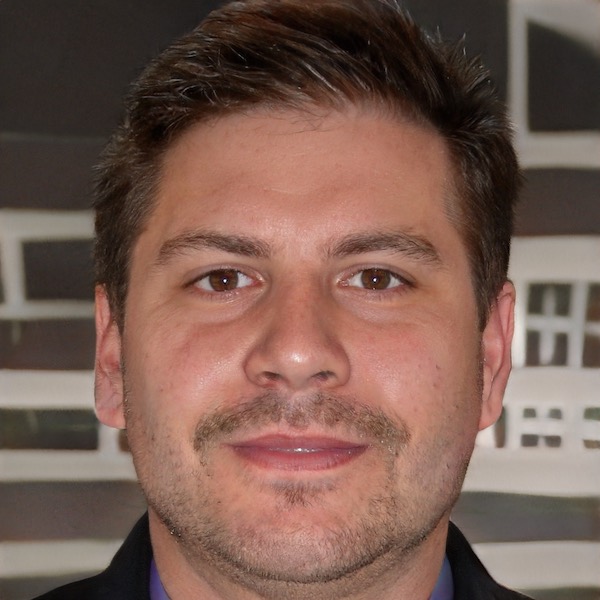 Lucas Sánchez is the founder of SimplePadel. Born and raised in Spain, Lucas has been living in the US and UK for the last 20 years and currently calls Miami his home. While he's never played professionally, the dream is still alive.
Lucas loves nothing more than playing (and talking) about padel, and he considers himself lucky to have a wife and family that share his love for the game.