Skills and technique are indeed what makes padel interesting. They are the best weapons every padel player brings.
But did you know that padel clothing in tournaments also matters?
Not only does it boost your confidence and self-esteem. It also helps you feel comfortable and ready for the tournament.
Clothing is meant to help players move easily and quickly. Hence, in choosing your attire, it's vital to select garments that are appropriate for padel.
If you're clueless about what suitable clothing you must add to your shopping list, worry not!
We'll recommend GREAT options that will surely make you feel comfortable to ace the best performance.
---
What type of clothing are the most recommended for playing padel?
Like any other sport, padel also requires appropriate clothing, making it easier for players to move freely and quickly on the playing field.
A great padel outfit can also help increase your confidence as they make you look stylish in the padel field.
Hence, as a padel player, you must know which padel clothing best fits you.
Clothing in padel range from shirts, shorts, shoes, sweatshirts, and even socks. These must all be CUSTOMIZED to suit padel games.
According to the International Padel Federation, padel players are encouraged to have the same outfits as their partners.
Players are also NOT ALLOWED to use sleeveless shirts and swimsuits during official games. These are deemed inappropriate for padel games and may result in disqualifications.
How should I know if the clothes I buy are appropriate for padel?
Characteristics of a padel clothing suitable for the game
Padel clothing can have different sets of characteristics depending on its manufacturers.
But, regardless of the brand or type of clothes you choose, make sure that they have these qualities to secure better gameplay:
Light and soft – Padel matches can be played outdoors or indoors. Hence, you must choose lightweight and soft clothes as they are breathable enough.

These fabric types allow the air to flow easily, which is ESSENTIAL in cooling your body. This, in turn, supports blood circulation and enough oxygen supply.
Stretchy – When playing, it's important that your padel clothing doesn't get in the way of your movement. Hence, stretchy outfits are your go-to to pack in every tournament.

These types of clothing can help you move freely. Therefore, you can also move quickly when running for the ball and striking your racket.
Quick-drying – When you're a padel player, you must expect that you'll get sweaty in your competitions. But, feeling damp throughout the tournament can make you feel uncomfortable.

Padel tennis clothing with quick-drying technology is the best choice to wick away sweat and cool your body down. Fabric made of polyester and polypropylene best suits this category. They can dry off moisture quickly to keep you cool and dry during intense games and training sessions.
---
Padel clothing for Men
In a wide selection of padel clothing, men can choose from several pieces. It can range from t-shirts, sleeveless tops, shorts, and jackets.
Other than looking for stylish and colorful attires, you must also consider the fabric's quality and durability.
For shorts, on the other hand, you should look for those that have pockets to keep your padel balls intact.
In this buying guide, we'll suggest good brands for each category of padel clothing men will love.
Padel T-shirts for Men
Among the padel shirts we've found on the market, the Yonex Neck T-Shirt is the one we HIGHLY recommend. It may not look like much, but this is by far the most comfortable t-shirt we've tried over the years.
Unlike other padel shirts, this brand is made with a blend of polyester (88%) and polyurethane (12%).
Polyester is a durable fabric that dries quickly and is easy to clean. It's also wrinkle and abrasion-resistant, making it able to avoid tears and cuts after long-term use.
Polyurethane, on the other hand, adds elasticity and enhances fabric quality. It can also effectively resist heat and moisture to make you feel cool and dry in your games.
Other brands you can consider when shopping for the best padel t-shirt are:
Wilson EvoShield T-Shirt – this shirt's fabric is lightweight, stretchy, and ideal as padel clothing. It's extremely elastic to support your body movement on the court.
Adidas Club 3 Stripe T-Shirt – this short-sleeve shirt is great for avoiding extreme moisture and dampness on your skin. It's also resistant to shrinking and wrinkles, as well as odor, to make you look neat and smell fresh after long games.
---
Polo shirts for Men
Polo shirts are also great padel clothes you should sport on the padel field. Several brands manufacture good-quality shirts. But, the Nike Dri-Fit Rafa stood out the most.
Its fabric is made with a blend of cotton and polyester, with high breathability and quick-drying abilities. It's super soft and lightweight, and it's also very durable.
It comes in white and black color variants, which are perfect, especially if you aim for a classy and neat look.
Other polo shirt brands we suggest are:
Nike Dri-Fit Polo – powered with Nike's Dri-Fit technology, this polyester polo shirt is perfect for keeping padel players dry and comfortable while playing.
Adidas 3 Stripe Classic – this polo shirt's fabric is made with of polyester (100%), making it very durable. It's also pretty stylish and clean with only the famous Adidas logo on the chest, a must have in everyone's wardrobe!
---
Padel tank tops for Men
Tank tops are great, especially if you want to feel cool and comfortable in dry weather. If you consider buying one for your next games, the Adidas Tech Fit is our best pick for you.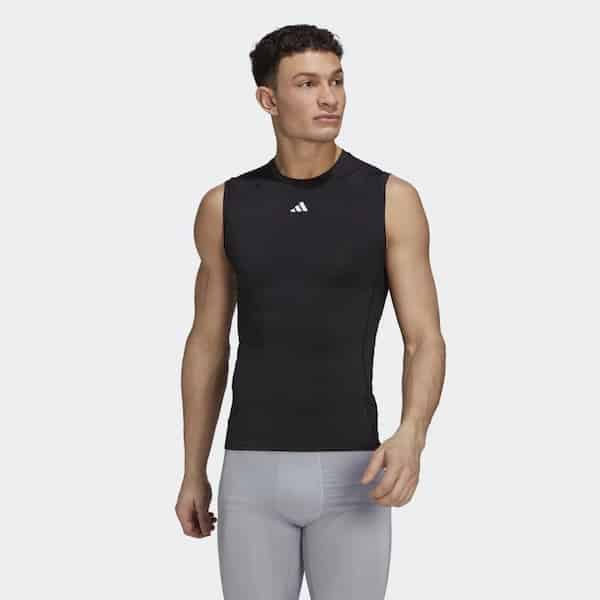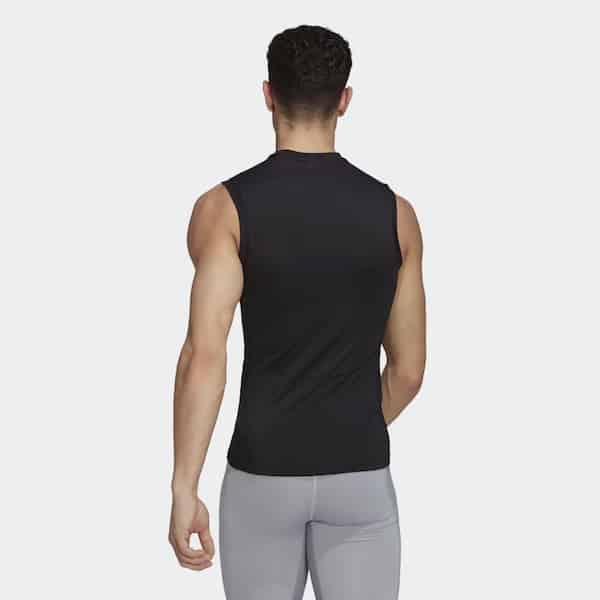 It's made with cotton, elastane, and polyester, all great materials for better breathability and quick drying.
It's gentle on the skin, lightweight, and most importantly, super durable.
Wearing this in the padel court will make you feel comfortable in your competitions.
ASICS Race Tank Top – this sleeveless top keeps you from an unwanted damp feeling for maximum comfort. It also comes in an attractive gold-yellow color to make you stand out on the paddle tennis court.
Adidas TF French Terry Tank Top – this shirt is made with 88% polyester and 12% elastane. Its fabric is breathable and stretchy enough, and its cut is loose, allowing for good airflow.
---
Padel shorts for Men
Padel shorts are also a great deal when we talk about padel clothing. Using appropriate pants will support your limb's movement and footwork for the BEST performance.
Out of all the best brands we've seen, the Bullpadel Moder Shorts outshone the rest.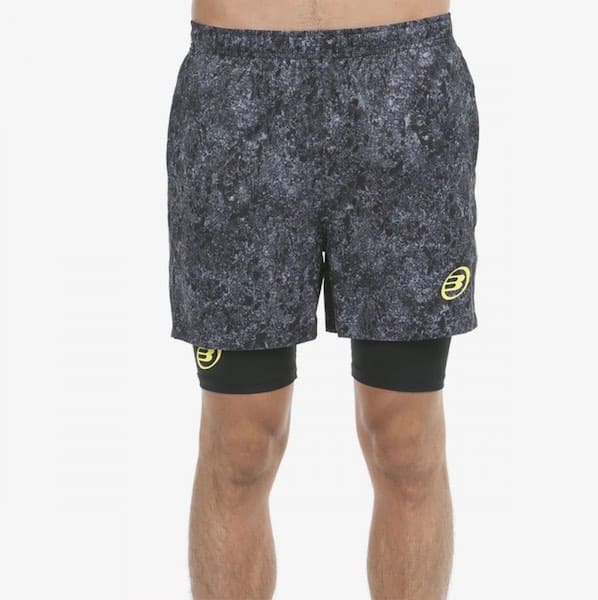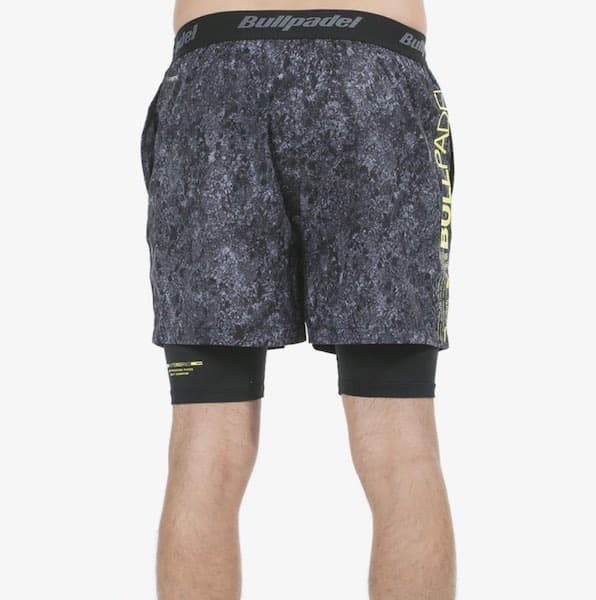 Made with 15% elastane and 85% polyester, you're secure that these padel shorts won't get you soaked after running all over the padel court for hours.
It also promotes better flexibility and quick leg movements. You can add as much speed as you want without feeling constrained and uneasy.
These shorts are crafted with leg compression sleeves to support blood flow and ease muscle fatigue while playing.
Other best selection items must also look for are:
Nike Dri-Fit Icon – these pants are made with 11% elastane for elasticity. It's also powered by Nike's popular Dri-Fit technology, which promises dry and comfortable feels for players.
Bullpadel Replet – similarly, these shorts include a leg compression sleeve like our best pick. However, it's only made with 100% polyester making it less stretchy than elastane.
---
Padel jackets for Men
Jackets and hoodies are also essential padel clothing. Men could also use some protection during the cold and wet season.
Since padel is commonly played outdoors, jackets can protect them from the wind and cold. These pieces also enable them to continue playing even in the rain.
Good jackets can also be used before and after matches to keep your body warm and condition your muscles.
You can choose any jacket from your favorite brands as long as they're durable and water repellant. But, while looking for the best options, the Adidas Varilite caught our attention.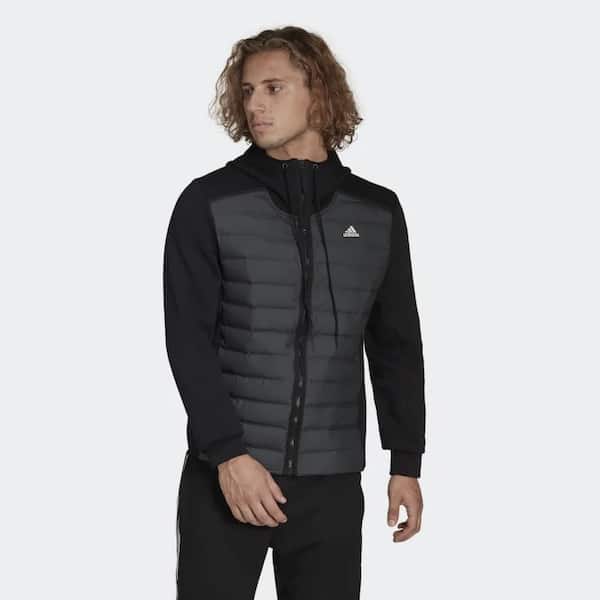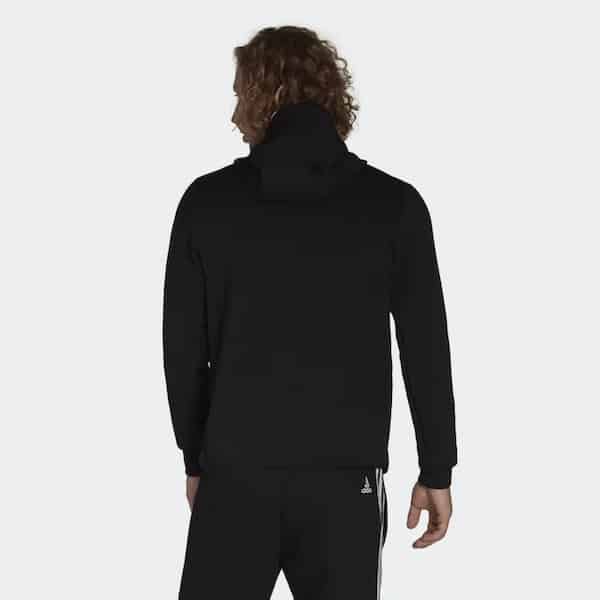 This jacket can withstand cold weather and give you ample protection from the wind. It's also made to be weather-resistant with its no-stitch design.
It's crafted with 100% polyester and water-repellent layers, making it ideal for drying off sweat and wicking away raindrops.
Varilite is also lightweight and easy to pack in your duffle bag, along with your other padel equipment and accessories.
Babolat Play Training Jacket – this jacket is one of Babolat's latest collections. It's crafted with their Fiber-dry polyester technology that is light and soft to the touch. It also makes sure to dry off your sweat to keep you cool and comfortable.
Adidas Own The Run – powered by Adidas' AEROREADY, this jacket is made with materials that are great for managing body moisture. It also has a hood to protect your head from the cold and rain.
---
---
Padel clothing for Woman
Like men, women can also slay the padel court. Hence, their clothes must be appropriate for indoor and outdoor padel games.
Similarly, it should be stretchy, durable, comfortable, and quick-drying. It must also look neat and presentable to sport on the court.
Padel T-shirts for Woman
If you're looking for a great T-shirt for women, the Adidas Freelift T-Shirt is our best pick.
This T-shirt is made with 100% polyester that helps repel moisture and dampness. Plus, it's odor-resistant, making you feel fresh after long games in humidity.
Brands you can also look for when shopping for women padel shirts are:
Lucky in Love Center Court T-Shirt – crafted with 88% polyester and 12% elastane, Lucky in Love assures you that you'll feel all dry and comfortable. With its stretchy fabric, you can also be as flexible and quick as you desire.
Yonex T-Shirt – it's made with highly-breathable and quick-drying materials like polyurethane and polyester. It's durable and lightweight and can also withstand conditions for indoor and outdoor games.
---
Padel top for Woman
From the wide selections of sleeveless tops for sale, the Nike Court Victory stood out the most.
It's equipped with the popular Dri-Fit technology known to wick away sweat easily. Its material is also very elastic to support your movement.
The design of this top is also very fashionable, and it's available in various color variants.
Few brands you must also take a look at are:
Adidas US Series Match – like other polyester-based clothing, this sleeveless top works great, keeping you cool and dry after an intense game.
Bidi Badu Waris Tech – this brand looks so chic, especially when paired with a Bidi Badu skirt and shorts that are similar to its design. Its fabric is also breathable and quick-drying.
---
Padel skirts
Padel skirt is usually worn by women players, including professional players of the World Padel Tour. It's made to improve performance and promote comfort.
Our best pick under this category is the Nike Court Advantage Hybrid. It's a high waist cut that can work perfectly with shirts of any length, including cropped tops.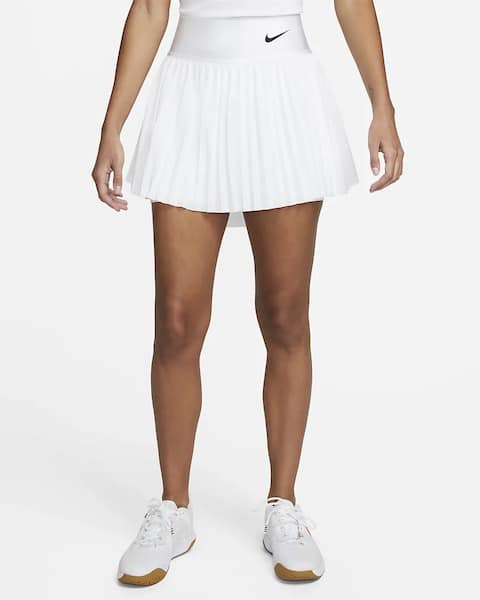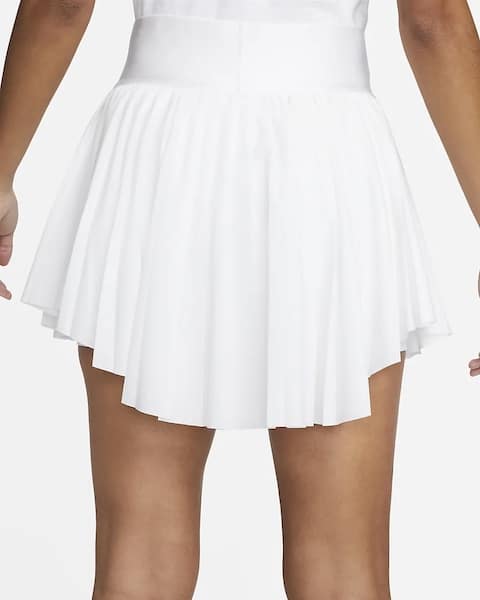 Its waist is elastic, while its fabric is moisture repellent and stretchable.
Several brands that you can also choose from are:
Lucky in Love Spark Ruche Eclipse – this stylish skirt is designed with style in mind, that's a given! It's also crafted with great materials to make you feel dry and comfortable on the court.
Bidi Badu Lowey Tech Plissee Skirt – if you want a good-quality skirt for padel that can match your Bidi Badu pieces, this is a great option for you. This fashionable skirt can make you look dazzling while still feeling at ease.
---
Padel dresses
Among all the padel dresses, the Lucky in Love Catalina is the best choice we have for you. Originally intended for Golf, it works great and looks absolutely stunning on the Padel court as well.
This chic outfit has fine, multi-colored prints to make you look stunning in the field. It's also made with stretchable and lightweight materials that won't get in the way of your gameplay.
Other dresses you should consider adding to your shopping list are:
Quiet Please Rainbow Champions – with a blend of elastane and polyester, this clothing will support any body movement, especially when swinging your racket and hitting the ball.
Nike Women's Court – if you're looking for clothing that offers different color variants while still being functional and durable, this outfit best suits you.
---
Padel shorts
The best shorts for women players we highly suggest is the Bidi Badu Chidera Tech 2-in-1 shorts. It's the shorts that have the "look good, feel good" qualities with their style and fabric.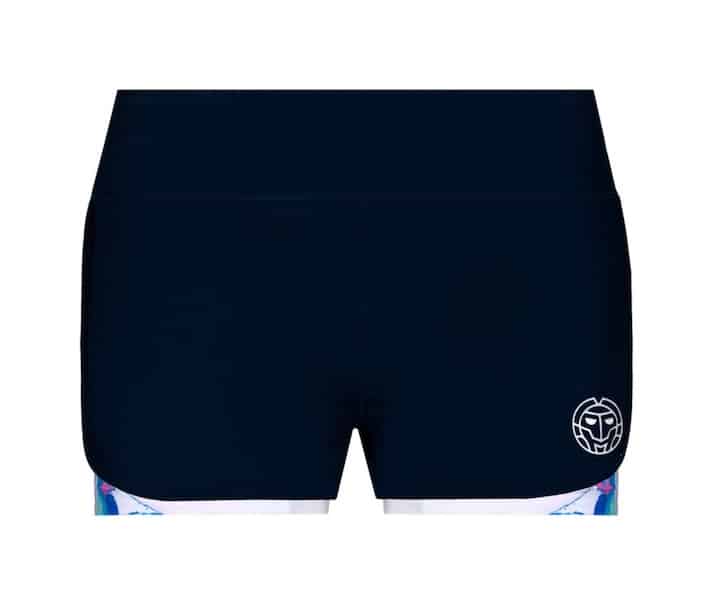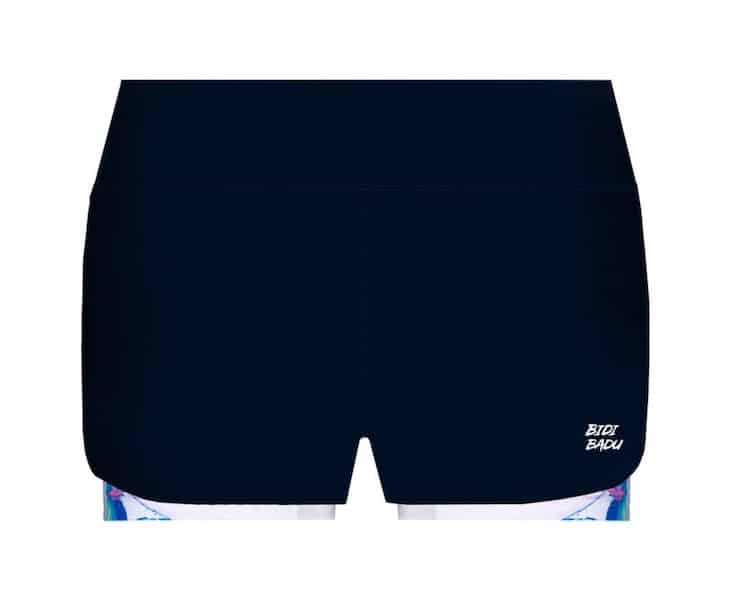 It has leg compression sleeves to put your leg muscles at ease for better footwork and leg movements.
Great brands of short pants you can also shop for are:
Adidas 3 Stripes Woven Shorts – these pants are made with materials that can easily dry off dampness. It also looks neat and fashionable with its multi-colored prints.
---
Padel clothing for Kids
Your kids also have the potential to be the next World Padel Tour players. Practicing Padel while at a young age is a good start. Hence, appropriate clothing shouldn't only be for adults but kids as well.
Whether they do recreational or pro games, a proper padel outfit can boost their confidence and gameplay.
The best T-shirt we can recommend for kids is the Bullpadel's Caucasi T-Shirt. It's crafted with stretchy and cooling fabric that allows for proper body movement and avoids injuries.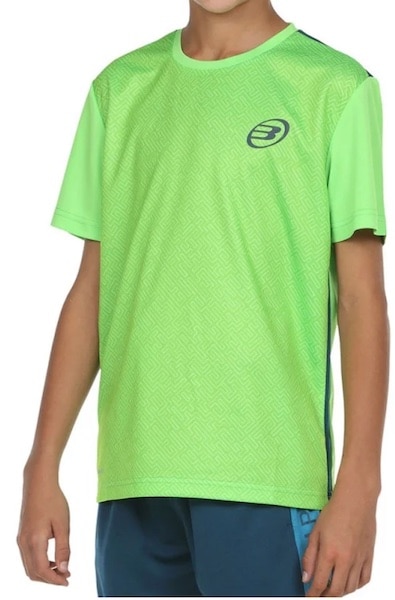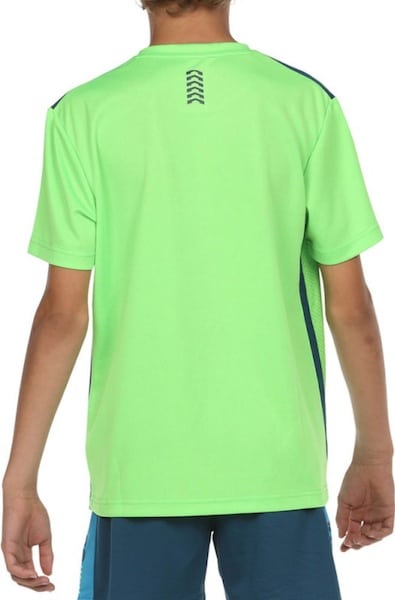 ---
For padel shorts, on the other hand, Nike Dri-Fit Trophy is great to support quick leg and foot movement.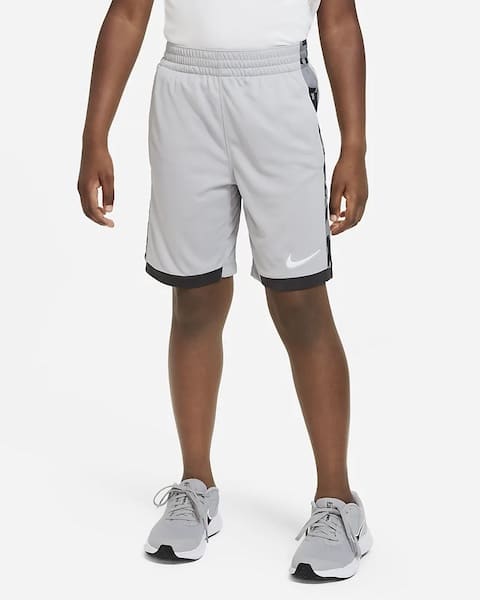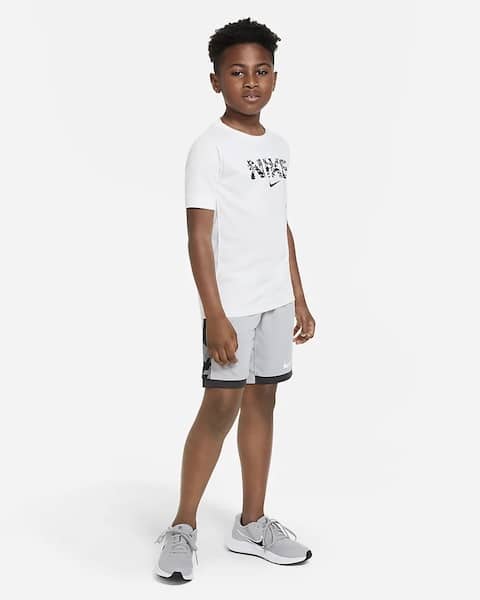 ---
A Buyer's Guide to Padel Clothing: What to think about
There are several things you must consider when choosing the appropriate padel clothing. On top of looking classy, your outfit should ensure comfort and better gameplay.
Above all qualities you can find in any attire, these are the MAJOR factors you must take into account when shopping:
Fit
Using a T-shirt and pants that are too tight can cause skin irritation. It may also hinder your movements, leading to injuries and bad performance.
Conversely, clothing that is too loose tends to get in the way of your equipment easily.
Hence, you must try the outfit first before making a purchase.
When you're buying in online stores or other websites, make sure that you follow the size guide correctly.
Fabrics
Essential sportswear materials include polyester, polyurethane, elastane, microfiber, nylon, and cotton.
These materials allow for breathability and are also ideal for dealing with sweat and damp skin. They either absorb or repel moisture to keep your body dry.
It's also important to choose stretchable fabrics so you can move freely and quickly.
Breathability and dealing with moist/sweat
This ensures that your body doesn't overheat after long rounds and matches, especially if the humidity is low. It will also make you comfortable and help you focus on your playoff.
Movement
Clothing that supports your body movement can promote flexibility and quickness for better gameplay. It's essential that your attire adapt and doesn't get in the way of your moves.
Weight
Choose lightweight outfits! This way, you will save energy for your tournament and quick bodywork.
These types of clothing are also ones that are breathable and comfortable to be clothed on. They're also easy to pack and store.
Durability
We all want equipment that will last us for a LONG TIME. In padel, you want to invest in both functional and durable clothing.
This ensures that your outfit can withstand any weather conditions without wearing out. It also avoids tears and cuts, especially during the game's duration.
Cost
Padel clothing shouldn't break your bank. There are brands out there that are of good quality and sold at the best price.
Choosing to save a few bucks or going big on the quality of clothing you invest in is totally up to you. Just remember to purchase those that can serve your needs while playing padel.
---
In Summary
Regardless if you're among men or women players, padel clothing is one of the best investments you can make.
It secures better gameplay and helps protect your body from injuries and changing weather conditions. It aids in conditioning your muscles and getting them ready for the tournament.
Now is the time to pack appropriate padel clothing in your duffle bag. If you still don't have one, go to the store or purchase from official pages or other sites. Good luck!
---
Frequently Asked Questions about Padel Clothing
Do I need special shoes for padel?
Padel shoes should promote good grip, aid footwork, and reduce the risk of injuries. They're also meant to protect the sensitive areas of your feet. Usually, the best shoe for padel has gel soles for high cushioning and less leg strain.
What do you wear to play padel?
You can wear a T-shirt, tank top, or shorts for your games. For women, you can opt to wear skirts or dresses. Other garments you can pack are socks, jackets, and other accessories.
Are tennis shoes good for Padel?
The gaming area in tennis differs from padel. Hence, tennis shoes are also different from padel shoes. Although they're slightly similar, the make of their sole not alike. The three types of soles you can encounter in a padel shoe are omni, plug, and mixed. These are all ideal for playing indoors and outdoors.
---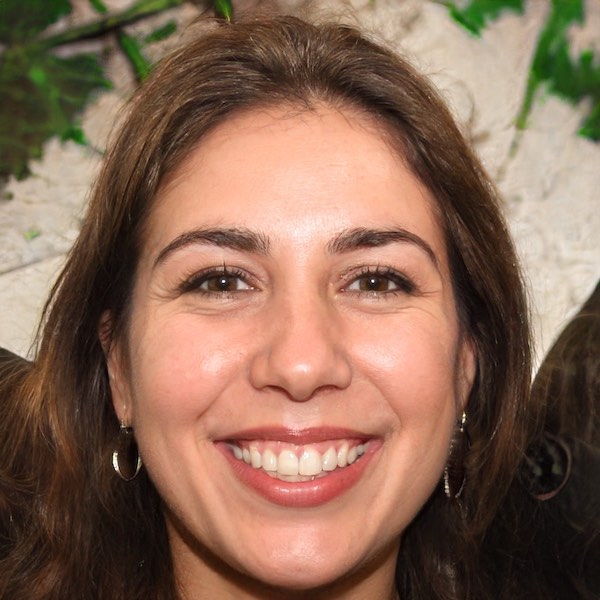 Isabella Torres is originally from Madrid, Spain, and has been playing Padel as a semi-professional for the past five years. After completing her education as a journalist, she discovered her true passion in life was writing about Padel.
She loves staying up late watching intense rallies on YouTube, and is excited to share her knowledge about the sport with SimplePadel's readers.