Padel is a sport that's rapidly increasing in popularity. A variant of tennis, padel is played on a smaller court than tennis and uses a form of tennis balls with less pressure inside.
With many star players jumping to Padel, many would-be padel players have been exposed to the sport. This has led to a rise in padel schools, padel clubs, and even padel ball manufacturers.
This wide array of padel balls has padel enthusiasts scratching their heads. Which padel balls should they choose? Which balls are the best if you play with a lot of spin?
Let's go through some of the best padel balls on the market. We'll discuss how padel balls are made, how much they cost, and which ones will allow you to get a head start in the sport.
---
A Quick Overview: Our Best Padel Balls Winners per Category in 2023
---
Weight and Dimension of a Padel Ball (World Padel Tour Standards)
As determined by the International Padel Federation, a padel ball is a ball with rubber and felt surfaces with the same optic yellow or white color as its racquet predecessor.
Amateur events use 3 balls in a match, while professional competitions like the World Padel Championships use 4 balls per match due to the speed and intensity of the sport.
Having a good set of balls will make the match easier to judge, so the surprise factor will not come into play!
Let's look at the measurements that make the padel ball unique, its dimensions, heft and air pressure.
Dimension
A standard-sized padel ball is between 6.35 and 6.77 cm in diameter, which means they can be the same size or 0.1 cm wider than tennis balls, though they are almost virtually identical.
Weight
Padel balls weigh 56g – 59.5 g, 1 gram heavier than their heaviest counterparts and 0.6g lighter at their lightest. These discrepancies depend on the amount of air pushed in and the mass of the shell.
This, combined with its wider diameter, makes for an ever-so-slight speed and intensity difference compared to the original sport.
Air Pressure
A Padel ball contains 4.6 kg – 5.2 kg per 2.54 cm2, which is much less pressure and bounce than the 8 kg or more per 2.52 cm2 found in the other sport.
Because padel allows players to have one bounce off the ground and one bounce off of the clear walls of the court, the bounce of the ball should be at least 135 cm and less than 145 cm.
Main Differences Between a Paddle Ball (Pop Tennis) And Padel Ball
When picking up a new tube of balls, another factor that adds confusion for many players is that paddle balls (for POP), padel balls and conventional tennis balls are all seemingly the same.
Both POP and padel are offshoots of tennis with a smaller play area, shorter racket size, less pressurized balls, and a slower speed of play.
The biggest difference between an official ball used for paddle vs. those used for POP is that a paddle ball is softer and squishier than the more stable padel ball, which has the same consistency as a tennis ball.
How Is a Padel Ball Made?
Making padel pro balls is a seemingly-simple process. Let's go through some fascinating steps that turn felt and rubber into padel balls.
---
Time needed: 3 days
How Padel Balls are made in 6 steps
Materials Laid Out

Stacks of rubber bricks are mixed, flattened by a pressing machine and stretched out in long, flat layers. Huge rolls of processed felt are stocked in preparation for cutting.

Felt Is Cut and Processed

The felt rolls are glued and cut into the right shapes by a machine. The individual felt cuts are separated from the base layer and sent to the wrapping section, where they will be pressed around the balls.

Rubber Turns Into the Inner Shell

The rubber pieces are formed into half-circular shells. Once the pieces have the right shape, the two halves are then glued together in the middle to form the base and shape of the ball.

Felt Added On Top of Rubber Balls

The felt is placed on a press that wraps the pre-cut felt around the rubber balls. The two pieces are glued together, and the signature white seams are added. The main ball is now complete.

Filled With Air and Stamped

The completed rubber and felt balls are filled with air to give them the right bounce and air pressure. They are stamped with the company name and packaged as they move down the line.

Box and ship

They are then boxed and shipped to their location.
You can also look at Dunloc's process for a better idea:
---
Different Types of Padel Balls
These balls have the same relative dimensions and measurements, but they differ in pressure, rebound, spin and durability when bounced on a hard surface.
You can also choose based on the fuzziness of the felt.
Your preferences will determine which ball works best for you, and you may prefer a slightly heftier ball or a fuzzier one than a closely-cut one.
Size May Differ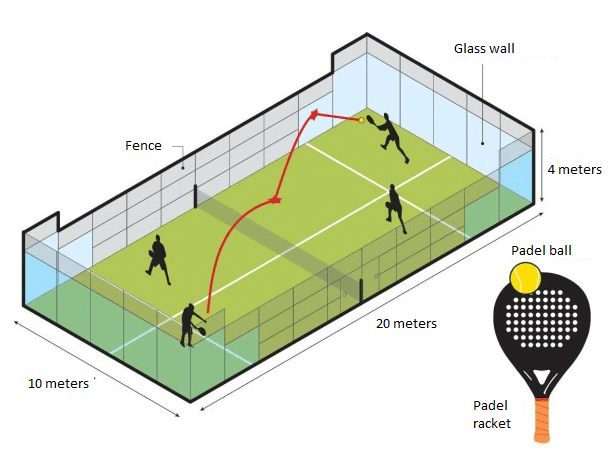 The World Padel Tour has rules on how big your balls can get, affecting how they interact with the field and padel rackets. However, balls have a slight margin and size difference depending on various factors.
---
The Durability of Padel Balls
Padel rackets, among other factors, determine how stable and durable the balls will stay. They will lose 25% of their pressure after your first game.
Every subsequent match will decrease pressure even more. Within around 4 of these bouts, your balls could already be deflated.
What Is the Best Way to Store Padel Balls?
The lifespan of a Padel Ball will depend on how hard it bounces around, how long it's kept out, and how dense the materials it's made of are.
Proper storage ensures that your balls last as long as your love for the game. If you want them to last longer than 3 weeks, you will need to store them for a few days in a pressurized case.
Padel balls are packaged in pressurized containers to maintain their internal factory air pressure. You can replicate this freshness with a Pascal box, which we will go over below.
How Often Should I Replace My Padel Balls?
It is best to replace your balls every 4-5 games or every 2-3 weeks of playtime. Intermediate players and pros may need to replace balls more often.
These balls have a lifespan dependent on weather conditions, how hard players hit, temperature, and even the air used, whether compressed or Nitrogen.
It will also depend on your brand and how much bounce is left in your balls. You can choose to save money at the cost of a less comfortable feeling when handling the ball.
Maintaining the Pressure in Padel Balls With a Ball Pressurizer
These balls lose their internal pressure depending on your speed and amount of play. This is where a Pascal box comes in.
Originally made for Bullpadel padel balls, it is a packaging tube with a built-in manometer and air pressure. It matches the pressure that the balls left the factory with.
How Does a Ball Pressurizer Work?
The Pascal Box is the best Padel ball saver because it is hermetically sealed and pressurized. This will help you continue playing at the speed and intensity you've grown accustomed to.
This reduces pressure loss from environmental factors, leaving smacking the ball the only factor that can decrease its pressure.
Reviving Old Balls With a Ball Pressurizer
You can save old Head balls and other brands by re-pressurizing them in your Pascal box ball saver for about 9 days. This will allow them to maintain their speed and integrity for a long time.
---
How Much Do Padel Balls Cost?
A can of three balls costs $6.17 to $7.50. Dividing the price per tube equals $2.05- $2.5 per ball, almost the same as tennis balls. Prices depend on the location of your seller and the brand of the ball.
Online shops have different prices for the same balls, so you need to snoop around to find the best price for new balls. Europeans have cheaper and easier access to Padel, so keep that.
---
What Are the Top Brands for Padel Balls?
You will need the best equipment for your matches. They should offer great speed and long durability when you play Padel.
The brands that offer the best balls for your games are Head, whose Head Pro Balls and Head Padel Pro S Balls are used in tournaments, NOX with its Pro Titanium, Babolat with the Babolat Padel Tour, and Adidas padel balls.
These brands are the best of the best. They can make or break a player and help them succeed. You don't need running trainers to run, but it sure does help. The same goes for these brands.
---
Padel Ball Reviews and Tests
We reviewed the balls that offer the best price, speed, durability, and quality regardless of your skill level if you recall our intro. Balls like the Pro Titanium, the Babolat Padel Tour and more excel at their job and last a lifetime when properly cared for. See our other categories of tests and review.
Let's explore these game-winning balls in a bit more depth.
---
---
Our Pick for Beginners: RS Padel Tour X
Robin Söderling designed this game-winning ball for beginners who need to play a slower game. It's affordable but surprisingly high-quality, offering the right speed and feel for even intermediate players.
It's a great starter ball for those looking to gain practice and experience while playing. It offers the right bounce, allowing players to keep track of the ball as they gradually build up their skills.
Pros and Cons of RS Padel Tour X
Pros:
Ideal for fast-paced surfaces
Affordable
Cons:
Not ideal for skilled players with a strong overhead
---
Our Pick for Experts (Premium Segment): Head Padel Pro S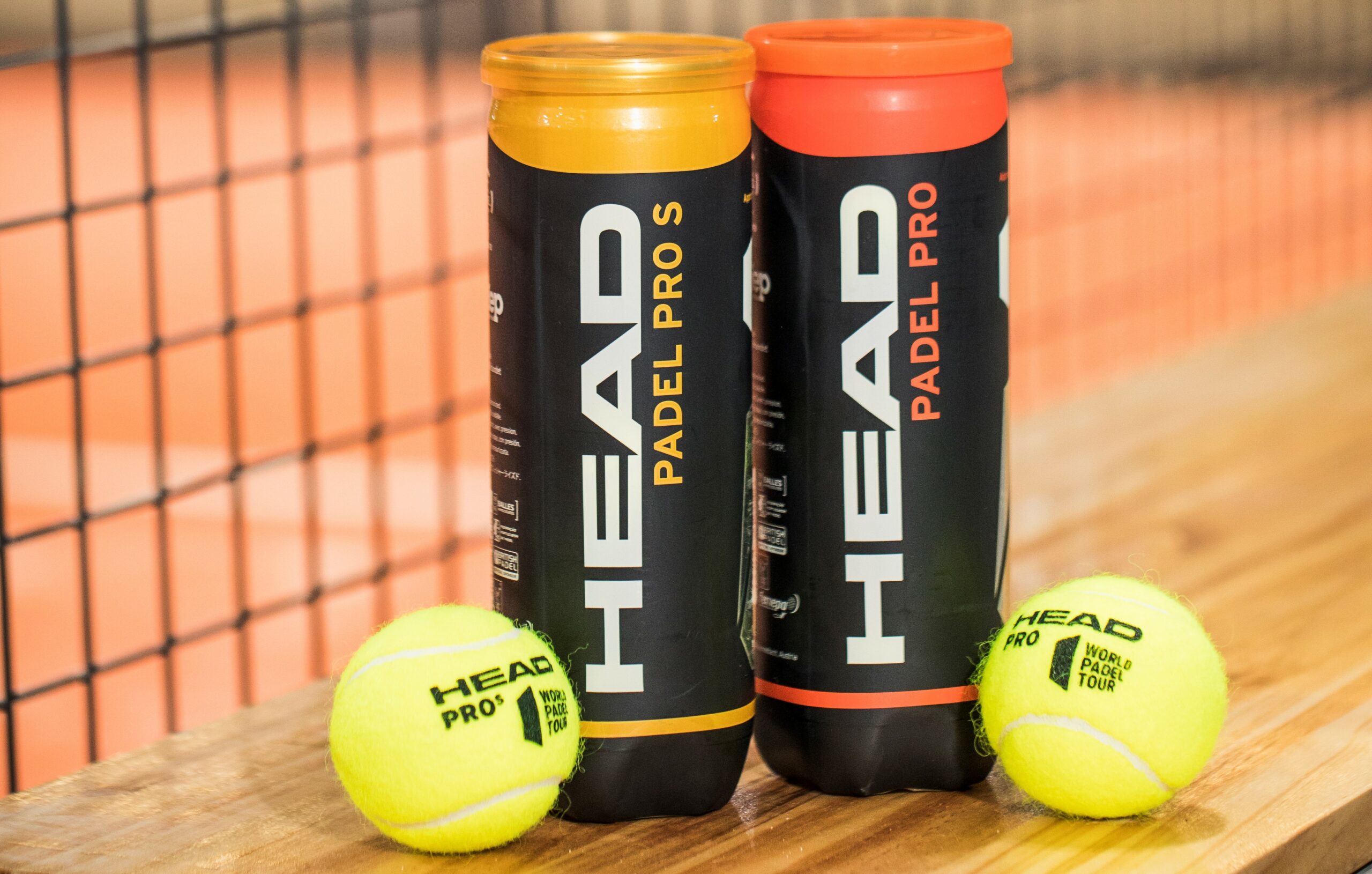 Head padel pro balls are the official balls for the World Padel Tour because of their speed, durability, and even price range. It's a top-quality ball that outperforms and over-delivers.
It can help any player up their game and handle the rigors of championship-winning matches. If the pros and the rule-makers swear by these balls, they should work best for you.
Pros and Cons of Head Padel Pro S
Pros:
Great for attacking and competitive players
Used and Approved in Professional Tournaments
Cons:
Head Pro is just one of the brands that you can't say anything about
---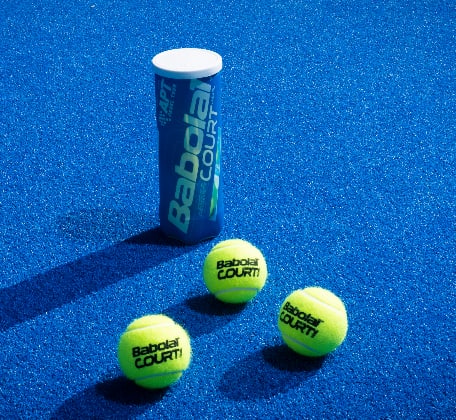 The Babolat Court Ball offers the best price for a ball of its quality and popularity. Along with the Babolat Padel Tour balls, it is widely used by Spanish Padel Federation in the APT Padel Tour.
This makes it a must-have for players looking to make it into the big leagues and gives it the credibility and popularity it deserves.
If it works for the country that plays the most of this sport, it should help you integrate well.
Pros and Cons of Babolat Padel Court Ball
Pros:
More Affordable Than Other Brands on the Market
Used in Competitions
Cons:
Not as advanced as the Babolat Padel Tour line
---
Editors Pick for Great Durability: Bullpadel Premium Pro
Bullpadel Premium Pro offers greater speed than the Bullpadel Gold for about the same price. Its exceptional durability has made it a competition favorite that handles well with players from every skill level.
It ups the intensity and brings out the best in players wherever used. It allows you to play at a faster speed and higher intensity, offering more dynamic movement and a more entertaining bout.
This bullpadel will make you feel like a true athlete.
Pros and Cons of Bullpadel Premium Pro
Pros:
Good for players who like to hit hard and pass fast
Can handle a fast-paced match
---
Frequently Asked Questions About Padel Balls
Here are the most common questions people have off the court when buying padel balls. Let's clarify a few more key things to remember when choosing a padel ball.
What Balls Do You Use for Padel?
Like padel's origin sport of tennis, padel is played with padel balls, weighing in at 56-59.4g like a tennis ball, but with a slightly larger diameter.

These padel balls are designed with rubber and felt surfaces and have less pressure and bounce than a similar sports ball.
How Much Do Padel Balls Cost?
Playing padel is about as expensive as playing the full-court game. Like tennis balls, which cost around $1.25 per ball on average (or $0.96 to $2.66 in a range), a can of three balls costs $6.17 to $7.50.

When looking to start playing padel, you will need to look for a padel school and padel courts in your area, which is a small price to pay if you're looking to get better at the game.
How Long Do Padel Balls Last?
For padel players who play padel regularly, a padel ball can last between 4-5 matches, or 2-3 weeks of playtime, though it can last longer or shorter based on various factors.
Can You Use Tennis Balls for Padel?
It is possible to use non-padel balls for playing padel games, but it isn't recommended. This is because the bounce, speed generated, and amount of pressure inside are different.

A premium ball for padel will move at a slightly slower speed than its original counterpart. Combining that with the size of padel courts, a padel match is slower-paced than its racket progenitor.
What's the Difference Between Paddle (POP) Balls, Tennis Balls and Padel Balls?
These games and their balls are so similar that you need to look at the court size and markings, paddle length and official ball measurements to know the difference when playing.

Padel balls have more in common with the plain old racket game than with POP, which uses a softer, spongier ball.
---
Conclusion – The Best Padel Balls
As far as price, speed and durability are concerned, these brands are the best. You can't go wrong bringing a tube of them on your next padel tour, as they will help you perform at the peak of your ability.
Whatever brand of ball you choose, make sure that it helps bring out the best of your abilities, has the right pressure, can survive getting bounced and smacked, and belongs to a reputable brand.
Appearing in a major tournament is a bonus. It means that the ball can handle the demands of an extremely competitive bout with ease.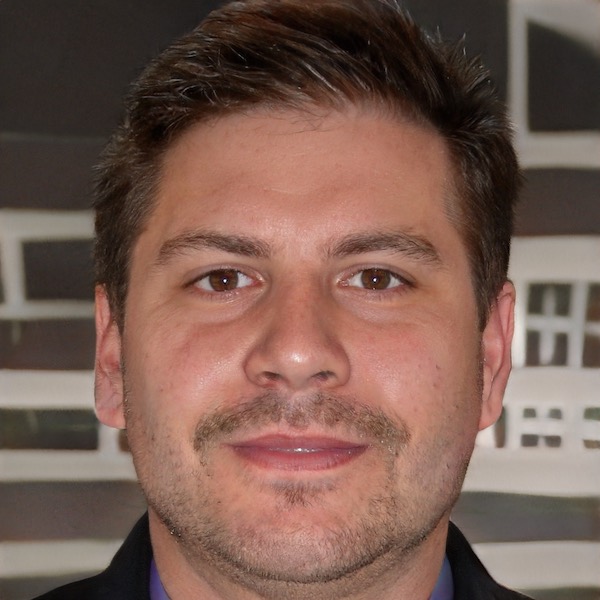 Lucas Sánchez is the founder of SimplePadel. Born and raised in Spain, Lucas has been living in the US and UK for the last 20 years and currently calls Miami his home. While he's never played professionally, the dream is still alive.
Lucas loves nothing more than playing (and talking) about padel, and he considers himself lucky to have a wife and family that share his love for the game.