A powerful padel racket with remarkable quality characterized by its striking black finish, silver logo, and red details—represented in the World Padel Tour by Miguel Lamperti.
The Nox ML10 Shotgun Luxury is a diamond-shaped padel racket made of a 100% carbon racket frame and 12k fabric for better resistance against impacts.
Nonetheless, due to the generous sweet spot and comfort provided by the HR3 rubber inside, control of the racket is not compromised.
In this Nox ML10 Luxury Shotgun review, get to know the product's features, composition, and benefits!
---
Main features of Nox ML10 Shotgun Luxury Series 2023 Padel Racket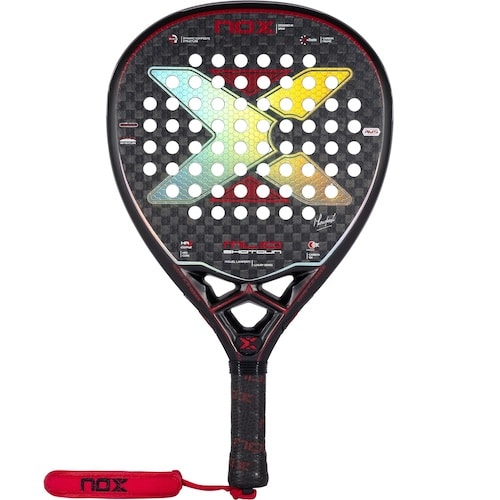 Diamond-shaped padel racket, which ensures high balance and increases smash strength.
Its 12k fabric carbon construction with higher grammage yields more solid offense or resistance.
EVA High Memory foam speeds up recovery for firmness and powerful strikes.
New Smartstrap® system where you can adjust the safety strap.
AVS anti-vibration system minimizes the vibrations caused by hits, avoiding pain in the arm and elbow.
The rough surface gives more grip on the ball and maximum spin on the player's shots.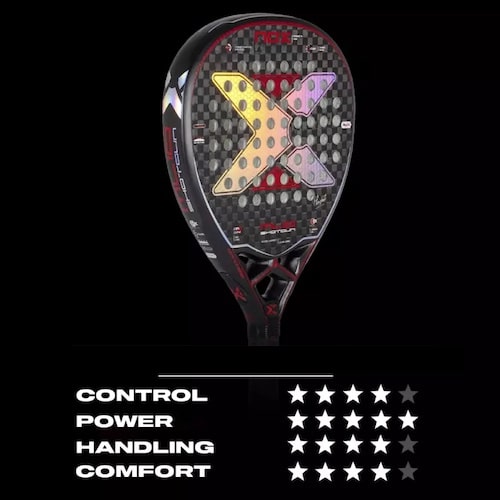 ---
Specification of Nox ML10 Shotgun Luxury Series 2023
Here are the main specifications for the Nox ML10 Shotgun Luxury Series 2023 padel racket:
Main specs:
Brand: Nox
Player level: Advanced
Shape: Diamond shape
Weight: 360 grams-375 grams
Balance: Higher Balance
Frame: 100% carbon
Balance: Middle
Composition specs:
Core Composition: HR3 EVA High Memory
Frame Composition: Fiber carbon 12k
Surface Composition: Carbon 12k
---
Our review of Nox ML10 Shotgun Luxury Series 2023 Padel Racket
With just one look at the ML10 Luxury Shotgun 2023, we can already assess how powerful this model is based on the color representations, the overall appearance, and, most importantly, the composition.
Compared to the simultaneously released Nox racket (round ML10 ProCup Luxury), the ML10 is distinguished for its diamond format, which makes it highly balanced, especially on the offensive side of the game.
Finally, the racket has the famous Smartstrap® technology for easily replacing your racket's rope. This assures good control over the grip and prevents it from slipping out of the hands.
The Padel ML10 Shotgun Luxury Series racket carries the "Testea Padel" certification, which proves the racket's strength and quality.
A must-have padel racket with features that'll make players comfortable during the entire game.
Pros:
Carbon materials enhance rigidity and durability
Smartstrap® offers a replaceable safety cord without removing the bottom cap
The AVS system in Nox ML10 Shotgun Luxury Series aids spin shots
Dynamic Composite Structure technology strengthens the racket and minimizes breakage
Pre-molded plastic rough surfaces ensure a solid ball feel and accurate shots
Cons:
Not for beginners
Challenging in the defense game
---
What level of player is the Nox ML10 Shotgun Luxury Series 2023 best for?
Based on our padel racket Nox ML10 Luxury Shotgun 2023 review, this power racket was designed for advanced padel players. 
Equipped with NOX's classic HR3 rubber and 12K Carbon faces, this racket provides a comfortable feel and facilitates impressive ball exit.
It caters to these player's playing level and style of play because of the following advantages:
Carbon frame
High-density foam
Comfortable touch on rough-finished faces (so as not to lose sensations)
Vibration-absorbing system for off-center impacts
Diamond-shaped design with a good sweet spot for greater hitting power
Is Nox ML10 Shotgun Series best for attacking or defensive players?
The Nox ML10 Luxury Shotgun 2023 is a power racket that works best for an advanced player's offensive and aggressive game.
If your playing style revolves around quick volleys, topspin, and shots down the wall, the ML10 Luxury Shotgun 2023 is the ideal choice for you.
The Nox ML10 Luxury Shotgun 2023 is made to be used like a rifle (from the name itself) to attack, then smash, the opponent while they are under pressure.
---
In this review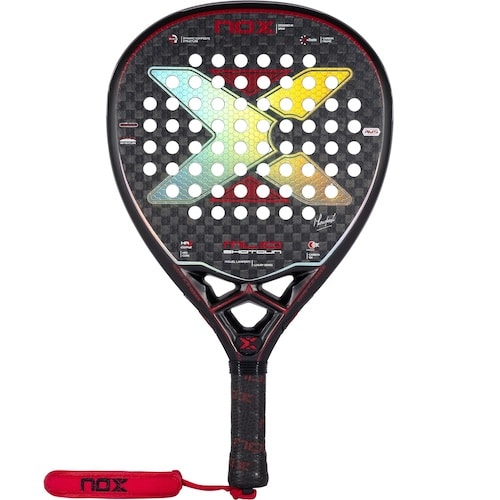 ---
Conclusion
In conclusion, the ML10 Luxury Shotgun 2023 is an excellent choice for players who focus on quick volleys, topspin, and shots down the wall.
The diamond-shaped Padel ML10 Shotgun Luxury Series racket ensures great power during aggressive volley games, allowing expert users to reach their full potential and secure more victories.
This high-quality padel racket boasts several notable features, including a diamond shape for high balance and increased smash strength, 12k fabric carbon construction for solid offense and resistance, EVA High Memory foam for speedy recovery and powerful strikes, an AVS anti-vibration system to minimize vibrations and prevent arm and elbow pain, and a rough surface that offers more grip and maximum spin on shots.
If you're suffering from elbow pain, see our recommendations for the best padel rackets for tennis elbow.
With all these exceptional characteristics, the racket is available in numerous online stores for international shipping at a price that reflects its value, making it a worthwhile investment in elevating your padel game.
---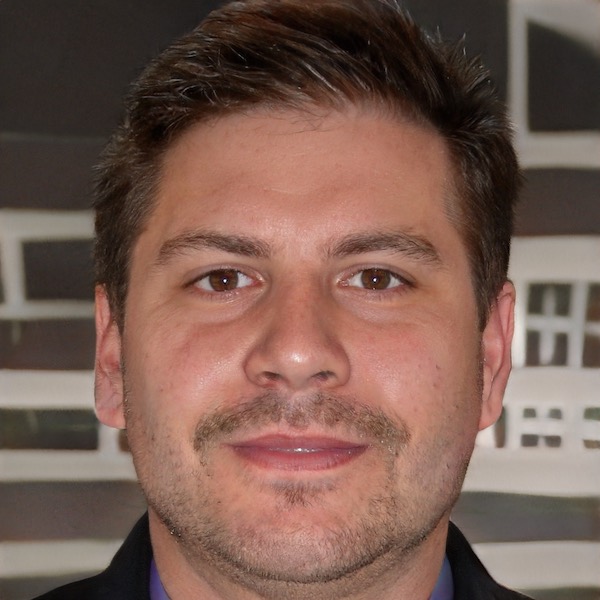 Lucas Sánchez is the founder of SimplePadel. Born and raised in Spain, Lucas has been living in the US and UK for the last 20 years and currently calls Miami his home. While he's never played professionally, the dream is still alive.
Lucas loves nothing more than playing (and talking) about padel, and he considers himself lucky to have a wife and family that share his love for the game.