Tennis elbow, or lateral epicondylitis, is an all-too-common injury for padel players, causing sharp pain in the elbow area and potentially putting your passion for the sport at risk.
It's especially frustrating when it hinders your game and dampens your spirits due to the discomfort and limitations it imposes on wrist rotation.
In this comprehensive post, we'll delve into the world of padel rackets designed to alleviate and prevent this nagging condition, as well as explore padel-specific strategies to keep you on the court rather than on the sidelines. Our top pick in this category would be the Adidas Adipower Multiweight.
Whether you're looking to avoid tennis elbow altogether or seeking the perfect racket to help you bounce back from injury, read on to discover how you can continue enjoying padel without compromising your health and performance.
---
The 3 best padel rackets to avoid tennis elbow
As we dive into the world of tennis elbow-friendly padel rackets, I'm excited to share with you some of my top picks that cater to players dealing with this condition.
In the sections below, you'll find an in-depth overview of three standout models, each offering unique features and benefits designed to minimize strain on your arm while maximizing your performance on the court.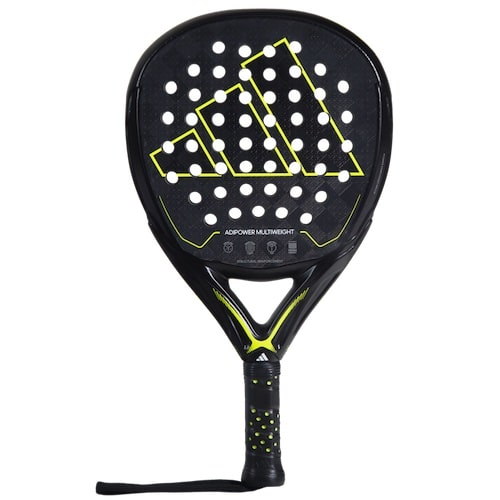 The Adipower family has undergone a revolution with the new Adipower Multiweight.
It combines the durability and dependability of Adipower with the customization technology for the weight and balance system.
With the help of this technology, you may adjust the racket's game profile so that it always serves your demands.
Pros
The weight is evenly distributed and not heavy.
Excellent, light, and controlled racket (to prevent tennis elbow!)
Design and measurements that are appropriate
Cons
Some clients think it's too delicate and kind
Note: Rackets can be made more comfortable by adding an over grip or under grip, which will enhance your padel game.
---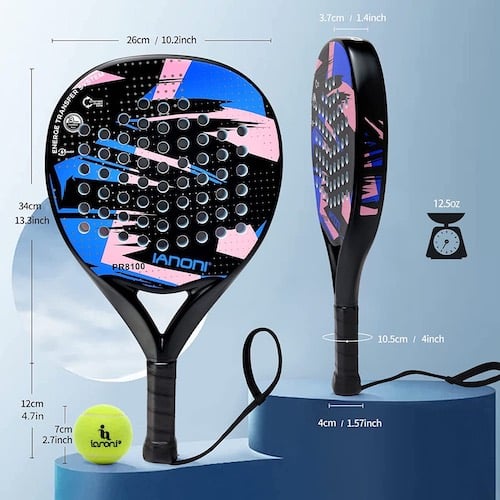 Full carbon fiber composite surface
The EVA Memory Foam Core
Soft Non-slip SWEAT-RESISTANT grip handle with Wrist Tether
WLSRW only uses real, first-rate carbon fibre to create the best padel rackets.
Each racket has undergone rigorous tests, including compressive stress, high and low temperature, surface strength treatment test, and others.
Also, it keeps the shape and functionality for extended usage as fresh from the water, filthy fluids, sand, and other impacts. This paddle racket will serve you well.
Pros
A better hole-drilling technique
The round shape offers equilibrium at ball contact.
Symmetric structure
Cons
It comes with noise when you shake it or hit the ball
---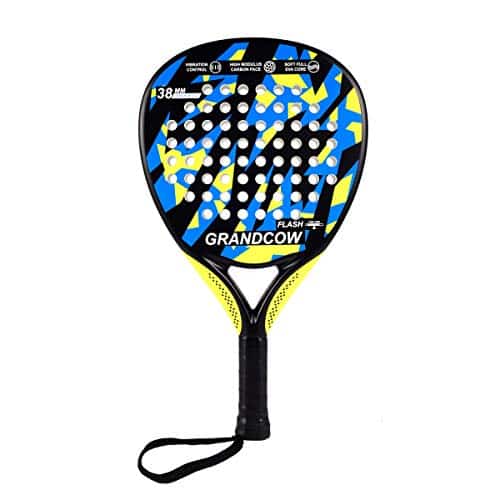 Lightweight with strong carbon frame
Non-slip, sweat-resistant grip makes it super comfy
Great for beginner players
This padel will perfectly meet your needs if you seek professional practice.
These durable padel rackets (which sometimes is used as a POP tennis paddle as well) will avoid the situation where you acquire one that looks wonderful but quickly develops a defect after use.
GRANDCOW uses the newest technology and excellent quality control procedures to create the paddle tennis racquet.
Pros
A whole carbon fibre composite surface provides high performance
It has a grip that is comfortable, non-slip, and sweat-resistant
Cons
It is suitable for occasional play but not higher levels
---
Padel racket tennis elbow: Stopping the inflammation of forearm muscles
You can treat tennis elbow in padel in several different ways. There are other things you can do to help your tennis elbow. The obvious first solution is to try different types of padel rackets, especially if they have different weights.
Tennis elbow occurs more frequently when a shot is executed incorrectly since it places additional strain on your upper forearm.
A tennis elbow brace or tennis elbow strap is a go-to therapy aid for persons who experience elbow problems.
Tennis elbow straps are affordable and simple, and you can change the compression amount to meet your needs.
You can picture the accumulated muscle tension exerted on the elbow joint over time if you play a lot of padel.
Avoid performing push-ups, chin-ups, and dumbbell wrist curls if you have elbow problems. A soothing massage would be very helpful for the healing process after a match of padel.
A cold shower or an ice bath after a game are excellent ways to aid in your body's recovery.
Tip: Try purchasing a softer model if you're an offensive player who enjoys diamond-shaped rackets but sometimes experiences minor arm problems.
---
Use a lighter racket
Choose something light when looking for the best padel racket for your tennis elbow. Your arm will experience less strain and stress if your racket is lighter.
Try to reduce vibrations. A racket moves more easily because it is better at absorbing vibrations when it has a softer core.
One may argue that a heavier racket has more material, resulting in less force being applied to the ball and less to your arm. In this case, personal preference comes into play.
I think a lighter racket would be preferable because I have seen many individuals succeed with it. A heavier racket, nevertheless, can be more advantageous for your game.
See which racket puts the most strain on your arm by trying one that is light and heavy.
Note: Rackets with concave surfaces can help on preventing injury and tension for padel players.
---
Check if you have the wrong grip size
Watch your gripping strength: Choosing the incorrect grip size might hurt your elbow and overall playing performance.
When playing padel, a strong grip and the right size is more crucial than having too small grip to prevent the racket from twisting in your hand.
---
Avoid injuries with these tips
The following tips and tactics can help you avoid acquiring tennis elbow.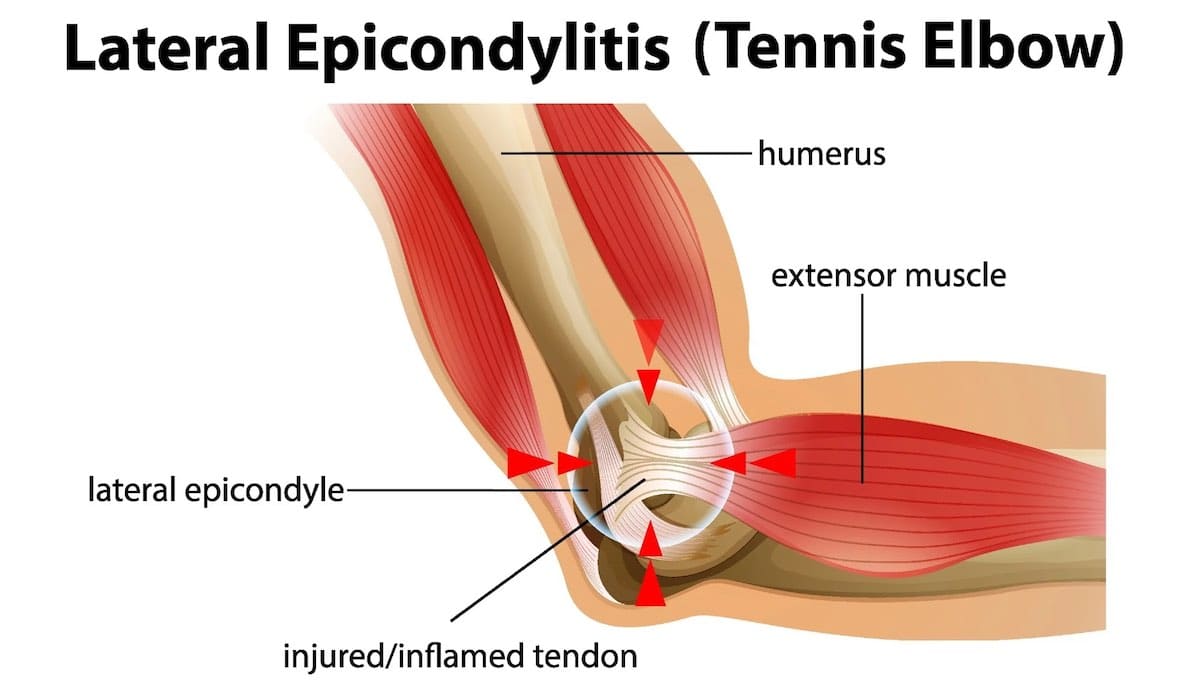 Avoid unnecessary stress: Remember that your body requires rest and that the more you play, the greater the chance of damage. If you have pain while playing, cut your break short.
Practice good technique: Recognizing and correcting faulty swing techniques is crucial to stay safe. Poor technique is one of the leading causes of injury.
Warm up before playing padel: It's a good idea to warm up your arm, elbow, and wrist (these tiny muscles that attach to the elbow are often overworked.) before a padel match to prevent damage to your elbow muscles and tendons. Squeeze and release a tennis ball firmly in each hand for two to three minutes.
Tip: Regular exercise is essential for muscles to remain healthy and stress-resilient.
---
Conclusion
In conclusion, if you're looking to avoid tennis elbow or already suffering from it, it's crucial to carefully select a padel racket that minimizes the risk of aggravating the condition.
To find the ideal racket, make sure to try out different options and focus on features that are specifically designed to alleviate tennis elbow-related issues.
A suitable padel racket should have a soft core, which helps absorb vibrations, thus reducing the strain on your arm. Additionally, a low balance point is essential for easy handling and less stress on your elbow and wrist during gameplay.
As a beginner or a player with a history of injuries, prioritizing comfort when choosing a padel racket is vital, as you belong to the high-risk group for tennis elbow.
Opt for rackets with ergonomic designs, cushioned grips, and appropriate weight distribution to ensure maximum protection against potential injuries.
Lastly, don't forget that preventing tennis elbow involves more than just selecting the right racket. It's essential to reduce your playing frequency to give your arm sufficient rest and recovery time.
Moreover, working on improving your technique, particularly your grip and swing, can significantly decrease the chances of developing tennis elbow. Make sure your grip size is appropriate for your hand, as an incorrect grip size can lead to added strain on your forearm muscles.
By following these recommendations, you'll be well on your way to enjoying padel without the fear of tennis elbow or further injury.
---
Frequently Asked Questions – What is the best padel racket to avoid tennis elbow?
What features should I look for in a padel racket to avoid tennis elbow?
Search for a padel racket with a soft core for vibration absorption and a low balance point for easy handling. These features help reduce strain on your arm, minimizing the risk of tennis elbow.
I'm a beginner, what type of padel racket should I choose to prevent injuries?
As a beginner, prioritize comfort in your padel racket selection. Opt for rackets with ergonomic designs, cushioned grips, and appropriate weight distribution to ensure maximum protection against potential injuries.
How can I prevent tennis elbow while playing padel, apart from choosing the right racket?
To prevent tennis elbow, reduce your playing frequency to allow sufficient rest and recovery time for your arm. Additionally, work on improving your technique, focusing on your grip and swing.
How does grip size affect the risk of developing tennis elbow?
An incorrect grip size can lead to added strain on your forearm muscles, increasing the risk of tennis elbow. Ensure your grip size is appropriate for your hand to minimize the chances of injury.
---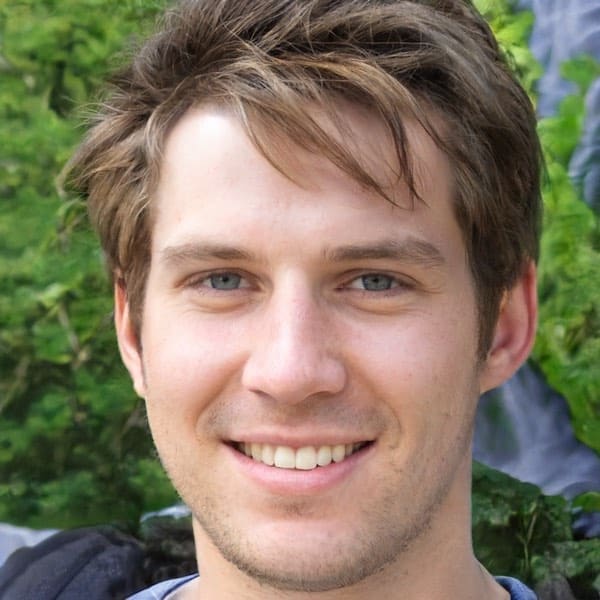 Kevin Anderson is a Content Writer for SimplePadel. He joined the company during summer 2022. For SimplePadel, he spealizes in testing rackets and writes a lot of our padel racket reviews.
Kevin loves to own the net position and considers himself an attacking-minded player. He often claims that he has the reach of a monkey – thanks to his 6'5″ stature. In his spare time, he enjoys cooking and following the USPA closely.