Are you looking to invest in a new padel racket this year? Maybe your skills have levelled up and you are looking for a racket to help you deliver shots with even more power or you may be new to the world of padel.
If this sounds like you then this is just the guide for you.
Below we look at the 6 best Babolat padel rackets that are currently on the market and tried and tested by our team of padel lovers.
This list is sure to help you find the perfect new Babolat padel racket just for you, whatever your needs may be.
---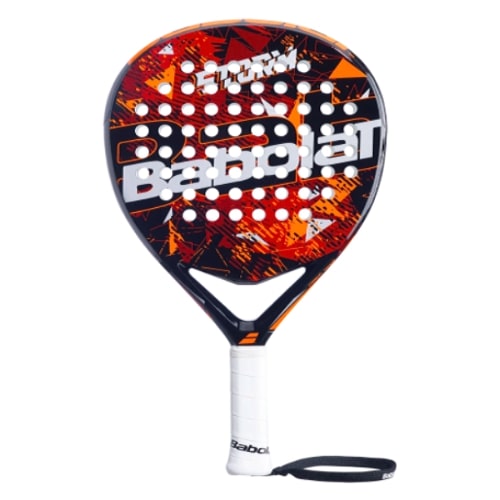 This racket is perfect for any beginners looking for a lightweight racket, weighing just 345g thanks to the racket's fiberglass surface coating and carbon frame.
This lightweight racket adds comfort to the game and allows you to focus on your opponent rather than holding and supporting the racket.
Our team found that the teardrop shape offers good versatility between controlling the ball and getting power behind your shots.
The shape also gives this racket a look of elegance.
The racket is brightly colored with a black base color, white grip, and hues of orange and red used in the design on this Storm padel racket.
Intermediate players that play for fun rather than competitively also enjoy playing with this racket thanks to its shape and lightweight feel.
Pros
Lightweight
Sleek and elegant design
Perfect for beginners
Well priced
Cons
Must put strength and drive behind the racket to hit more powerful shots.
---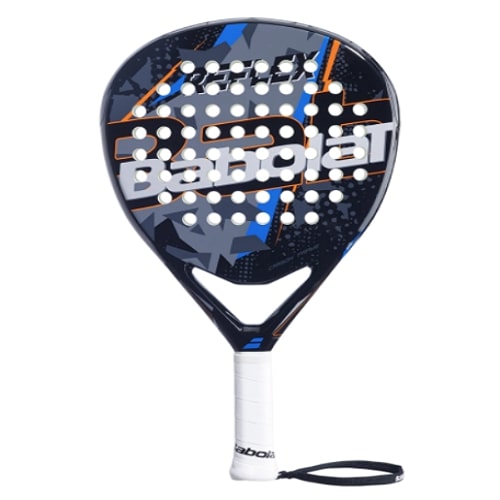 This racket is fantastic for anyone transitioning from tennis to padel.
This racket has been specially designed for those making the transition and to ensure that you can easily adjust to the smaller racket used in Padel.
This racket is lightweight, making maneuverability a key feature in this racket.
With a large sweet spot, you will be hitting the ball like a pro in no time.
Our team loves this racket's diamond shape, which helps to attack the ball with more power.
Lucas from our team has an offensive style of play and he finds this racket really benefits his style.
This racket weighs 360g and is 38mm thick, composed of a carbon frame and fiberglass surface cover.
The racket is easy to balance and the grip has been designed to support you as you attack the ball.
Pros
Lightweight
Full cover racket
Diamond-shaped with a large sweet spot
Good price
Cons
Best suited to offensive players only
---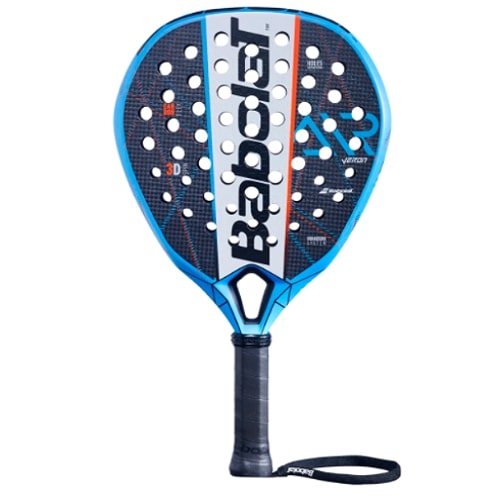 This racket is suited to more intermediate and advanced padel players. This racket is uniquely shaped to benefit the air strikers amongst you.
This racket will enable you to attack high balls ensuring point conversions on each play in your favor.
Two different materials are woven together to make this racket lightweight, incorporating Babolat CarbonFlex technology and also featuring the Holes Pattern System that enables players to optimize all areas of the racket head.
The Air Veron has a striking and sporty look with a dark-colored grip and blue, white, and orange incorporated into the design.
The VIBRABSORB System is integrated into the design of this racket helping to prevent fatigue when playing and also injuries as a result of muscles and bones absorbing shocks when playing.
The racket weighs 355g and has a width of 38 mm, similar to most other Babolat padel rackets and so it is the integration of new Babolat systems and the shape of the racket that makes the Air Veron unique from other Babolat Padel rackets.
Pros
3D Spin Feature
Optimized holes pattern system to increase precision and power
VIBRASORB system to absorb shock and prevent wrist pains
Lightweight
Perfect for air strikers
Cons
The shape of the racket can take time to adjust to
Expensive
---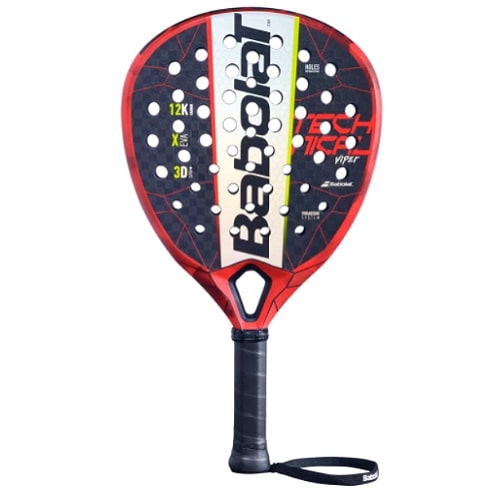 The Technical Viper padel racket is the perfect tool for any technical striker who is looking for a racket to help them to optimize power transmission when returning shots.
Our team noticed a difference when playing with this racket as it is head heavy, meaning it is best suited to more experienced players who will have the ability to balance the racket while playing.
Similar to the Air Veron, this racket is a newer Babolat style and features their new technologies, such as VIBRABSORB System and the Holes Pattern System, but it also features X-EVA within the design which helps to keep this racket a lighter weight than other powerful padel rackets.
The racket is made of three different layers which give the racket flexibility and comfortable to play with but also help to add more power to your shots.
The shape of this racket is a diamond shape again, making the sweet spot larger but it does weigh slightly more than other rackets featured on the list so far, weighing 365g.  
Pros
Diamond Shaped head
Features Holes Pattern System and 3D Spin
Designed using X-EVA
Carbon frame and surface
Cons
Head heavy so takes practice to balance while playing.
---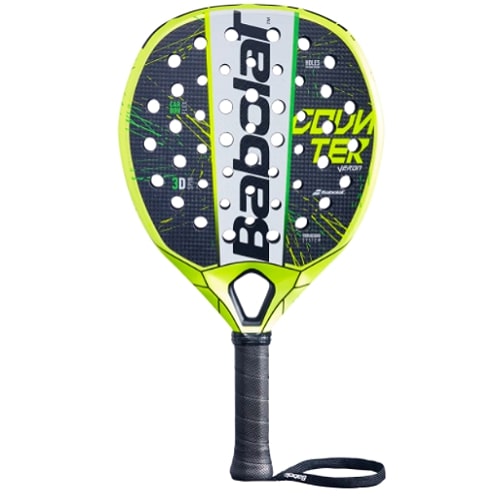 This racket is a heavier version of the Air Veron and is a great racket to progress onto if you find that the Air Veron is too light for you.
This racket weighs 365g and has the same thickness as other rackets, being 38 mm.
A big difference between this racket and less expensive rackets is that the Counter Veron is head heavy and so it requires skill to balance the racket during play.
The head is heavy to help give more power to striking shots to the opposition to finish a point. 
This racket has also been crafted using the Babolat Carbon Flex Technology, enabling players to unlock dynamic power in their playing of padel.
The VIBRABSORB System is also featured in this racket, helping to prevent injuries and to bring more comfort during play between more advanced and powerful players,
Other Babolat technologies such as the Holes Pattern System and 3D Spin are integrated into the design of this racket also, allowing you to play with more spin and to increase precision in your returning shots.
Pros
Classic teardrop-shaped head.
Features Babolat's new technology, such as VIBRABSORB System, 3D Spin and Holes Pattern System.
Affordable advanced racket.
Crafted using carbon.
Cons
Head heavy balance and heavier weight can take time to adjust to.
---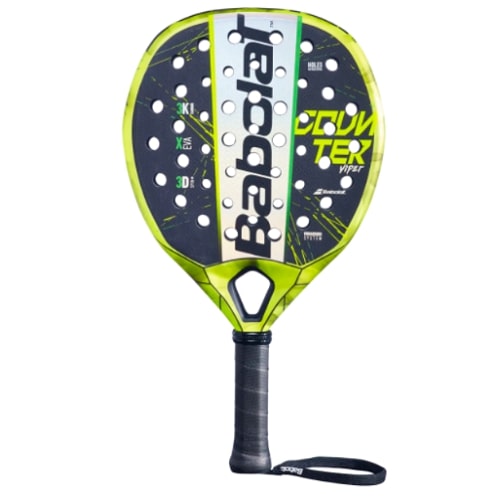 The Counter Viper is one of the strongest rackets within the current Babolat Padel racket range.
This racket offers explosive power and can help further elevate an advanced player's game.
This racket is pricier than others on the list but our team believes it is worth the investment if you play frequently and are looking for the next step in your Padel playing.
This racket has recently been revised and features a new design that makes each racket unique in its own way.
Similar to the Counter Veron racket the Counter Viper is head heavy and requires skill to be balanced during play.
This racket weighs 365g and is 38mm thick.
The X-EVA technology used to build this racket adds to the power that this racket provides, allowing you to overpower your opponents on the points that matter.
The head of the racket has a larger sweet spot meaning you can make your shots count even when they don't land in the center of your racket.
The carbon composition means this racket is flexible and comfortable to play with, preventing fatigue that is usually associated with heavier and more powerful rackets.
Pros
Powerful racket perfect for advanced players.
Built integrating X-EVA technology for flexibility and comfort.
Features VIBRABSORB System, 3D Spin, and Holes Pattern System.
Cons
Takes practice to hone the power of the racket.
---
Final Thoughts
Whether you are a beginner, an experienced player who plays for fun, or a competitive player who plays amateur there is a racket for everyone on our list, as well as suiting a range of different budgets.
Some rackets are natural progressions from one another and often when Padel players find a padel racket they like it can be difficult to replace it.
That is why Babolat has a great range of padel rackets that can suit a range of levels and have similar features meaning you may only need to adjust to a different balance, weight, or grip on a racket rather than a range of differences between your new racket and older racket.
Each year Babolat continues to develop their already impressive technologies, making their rackets stand out due to their high spec design and sleek look.
Try to be realistic about your needs in a racket when choosing a new one to ensure you get a racket that will benefit you and enable you to progress in your skills while enjoying the great sport of padel.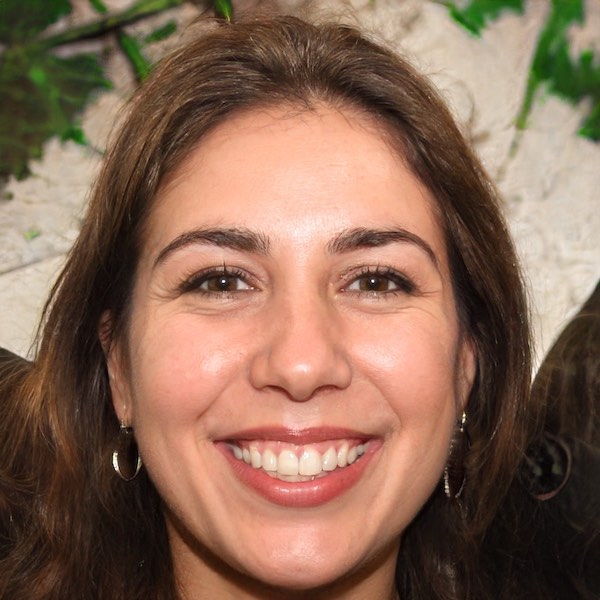 Isabella Torres is originally from Madrid, Spain, and has been playing Padel as a semi-professional for the past five years. After completing her education as a journalist, she discovered her true passion in life was writing about Padel.
She loves staying up late watching intense rallies on YouTube, and is excited to share her knowledge about the sport with SimplePadel's readers.