The Babolat Air Viper is a stand-out Padel racket thanks to its light weight, hybrid shape, and unique Holes Pattern System that allow its users to generate power and force during their games.
The Babolat Air Viper padel racquet is great for users looking to increase their power transmission with a padel racket that complements their offensive play style.
The Babolat Air Viper is a marvel from a technological standpoint with its' X-EVA rubber build.
---
Main features of Babolat Air Viper 2022 Padel Racket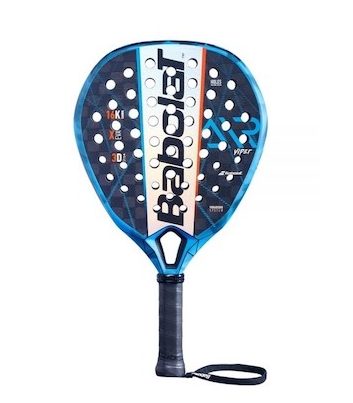 Centered balance allows for increased speed and power
3D spin technology
Carbon with X-EVA rubber frame
Diamond/hybrid shape is designed to be easy to handle and make contact with
X-EVA rubber build allows it to have the same bounce as the Babolat Technical Viper but with more give in the center
Centered balance allows for better manoeuvrability, as well as increased speed and power during games
Rough surface found on most Babolat rackets helps produce better spin and grip, allowing for higher chances of making contact
3D spin improves the ability to handle and spin the ball and change its trajectory mid-swing
Holes Pattern System increases the contact surface while maintaining the aerodynamics of the racquet
Vibrasorb System elastomer material protects the player and keeps them safe from injury
Full carbon surfaces on the Air Viper 2022 allow for faster game tempo while maintaining a durable yet forgiving handling experience
---
Specification of Babolat Air Viper 2022 Padel Racket
Below are the racket specifications for Babolat Air Viper 2022.
Composition specs:
Core Composition: X-EVA Sandwich Construction (three different EVA layers)
Frame Composition: 16k Carbon Fiber
Surface Composition: 16k Carbon Fiber
---
Our review of Babolat Air Viper 2022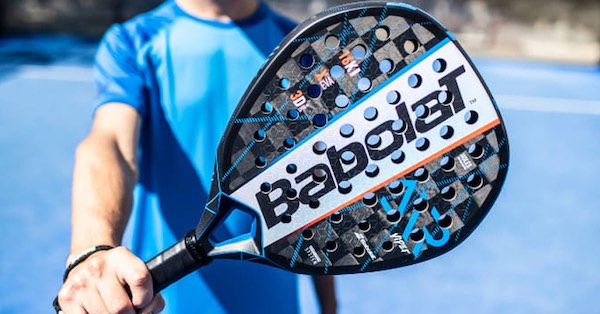 The Babolat Air Viper 2022 is an innovative masterpiece of a padel racket that puts most other rackets to shame.
The new Air Viper, draped in elastomer material, helps produce maximum power thanks to its interior made of Multi EVA, weight reduction, and spin-friendly surface.
Pros:
The racquet increases explosiveness thanks to its X-EVA technology
Easy to spin and use to make contact with the ball
Designed to be as lightweight and aerodynamic as possible
---
What level of player is the Babolat Air Viper 2022 best for?
Just like the Babolat Counter Viper and the Babolat Technical Viper, the Babolat Air Viper 2022 was made for more experienced players who have the skills to maximize it, as well as the willingness to spend on such a racket.
The racket Babolat Air Viper 2022 is a well-designed tool that is aerodynamic despite having a wide surface area.
It may catch newer players by surprise with how lightweight and powerful it is.
Better players can control the fast whipping motions this racket can create, so it's recommended for high-level padel players competing at the athletic level or at least in a league.
Players that normally benefit from their serve should also be able to use the Babolat Air Viper to create awesome chances to attack right after their serve.
Is Babolat Air Viper 2022 best for attacking or defensive players?
The Babolat Air Viper 2022 is designed for attacking players looking to pack on the pressure and speed up a match while keeping the movement in their favor.
Thanks to its X-EVA sandwich construction, this racket gets it done. With two stiffer exterior layers and a softer interior layer, you can give your all with every swing without worrying about hurting your hand!
In addition, the wider racquet surface, combined with a rougher finish, produces more spin and more power with each swing, allowing you to be the aggressor during your matches.
---
In this review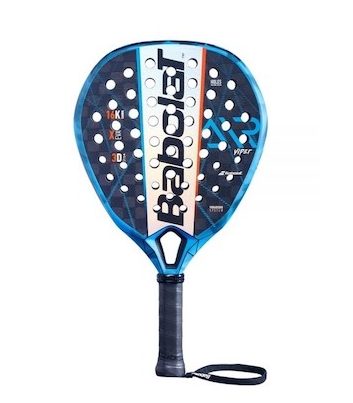 Centered balance allows for increased speed and power
3D spin technology
Carbon with X-EVA rubber frame
---
Conclusion
The Babolat Air Viper 2022 is a credit to the Babolat Viper line and the Babolat brand as a whole.
This racket benefits explosive power to players looking to scare their opponents into an early defeat. This is thanks to its 3 EVA layers, adapted to be firm yet forgiving to its users.
We highly recommend it for more intermediate and experienced players!
---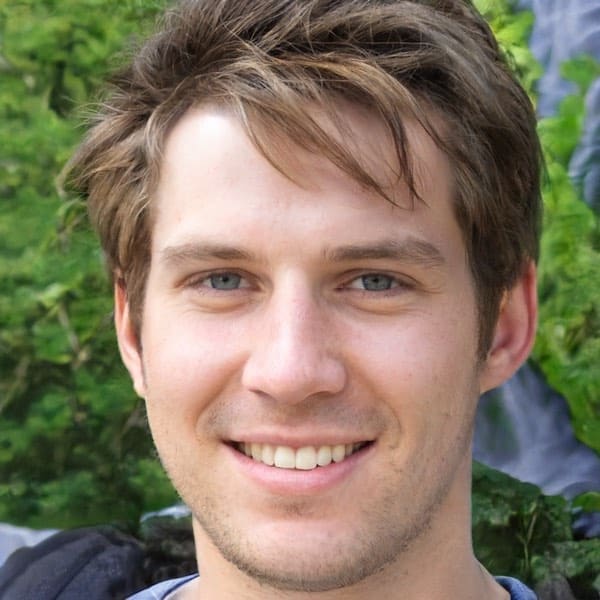 Kevin Anderson is a Content Writer for SimplePadel. He joined the company during summer 2022. For SimplePadel, he spealizes in testing rackets and writes a lot of our padel racket reviews.
Kevin loves to own the net position and considers himself an attacking-minded player. He often claims that he has the reach of a monkey – thanks to his 6'5″ stature. In his spare time, he enjoys cooking and following the USPA closely.