Designed for experienced athletes who want to play a more powerful and attacking game, the new Adidas Adipower Multiweight 2023 is the latest racket in the Adidas 2023 collection.
With its 15k carbon surface, EVA high-performance memory rubber, and dual exoskeleton technology, this racket is sure to give experienced athletes the tremendous power they need to play their best and dominate in competitions.
It retains the same diamond shape as the new Adidas Adipower Multiweight CTRL with a high balance and great spin, allowing you to receive balls off-center.
This multiweight padel racket also comes with custom weight balance system technology that lets you adjust the racket's balance to your preferences.
The Adipower Multiweight 2023 is a powerful racket that's sure to meet the needs of advanced and pro-level players.
---
Main features of Adidas Adipower Multiweight 2023 Padel Racket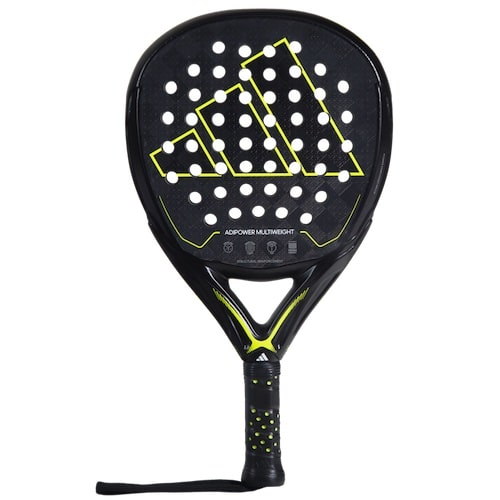 Diamond shape designed with head-heavy balance for more control
Wide sweet spot in the center for powerful strokes
Customizable weight technology lets you modify your balance for maximum power and comfort
With EVA high memory core and a full 18k-grade carbon fiber build for a harder touch
Spin blade technology gives great spins with every shot
Dual exoskeleton technology creates great stability and resistance to damage
Includes smart holes that increase shot effectiveness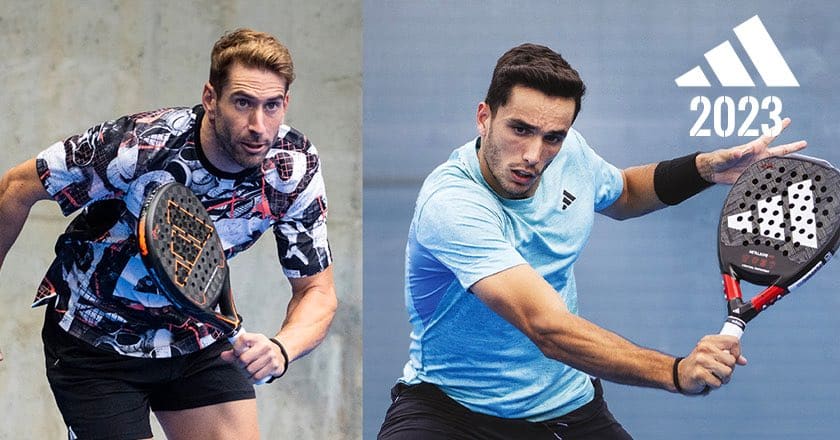 ---
Specification of Adidas Adipower Multiweight 2023
Below are the racket specifications of the Adidas Adipower Multiweight Padel Racket that you should look out for:
Main specs:
Brand: Adidas
Player level: Advanced
Shape: Diamond/Round
Weight: 345 grams to 360 grams (customisable, up to 12 grams)
Balance: Head-heavy (more power)
Frame: Carbon
Beam: 38mm
Composition specs:
Core Composition: EVA High Memory
Frame Composition: Carbon
Surface Composition: Carbon 18k
---
Our review of Adidas Adipower Multiweight 2023 Padel Racket
The new Adipower Multiweight 2023 is an exciting addition to the Adipower range. I was really excited to review this padel racket.
We love the weight balance technology that lets us customize the racket's weight to our preferred balance.
Made from high-quality materials, this Adidas padel racket does not disappoint when it comes to increased POWER and CONTROL.
Combining 18k carbon fibers and EVA High-Performance memory rubber gives this new racket for Padel the added durability and strength needed for a bigger smash.
With its round shape and Spin Blade technology, this Adidas padel allows for ultimate control over each shot.
Adidas Adipower Multiweight 2023 is the perfect racket for advanced and pro-level players who want a model that can keep up with an intense game.
Adidas Adipower Multiweight Control 2023 is a top-of-the-line padel racket with several advantages, but it does have its downsides:
Pros:
Customizable weight and control
Powerful
Designed with innovative technologies
Spin Blade provides greater spin
Cons:
Expensive
Not ideal for beginners
---
What level of player is the Adidas Adipower Multiweight 2023 best for?
The Adipower Multiweight 2023 is built for advanced and expert padel players because of the following advantages:
Head-heavy for power
18k carbon finish
Dual Exoskeleton technology adds stability and power
Diamond-shaped padel racket creates a wider sweet spot
Is Adidas Adipower Multiweight 2023 best for attacking or defensive players?
The Adidas Adipower Multiweight padel racket is built for attacking players with advanced techniques looking to make aggressive shots.
Like the Adidas Adipower Multiweight Control 2023, its multiweight design, head-heavy balance, and wide sweet spot provide players with the ultimate control in every shot.
The combination of materials and technologies makes this pro-level padel racket ideal for players who want to maximize POWER and increase STABILITY.
---
In this review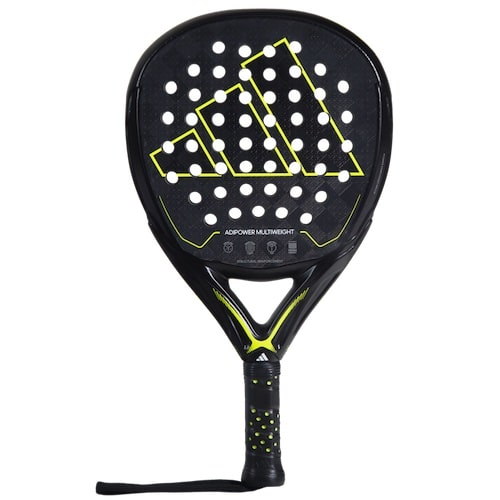 ---
Conclusion
Returning with a unique weight balance system, Adidas Adipower Multiweight gives players complete control over their shots.
It has a head-heavy balance and strong structure that works well for AGGRESSIVE games.
Made with rigid materials and new technologies, this Adidas padel racket is perfect for advanced players who want to deliver as much power as possible in their strokes, beating their opponents from the net position.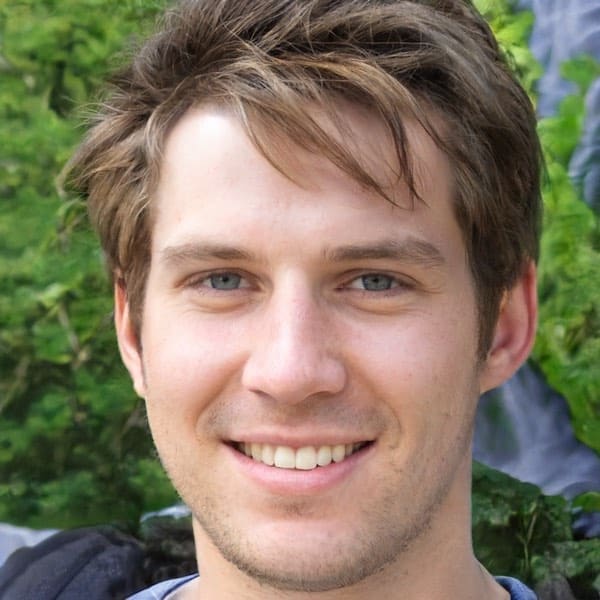 Kevin Anderson is a Content Writer for SimplePadel. He joined the company during summer 2022. For SimplePadel, he spealizes in testing rackets and writes a lot of our padel racket reviews.
Kevin loves to own the net position and considers himself an attacking-minded player. He often claims that he has the reach of a monkey – thanks to his 6'5″ stature. In his spare time, he enjoys cooking and following the USPA closely.